Government plays a vital role in supporting early childhood systems, but this is work that cannot be done in silos. Collaboration across city, county & state is crucial to improve outcomes and rebuild our systems so that all young children and their families have the opportunities they need for well-being and to prosper.
With the passage of the American Rescue Plan Act of 2021 (ARPA), we have an opportunity. The opportunity to re-imagine and rebuild our communities, so they work for people, for our young children, their families, child care providers, and all those who care for them. While it can sound a little daunting to bring cities, counties, and states together, many leaders are finding ways to break down silos and putting young children, their families, and those who care for them front and center in policymaking and recovery efforts.
This spring, the National League of Cities kicked off the State and Local Government Collaboration in Action series a partnership with the National Association of Counties Research Foundation and National Conference of State Legislators, with a Fireside Chat, talking about the importance of intergovernmental collaboration in support of an early childhood agenda that begins prenatally. Wisconsin leaders, Mayor Tom Barrett, City of Milwaukee, County Executive David Crawley, Milwaukee County, and Ms. Bethany Rasmussen, Chief of Staff for Wisconsin State Senator Joan Ballweg, shared examples of how they are working together and the great opportunities they saw to reimagine our communities, as we recover and with the ARPA investments, to really make equity central for all and move the line for young children and families. This conversation focused on the earliest years, prenatal to age 3 portion of the early childhood continuum. What stood out from these events is the intersections and interdependence between city, county, and state government. They recognized and acknowledged that they all work in service for the people that live in their communities, and thriving communities is a shared goal they have in common.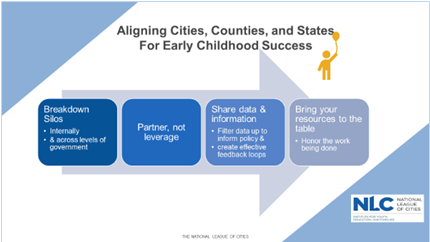 The conversation continued with NLC's Early Childhood Municipal Policy 101 series, focusing on the alignment of city, county, and state policies and practices. Beginning with the nuts and bolts of intergovernmental relationships and discussion around local governance authority and implications of preemption and home rule. Examples of successful alignment featured leaders from Rochester, New York and Cuyahoga County, Ohio. Rochester Mayor, Lovely Warren hosted an early childhood workforce summit which included community, city, county and state leaders. This resulted in stronger relationships and increase collaboration. The city also worked with Monroe County to reach new parents as part of her 3-to-3 initiative. Cuyahoga County's Invest in Children and Cleveland's PRE4CLE program work by complementing each other and not duplicating efforts. Partnering and intentionality in programing, equity, and evaluation is how they have been successful in improving outcomes.
Keys to success from policy webinar speakers included:
Break-down silos, do not play the territory game – seek to understand where authority lies and potential roadblocks
Intentionally partner and build relationships with each other
Share data and information, keep young children and families central to the work, and your shared purpose
Bring your resources to the table. Identify your role as well as ways you can complement and support the collective work– build relationships with people.
If we are going to succeed in building a stronger, equitable future, it will be crucial for our governments, city, county, and state to align. A key component is a strong agenda that begins at the prenatal to age 3 developmental period and includes the entire early childhood continuum, with PreK and K-3rd grade and the workforce.
This is a Time of Opportunity – a time to reimagine our communities. Through the ARPA investments and direct funding and through aligning city, county and state, policies, practices, and programs we can bring opportunity to ALL in our communities and build a brighter tomorrow.
Learn More
Check out our resource on Leveraging ARPA Funds for Infants and Toddlers through State and Local Coordination from August 4. This webinar is part of the State and Local Government Prenatal-to-Three Collaboration in Action initiative, conducted in partnership with the National Association of Counties Research Foundation, National League of Cities, National Conference of State Legislatures and the National Collaborative for Infants and Toddlers.
Early Childhood Municipal Policy 101: Financing and Resourcing Early Childhood Success on August 10, 2021, at 2:00-3:00 pm ET. This series is designed to help leaders affect positive change in their communities through municipal policy.
DISCLAIMER: The information contained here is not legal advice. It will be subject to change based on updates from the U.S. Department of the Treasury, and any recipients should confirm applicability to their specific situation.
Let NLC Deliver for You!
NLC is your partner in recovery. This is a time for America to do more than survive; we can thrive.
The National League of Cities (NLC) is a strategic partner for local leaders and municipal staff, serving as a resource and advocate for communities large and small. Interested in learning how NLC can help deliver for your city? Learn more about becoming a member and accessing our COVID-19 relief resources today.