New NLC survey shows nearly 80% of American cities and towns surveyed ready to partner regionally on infrastructure grants.
America's cities, towns and villages are ready to use grants from the Bipartisan Infrastructure Law (BIL) to rebuild the infrastructure projects their communities need. The National League of Cities and Polco released a joint survey this July to show how communities of all sizes are assessing their infrastructure projects and federal grant opportunities. This survey provides a current snapshot of priorities across 153 cities and highlights 44 local infrastructure projects and shows where local leaders plan to invest. The median population of cities, towns and villages that responded was 8,382 and the average population was 63,418.
The survey found cities, towns, and villages plan to invest federal funding in the following projects (respondents were allowed to select more than one option):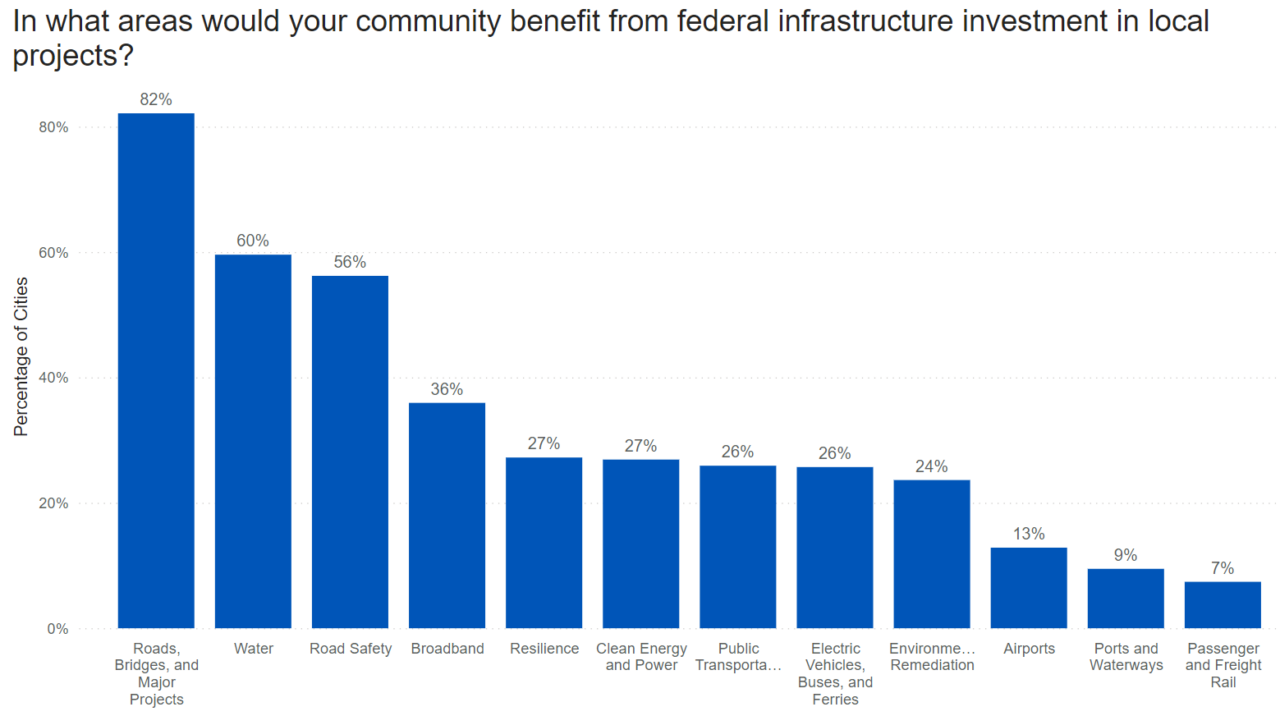 As cities, towns and villages apply for BIL programs, 78 percent of respondents indicated that they are very likely or somewhat likely to collaborate with neighboring cities or regional authorities to maximize dollars and benefits to their communities. Collaborating allows communities to go after larger and more ambitious projects that benefit residents across a region.
Federal funds from the Bipartisan Infrastructure Law are cost-shared with the local government granted the award. Local governments plan to use a variety of methods to match these federal investments. 49 percent of those surveyed indicated that they plan to use American Rescue Plan Act (ARPA) federal recovery funds to ease the local match burden. Local governments also plan to use special reserves (38%), state funds (36%) and municipal bonds (33%) to meet their federal match.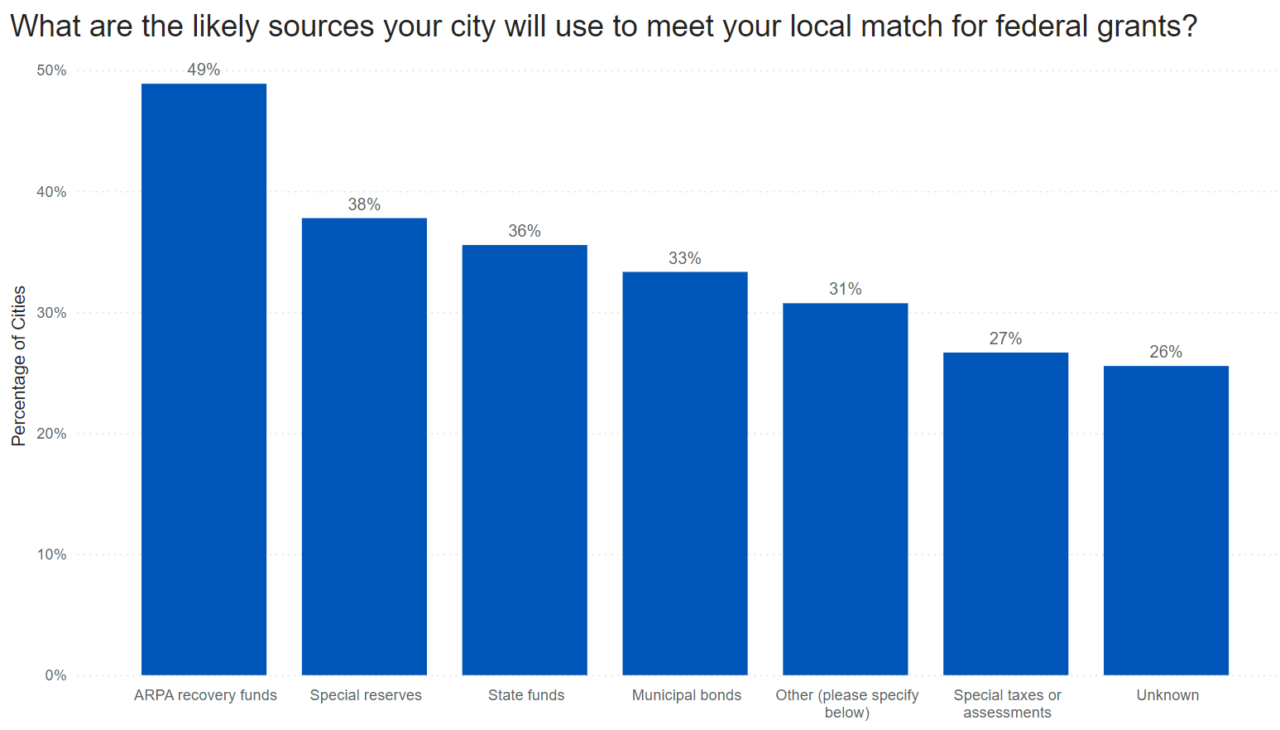 For more survey data information see the data tool below:
Local Infrastructure Projects to Watch
America's cities, towns and villages all rely on infrastructure each day to support their communities, and the projects they shared with NLC in their survey clarify how essential and economically powerful these investment will be. Here is a sample of the projects local governments plan to invest in using federal infrastructure funding.
American Falls, ID (pop. 4,568)
Project category: Water
The city of American Falls plans to replace 13 miles of undersized, deteriorating 4-inch water lines and install meters in their Water System Improvement project. Removing these old lines with new ones will facilitate growth, proper fire suppression, water conservation, and clean drinking water.
Butner, NC (pop. 8,297)
Project category: Transportation and Water
The town of Butner would like to use BIL funding to implement a number of projects which includes, the North Carolina Mobility and Accessibility Plans, the Reuse of the Umstead Correctional Center and compliance with Falls Lake Stormwater Infrastructure and Remediation. The Mobility and Access plans will improve the public's access to economic and recreational opportunities for all users regardless of access to a private automobile. These transportation projects will also address a serious stormwater issue with the City of Raleigh's drinking water supply. By completing these projects, the town Butner seeks to complete their goals of having a healthier built and natural environment.
Broken Arrow, OK (pop. 113,540)
Project category: Transportation
The 9th Street Corridor Safety Improvement Project will improve traffic flow from Kenosha Street to Albany Street by widening 9th Street from five to seven lanes with a new westbound on-ramp to the Broken Arrow Expressway (SH-51). Federal grants would support these improvements to the bridge and the interchange reconfiguration.
Pueblo, CO (pop. 111,876)
Project category: Transportation
The Transit Expansion, Relocation and EV Transition project in Pueblo, CO will modernization the Pueblo Transit facility and strengthen its workforce through its expansion and relocation including land acquisition, architectural and engineering design, construction, the initial transition to a low and no emission fleet and training that will upskill transit workers, ensuring those who work on transit vehicles today are ready to do so in the future.
Johnston, IA (pop. 24,064)
Project category: Water
The city of Johnston Iowa NW Annexation Area plan seeks to replace their rural water service with municipal water and expand the sanitary sewer to cover this new area. This will also increase fire protection for the area.
Columbus, NE (pop. 24,028)
Project category: Transportation
The Columbus, NE School & Pedestrian Crossing Study will help the city upgrade 15 to 20 pedestrian crossings on major roadways. The South Mobility Study will enhance pedestrian safety, mobility and better control traffic flow on the south side of the city.
City of Jackson, MO (pop. 14,893)
Project category: Transportation
The City of Jackson needs to invest in bridges and a comprehensive transportation plan to: replace aging, narrow bridges to provide for additional traffic and improve their safety for the traveling public, build sidewalks and multiuse trails to provide safe pedestrian travel along collector and arterial streets, and build connector streets to provide shorter travel routes across the northeast part of City to relieve traffic load on city's central district.
City of Dahlonega, GA (pop. 7,004)
Project category: Water
Much of the City of Dahlonega's underground infrastructure is over 85 years old and is overdue for upgrading. Some of our stormwater infrastructure is built of timbers or stacked stone. The City has already completed a major project in the historic town square, and now must address areas prone to flooding, ensure clean water by replacing ancient pipes, and manage wastewater effectively.
Share Your Project
If your municipality is interested in sharing your infrastructure projects with the National League of Cities, please fill out this brief form. We will add your project to our national infrastructure project map, and NLC will continue to share cities' projects widely.
Looking for resources to help your city, town or village use federal funds for infrastructure projects? Visit our Ready to Rebuild page for more information.