May 16 marks the beginning of Infrastructure Week – the last time this week will be celebrated, thanks to the Bipartisan Infrastructure Law (BIL). America is now in a five-year sprint of federal infrastructure programs at historic levels. The Bipartisan Infrastructure Law will provide $1.2 trillion over 5 years and now is the time to make a plan in your city to maximize these investments.
Previously, Infrastructure Week was an opportunity for local and national leaders to advocate to change the dire condition of basic infrastructure assets, but now, cities, towns and villages need to take action to put the BIL to use in their communities. NLC is dedicated to preparing local governments to get ready to put this historic funding to work in their communities, which is why we want to level-set with some of the most common questions:
What's in the Bipartisan Infrastructure Law for Cities?
Every dollar in the $1.2 trillion Bipartisan Infrastructure Law has a purpose and a path. Congress wrote into the law's programs the eligible uses, eligible recipients, and how funds will be delivered to them. Infrastructure covers a lot, but there are 12 basic categories in the BIL:
Roads, Bridges, and Major Projects
Road Safety
Passenger and Freight Rail
Public Transportation
Airports
Ports and Waterways
Electric Vehicles, Buses, and Ferries
Clean Energy and Power
Water
Resilience
Environmental Remediation
Broadband and Cybersecurity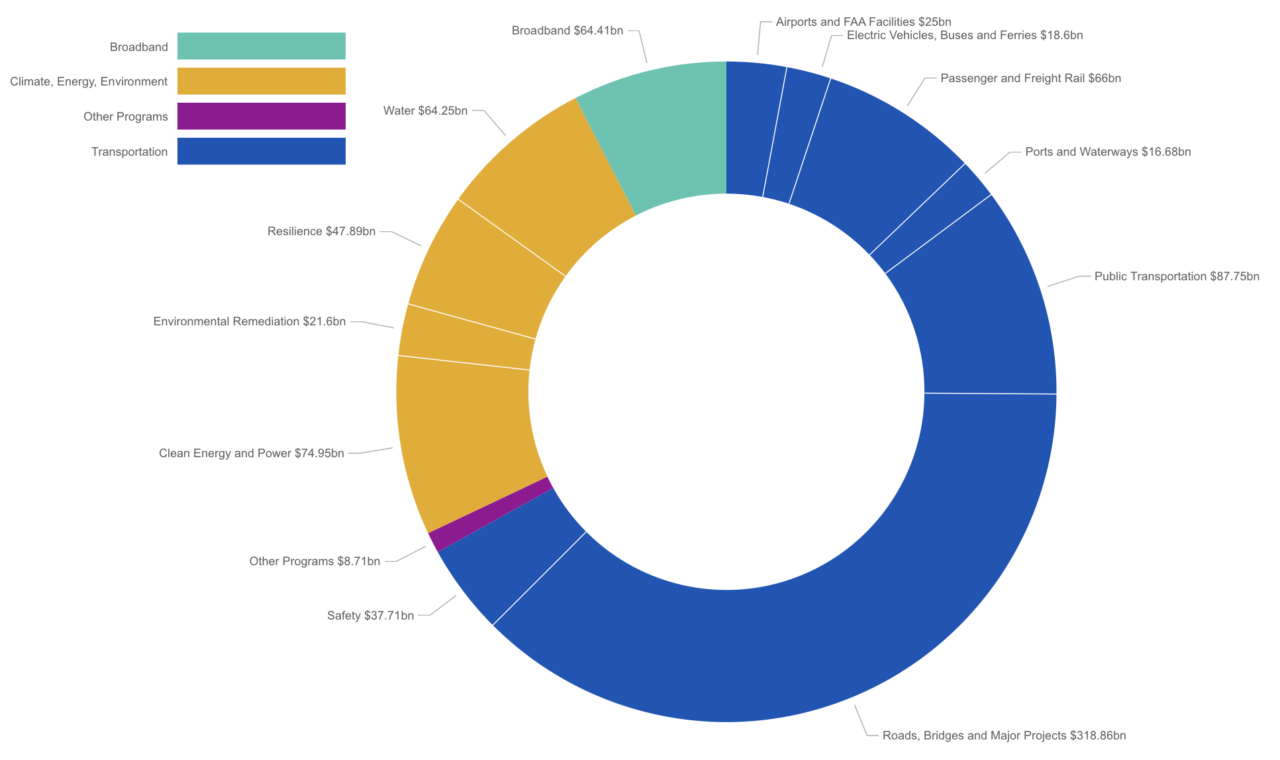 This chart demonstrates a visual representation of the main categories in BIL and their allocated funding amounts.
Taking the big picture on the top three investments from BIL, more than half of the BIL is transportation. The second-largest trend of funding is climate, energy, and environment-related (approximately $209B), and the third-largest priority area is broadband ($64B).
How Can Local Governments Receive Funds?
Cities, towns and villages are ready to rebuild their infrastructure with these new federal programs and resources included in BIL, but how do the funds get to your city?
Your state via the Governor and various state departments
Directly to your city from the federal government
Your metropolitan planning organization (MPO) or regional council
Infrastructure authorities such as transit, airports or port authorities
Traditionally, Congress sends most federal grants to the states with specific guidance for how those funds can be used or passed along to local governments. However, Congress now recognizes that regional and local organizations are effective at reaching communities' needs more expeditiously, and the BIL uses a more balanced approach by opening competitive programs that communities can access directly at the federal level.
There are two different methods for local governments to receive the funding included in BIL:

Follow the infrastructure funds distributed to each state, MPO or infrastructure authority. Local governments will need to work with their state partners to receive funding for many of their project proposals (especially for water, energy and broadband), and the White House has requested each state identify a coordinator and reach out to local governments as they make their plans. However, there is no substitute for working with your State Municipal League and being sure to follow your state's process to insert your priorities into their planning.

Apply for federal funds directly on your own or with eligible partners as a team. "Subdivisions of a state" is the legislative term referring to a city, town or village (as well as county), and many of the federal programs make cities, MPOs, counties, and tribes directly eligible for competitive grants that will be available from the reserved funding for the federal government to distribute. Groups of eligible applicants are not only allowed but encouraged in most programs which may allow for better use of engineering or planning resources.
What Federal Programs can My City Directly Apply To?
The BIL refunded many existing programs that cities use, but perhaps more importantly it started many new programs that cities are eligible to access. For example, 31% of the $642 billion in total transportation grants are competitive which is a huge improvement in federal program access for cities, towns, and villages to these programs. Here is a sample of some of the top programs to consider working on:

Source: U.S. Department of Transportation
Transportation
Broadband
Environment, Energy
How Can I Start Infrastructure Conversations at Home?
Talk With Your State
Your state is a critical infrastructure partner, and they are officially moving programs forward that your city can utilize. Here are a sample of some of the top programs to begin working with your state on:
Share Your Project
Does your city have a great project in the works that you're seeking federal funding for? The National League of Cities (NLC) and Polco have partnered together to create this survey to show how local communities are planning infrastructure projects that could use the $1.2 trillion in Bipartisan Infrastructure Law (BIL) investment in roads, transit, water, broadband and more. Share your infrastructure needs and projects here.
Where Can I Find More Infrastructure Resources?
Show Your Infrastructure Support
Check out the NLC Infrastructure Week toolkit for examples of how your community can celebrate Infrastructure Week, such as:
Join an NLC event: