As cities, towns and villages across America prepare for the summer season, when forest fires, storms and hurricanes can test their local infrastructure, local elected leaders can use a new Bipartisan Infrastructure Law (BIL) funding grant program that allows them to make their transportation infrastructure more resilient to natural disasters. This new funding program to build community resilience in the face of extreme weather and natural disasters is called the Promoting Resilient Operations for Transformative, Efficient, and Cost-saving Transportation (PROTECT) program. The PROTECT program will deliver $8.7 billion over the next four years to make transportation infrastructure resilient in our states and communities.
Most of the funds in the PROTECT program will be distributed through formula funding to each state department of transportation office ($7.3 billion). Cities, towns and villages have the opportunity to apply for the remaining $1.4 billion in competitive PROTECT grants that the U.S. Department of Transportation can award to local governments, Metropolitan Planning Organizations and other eligible entities. There are two types of PROTECT direct application grant opportunities, for cities to either plan or improve their assets:
Planning Grants: As the law states, these competitive planning grants will "enable communities to assess vulnerabilities to current and future weather events and natural disasters and changing conditions, including sea level rise, and plan transportation improvements and emergency response strategies to address those vulnerabilities."
Competitive Resilience Improvement Grants: These resilience improvement grants will be used to protect:

Surface transportation assets, by making city assets more resilient to current and future weather events and natural disasters (such as severe storms, flooding, drought, levee and dam failures, wildfire, rockslides, mudslides, sea level rise, extreme weather (including extreme temperature) and earthquakes).
Communities through resilience improvements and strategies that allow for the continued operation or rapid recovery of surface transportation systems that: 1) serve critical local, regional and national needs, including evacuation routes; and 2) provide access or service to hospitals and other medical or emergency service facilities, major employers, critical manufacturing centers, ports and intermodal facilities, utilities and federal facilities.

Coastal infrastructure (such as tide gates to protect highways) that is at long-term risk to sea level rise.

Natural infrastructure that protects and enhances surface transportation assets while improving ecosystem conditions (including culverts) that ensure adequate flows in rivers and estuarine systems.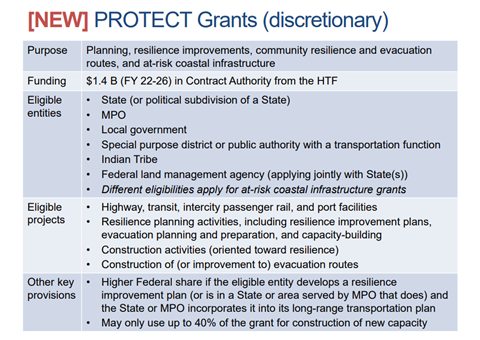 Additionally, states may transfer 50 percent of their technical assistance funds from their Surface Transportation Block Grant (STBG) funds to provide technical assistance for PROTECT grants. Municipalities in states that are very vulnerable to natural disasters may consider advocating for this approach to their state DOT offices.
In 2021, the United States faced 20 extreme weather- and climate related disasters, with losses totaling $145 billion. According to the National League of Cities' recently-released report, nearly one in three Americans experienced climate-related impacts in 2020, and 2019 was the second wettest year in U.S. history, causing $6.2 billion in damage. Furthermore, people with disabilities, economically disadvantaged households, the elderly, Black, Indigenous and People of Color (BIPOC) and other vulnerable populations often bear the brunt of climate change impacts. By applying for PROTECT grants, local government leaders can ensure their transportation infrastructure is resilient, safe and accessible to everyone.
Projects Eligible for Support
Entities that receive PROTECT grants may use their funds to conduct vulnerability studies and for infrastructure improvements on highways, transit systems and certain ports. This means that if your city wants to figure out how vulnerable your transportation systems are and find potential solutions, PROTECT grants can provide the opportunity to accomplish that work. PROTECT grants can be used to:
Conduct resilience planning studies on transportation systems
Enhance evacuation routes by increasing protection and safety from natural disasters
Redesign surface transportation infrastructure to handle the impacts of sea level rise, flooding, wildfires, extreme weather events and other natural disasters
Congress identified a few specific areas for the Department of Transportation to prioritize in making grant decisions:
Clear Benefits: Grants should be considered if the benefits of the eligible activity proposed exceed the costs.
Assets At Risk: If there is a need to address the vulnerabilities of surface transportation assets of the eligible entity with a high risk of, and impacts associated with failure due to the impacts of weather events, natural disasters, or changing conditions, such as sea level rise, wildfires, and increased flood risk; OR
Connects to the Resilience Plan: The eligible activity proposed to be carried out by the eligible entity is included in the applicable resilience improvement plan.
How Cities Are Working on Resilience Today
Cities, towns and villages can start getting ready for PROTECT grants by learning from the following places where they examined their infrastructure vulnerabilities to make them more resilient for extreme weather events and the effects of climate change.
In 2019, the city of Charleston, SC released a Flooding and Sea Level Rise Strategy. As its second strategy update, the resource contains five critical components – resources, governance, infrastructure, land use and outreach – with one common goal to protect and enhance city infrastructure to ensure transportation corridors remain flood-free as citizens and emergency responders use them during crises. Charleston has completed several projects as part of this plan already, including many drainage projects, 22 new in-line check valves to prevent seawater from backing up drainage infrastructure, capital improvements like a low battery sea wall and completion of a drainage basin to alleviate flooding along the Ashley River. The improvements also replaced more than 2,500 linear feel of box culvert improvements and 2,00 linear feet of channel improvements. One benefit of the drainage basin is that it works solely on gravity, which will ensure it will continue to work in the case of power outages, which often occur during natural disasters.
In Phoenix, AZ,the Phoenix Public Transit Department installed misted bus shelters along one of their bus routes to help with extreme heat. These improvements were the result of a community "HeatReady" workshop put on by Phoenix and Arizona State University. The new mist bus shelters will be a part of the city of Phoenix's HeatReady toolkit as the city prepares for more extreme heat events. The HeatReady program aims to serve as a blueprint to other cities in the area that are also facing heat challenges.
In collaboration with a range of partners including Georgia Tech and Chatham Emergency Management Agency, Savannah, GA has installed a network of around 100 sea level sensors from Interstate 95 to Tybee Island. These sensors will collect data that will be used to model flood risk and vulnerabilities along the coastline. With the risk and vulnerabilities assessed, Savannah will use the data to plan for flood mitigation strategies.
After Hurricane Katrina, the U.S. Department of Transportation Federal Highway Administration (FHWA) and the South Alabama Planning Commission partnered to study the vulnerability of local transportation infrastructure in Mobile, AL, because of the city's range of transportation modes, such as highways, airports, transit and ports. Using projections of changes in temperature, precipitation, sea level rise, extreme wind and storm surges associated with tropical storms, the study examined how these weather patterns could interrupt traffic systems and patterns by screening critical assets for vulnerability based on exposure, sensitivity and adaptive capacity. The study revealed that Mobile's transportation systems were most vulnerable to storm surges and sea level rise. To make this infrastructure more resilient, it was recommended by the FHWA and South Alabama Planning Commission that Mobile redesign bridges abutments to better deal with the impacts of storm surges and waves. Additionally, Mobile is considering redesigning bridges with higher underpasses to allow for the continued passage of ships as the water rises and to keep the roadway out of potential flooding for longer.
A study from the Massachusetts Institute of Technology (MIT0 and Tulane University found that rising sea levels will pose a threat to a rapid rail network in Boston, MA within the next 50 years. The next 100-year storm could potentially flood large parts of the system's red and orange lines and completely flood the blue line, which serves more low-income people than the other two lines. To prepare better for the challenges ahead, the Massachusetts Bay Transit Authority (MBTA) partnered with the Transit Lab at MIT to create a climate modeling tool that will help MBTA assess the vulnerabilities of their transit systems. The Climate Change Vulnerability Dashboard will utilize a range of data sets to create a web-based analysis tool for evaluating the vulnerabilities of the MBTA assets due to climate change. MBTA plans to use the dashboard to evaluate the climate resilience of proposed projects in its annual Capital Investment Plan.
From 2013-2015, the Federal Highway Administration (FHWA) partnered with 19 pilot teams across the country to assess transportation vulnerabilities as a result of climate change and extreme weather events and create recommendations for improving resilience. One of these pilot teams consisted of the Iowa Department of Transportation and Iowa State University and the University of Iowa Flood Center. The South Skunk River and Cedar River water basins were chosen for the study, as both basins had experienced record flooding in recent years that ran over primary highways and interstates. The Iowa DOT brought asset inventory to the study, while the Flood Center used climate data, streamflow modeling, future flood estimates and credibility analysis to project risk and vulnerability assessments. The study ultimately recommended that bridges along the South Skunk River be raised two feet, to prevent overtopping during a 200-year flood, and that the Iowa DOT create a BridgeWatch program to monitor bridge and highway conditions in real time.
Getting Ready to Apply
Assess Your Vulnerability
Cities, towns and villages may already know where their transportation vulnerabilities lie. They may have recently experienced a natural disaster such as a flood, hurricane or forest fire that disrupted transit systems and left vulnerable communities behind. Other municipalities may have already conducted resilience studies, which they should cite when applying for PROTECT grants. For municipalities lacking resilience studies, PROTECT grants can be used to create one. These resilience studies will review transportation assets, assess their vulnerability and provide resilience-building solutions. Gathering data now, such as flood projections or sea level rise from climate change, can help make the application process easier.
Identify Projects
Besides providing funds to conduct a study, PROTECT grants can be used to plan, enhance or redesign existing transportation infrastructure to be more resilient to the impacts of natural disasters and climate change. When applying for PROTECT grants, local elected leaders will want to prioritize key transportation infrastructure that is vulnerable to natural disasters and climate change. Transportation infrastructure that services vulnerable communities should be highly considered, as well as how the project supports the Biden administration's Justice40 initiative.
Follow the Process & Begin Engagement
When writing a strong grant application, local leaders can begin by identifying key stakeholders who will need to be involved in the deployment of PROTECT grant funds. Key stakeholders should include departments of transportation, planning, permitting and inspections and/or sustainability, focusing on planners and engineers, private sector partners, community groups, regional organizations and emergency service providers. When identifying community partners to work with, municipal leaders should seek to engage historically underrepresented communities that are more likely to be directly impacted by natural disasters and climate change.
Confirm Your City's Unique Federal Identifier
Most cities have a point of contact in charge of their federal grant credentials. Starting April 4, 2022, the Data Universal Numbering System (DUNS) number, which has traditionally been used to apply for grants on grants.gov, was replaced with the Unique Entity Identifier (UEI). If your city, town or village is already registered with SAM.gov, a UEI number has already been assigned and is viewable at SAM.gov. If your municipality does not have a UEI number yet, U.S. agencies are encouraging entities to apply for a UEI number immediately in order to be eligible to apply for grants.