While the Energy Efficiency and Conservation Block Grant (EECBG) is just one of many climate-related programs funded through the bipartisan Infrastructure Investment and Jobs Act (IIJA), it is the only program that will go directly to some cities, towns and villages by the formula for sustainability, climate and community resilience projects. The EECBG program is one of NLC's key advocacy wins in the infrastructure bill, and it presents a great opportunity to advance energy efficiency, energy conservation and renewable energy projects in communities.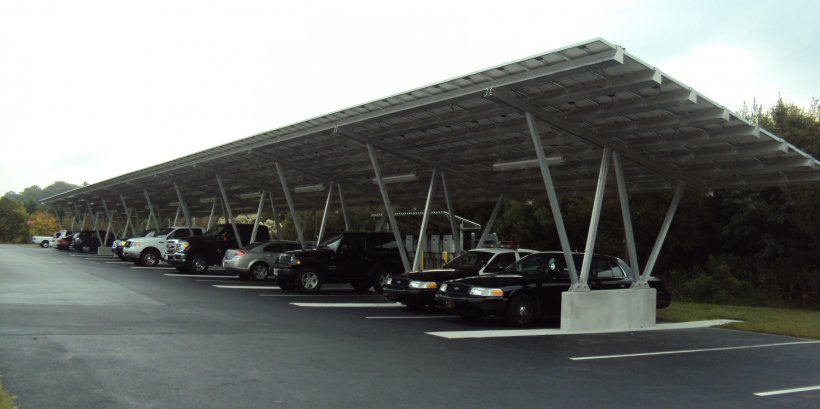 The EECBG was enacted in 2007 and funded just once previously – in 2009 through the American Recovery and Reinvestment Act. With this previous funding, cities, towns and villages invested in energy-efficient retrofits and municipal buildings, updated building codes, adopted renewable energy technologies, created incentives for residents to use transportation alternatives and implemented energy-saving campaigns.
In order to meet our national carbon emissions reduction goals necessary to mitigate the effects of climate change, local governments across the country must aggressively improve energy efficiency, increase energy conservation and deploy renewable energy systems. The EECBG provides much-needed federal funding to increase and expand state and local efforts to achieve these goals.
With the $550 million provided through IIJA, cities, towns and villages can develop comprehensive energy plans and jump-start or enhance energy efficiency programs in their communities. Improving energy efficiency and investing in renewable energy makes good economic sense for residents, businesses and communities—which is more important than ever as America's cities are experiencing the fiscal consequences of the coronavirus pandemic.
The infrastructure bill did not change the underlining EECBG program except to add a new eligible activity. Based on that, here is what local officials need to know about the Energy, Efficiency and Conservation Block Grant.
How Will the Funds be Distributed?
The $550 million will be allocated to units of governments as follows:
68 percent of the funds will be set aside for grant awards to cities and counties;
28 percent of the funds will be awarded to states;
2 percent will be set aside for Indian tribes; and
2 percent will be set aside for competitive grants to local governments that are not eligible based on population or to a consortium of local governments.
What are the Eligibility Requirements for the EECBG?
Cities, towns and villages are eligible to receive block grant funds based on the following criteria:
Cities, towns and villages with a population of at least 35,000 are eligible to apply to and receive grants directly from the U.S. Department of Energy (DOE).
At a minimum, the ten largest cities in each state, including Puerto Rico, regardless of population, are eligible to apply to and receive grants directly from DOE.
Cities, towns and villages with a population less than 35,000 or those that are not one of the ten most populous cities in the state can apply for EECBG funds through their state. The law requires each state to pass through at least 60 percent of the total EECBG funding it receives to cities and counties that do not receive funding directly from DOE.
What are Eligible Activities under the EECBG?
State and local governments may use grant funding to conduct programs and activities, such as:
Developing and implementing an energy efficiency and conservation strategy;
Conducting residential and commercial building energy audits;
Establishing financial incentive programs for energy efficiency improvements;
Developing and implementing energy efficiency and conservation programs for buildings and facilities;
Developing and implementing programs to conserve energy used in transportation (e.g. flex time for employees; satellite work centers; zoning guidelines or requirements that promote energy efficient development; infrastructure, such as bike lanes, pathways and pedestrian walkways; and synchronized of traffic signals);
Developing and implementing building codes and inspection services to promote building energy efficiency;
Developing and implementing programs to increase participation and efficiency rates for recycling programs;
Replacing traffic signals and street lighting with energy efficient lighting technologies;
Purchasing and implementing technologies to reduce and capture methane and other greenhouse gases generated by landfills or similar sources;
Developing, implementing and installing on or in any government building onsite renewable energy technology that generates electricity from renewable resources, such as solar and wind energy, fuel cells and biomass; and
Financing energy efficiency, renewable energy and zero-emission transportation (and associated infrastructure), capital investments, projects and programs for leveraging of additional public and private sector funds.
What Can Local Leaders Do to Prepare for These Funds?
DOE has not stated a timeline for getting the funds out the door to states and local governments, but there are steps that local officials can take now to lay the groundwork. First, start determining which projects in your community might be a good fit, whether low-hanging fruit like improving the energy efficiency of municipal buildings or larger-scope projects like deploying solar energy projects. Second, reach out to your state energy office, particularly if you are a community less than 35,000. Learning what your state's energy priorities are might help you determine if you can leverage any of their funds for projects in your community. Finally, reach out to neighboring jurisdictions—cities or counties—to see if there is an opportunity for regional collaboration.
Stay tuned for more resources from NLC on how your community can put these funds to work to improve energy efficiency, lower energy usage and reduce fossil fuel emissions. NLC continues to advocate for a long-term authorization of the EECBG program.
Learn More
Register to attend the NLC Congressional City Conference, March 14-16, to dive deeper into the program.