TABLE OF CONTENTS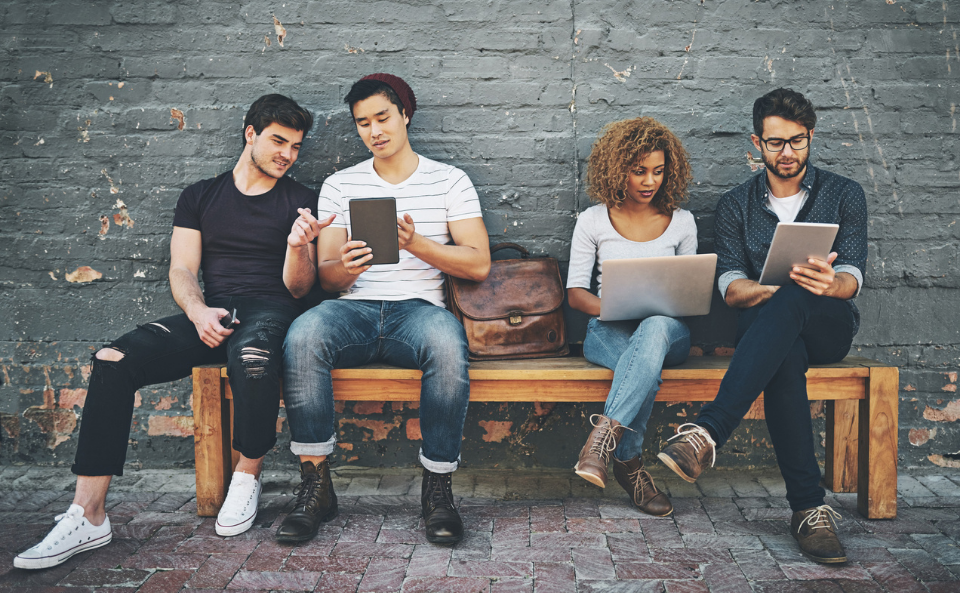 01
Overview and Driving Questions
Broadband internet has evolved from a cutting-edge luxury to an essential utility for participation in daily life. Unfortunately, not everyone benefits from this vital tool. Because of barriers in affordability, accessibility or availability, and skills, an estimated 42 million residents in the United States do not have broadband at all, and 157.3 million live with slow or unreliable internet service.1 This must change. Cities can be proactive and bridge the digital divide. The Digital Equity Playbook helps city leaders determine causes of the digital divide in their communities, provides recommendations to address it, shares stories from local governments and suggests additional resources.
Broadband is high-speed, reliable internet access measured in download and upload speeds.
This section defines the digital divide and digital equity, describes the causes of the digital divide and whom it affects, and briefly outlines what cities can do to address it. Section 02, Getting Started with Digital Equity: Broadband Needs Assessment, offers detailed steps, including links to resources, for how cities can identify digital needs in their communities. Sections 03 and 04, Investing in Digital Equity Solutions (Infrastructure and Programs), describes current broadband technologies and programs, including rich case studies detailing how U.S. cities have used these solutions to bridge the digital divide. The report concludes with a list of federal resources that cities can use to fund digital equity.
What are the digital divide and digital equity?
The digital divide is the gap between individuals who have access to computers, high-speed internet and the skills to use them, and those who do not. This gap shows up in various ways in our communities: broadband access and connectivity can fuel economic, educational, health and social outcomes. Global research shows that countries in the top tier of broadband adoption have a two percent higher GDP growth than countries in the bottom tier.2 The Federal Communications Commission (FCC) states that communities with lower access to broadband have a higher prevalence of disease, such as diabetes and obesity, when compared to the national average.3 Digital equity means the digital divide no longer holds people back. According to the National Digital Inclusion Alliance (NDIA), digital equity is a "condition in which all individuals and communities have the information technology capacity needed for full participation in our society, democracy and economy. Digital equity is necessary for civic and cultural participation, employment, lifelong learning and access to essential services."4
Digital equity is a condition in which all individuals and communities have the information technology capacity needed for full participation in our society, democracy and economy. Digital equity is necessary for civic and cultural participation, employment, lifelong learning and access to essential services.5
Whom does the digital divide affect?
Access to the internet, connected devices and digital literacy remains unequal in the U.S. The digital divide is generally measured by examining availability (ability to access) and adoption (actual use) of the internet. Views differ on how many residents the digital divide affects. The FCC states that the number of residents living in areas without broadband internet of at least 25 megabits per second (Mbps)* download speed and three Mbps upload speed dropped from 21.3 million in 2017, to 18.1 million in 2018, to fewer than 14.5 million in 2019.6 However, this data may be too optimistic, as the FCC considers an entire census block to be served by broadband if just one home or business within that block has broadband available. A BroadbandNow analysis shows that the 2017 FCC report significantly underestimated the number of Americans without access to wired or fixed wireless broadband,+ demonstrating that 42 million residents did not have access to broadband in 2017.7 A Microsoft analysis from November 2019 found that 157.3 million Americans are suffering from slow and unreliable internet connections with speeds below the FCC guidelines.8 All of these figures show that too many Americans are digitally disconnected.
The digital divide is both an urban and rural issue. Because more people live in urban than rural areas, most digitally disconnected households are in urban areas. Rural areas lag urban areas regarding broadband adoption (81 percent compared to 86 percent, respectively).9
Affordability is a primary cause of the digital divide. Low-income residents are less likely to have reliable access to high-quality, in-home connections and enabling technology. Households earning less than $20,000 per year have a broadband adoption rate of 62 percent, compared to households earning more than $75,000, which have an adoption rate of 81.8 percent.10
Certain racial, ethnic and age groups have lower rates of broadband access and adoption. Nearly half of the people who are digitally disconnected are Black, indigenous and people of color (BIPOC). Even when studies control for income, education, employment and other demographic factors, a racial digital divide exists in internet access.11 Compared to 90 percent of White households and 86 percent of Latinx households, only 82 percent of Black households have internet at home.12 Older residents are also more likely to be digitally excluded, as 42 percent of American seniors, or 22 million, lack broadband at home. Black and Latinx seniors are more than 2.5 and 3.3 times more likely, respectively, than White seniors to experience negative effects of the digital divide.13
What is causing the digital divide?
Research shows that there are three main causes of the digital divide:
Affordability: Cost of devices and broadband service is not within reach for some users.
Accessibility or Availability: Broadband at speeds and quality needed to accomplish common tasks is not accessible or available to users because the service does not exist, the speeds or quality are inadequate, or devices to use the internet are not available.
Skills: Users do not have the skills necessary to use technology (internet, devices, etc.) or to navigate successfully.
How can cities bridge the digital divide?
City leaders across the U.S. are prioritizing attempts to bridge the digital divide. Their actions and solutions must adapt to communities' needs, depending on the causes of the digital divide. Cities are undertaking various digital inclusion efforts to ensure digital equity in their communities. Some are building wireless solutions focused on affordability to increase access, or using their power and legal rights to advocate for affordable internet plans. Other cities are working with community partners to distribute devices or partnering with their libraries to host digital literacy trainings. This report describes these efforts in detail in the sections below.
Digital inclusion refers to the activities necessary to ensure that all individuals and communities, including the most disadvantaged, have access to and use of information and communication technologies.14
Check out the NDIA's Digital Inclusion Trailblazers, an inventory of local government digital inclusion activities, to see how cities are bridging the digital divide.
This inventory tracks digital equity efforts along six indicators:
The local government has or directly funds at least one full-time staff member dedicated to digital inclusion initiatives, policies and/or programs.
The local government has a digital inclusion plan or is developing a plan.
Representatives of the local government participate in an open-access digital inclusion coalition.
The local government has conducted or plans to conduct and publish survey research on residents' internet access and use.
The local government directly funds community digital inclusion programming.
The local government is taking steps to increase affordability of home broadband service.15
*Mbps, or megabits per second, is the measure of internet bandwidth. The greater the bandwidth, the faster a user can download data from or upload data to the internet.
+Fixed wireless networks connect homes to a wireless transmitter with a radio antenna. Wired networks are cabled to the home (e.g., cable, DWL, fiber).
Get the Overview and Driving Questions summary for the Digital Equity Playbook.
Learn how you can bridge the digital divide in your city.