Pedestrian zones offer a unique policy option for municipalities to explore that not only fosters community wellbeing but can also increase economic development, improve road safety and enhance mobility options for all residents. NLC's guide on Pedestrian Zones defines these zones as "area[s] that are permanently, periodically or occasionally closed to vehicular traffic." Municipalities can make these zones permanent features, recurring (such as Saturday mornings for farmers markets), or more sporadic for annual or seasonal events.
The pandemic caused a reexamining of downtown corridors where many municipalities, with local businesses, opened outdoor spaces allowing more pedestrian interactions with their local communities. Many municipalities want to continue positive trends that increased during the pandemic by focusing on improving walkability and safety for pedestrians. Some are using their American Rescue Plan Act's (ARPA's) State and Local Fiscal Recovery Funds (SLFRF) to make public spaces permanently pedestrian-friendly, like Detroit, MI's $20 million investment in its 27.5-mile car-free Joe Louis Greenway. Others are using Bipartisan Infrastructure Law (BIL) program funds such as Safe Streets and Routes for All to increase pedestrian safety and walkability. More examples of pedestrian zones globally are available in the Pedestrian and Bicycle Information Center's January 2023 "Shifting Streets" dataset.
SPARK in Indianapolis, IN
SPARK on the Circle (SPARK) is a multi-organizational initiative with the goal of supporting residents, local businesses, artists, visitors and more through a pedestrian-focused capital investment in the heart of Indianapolis' (pop. 882,000) downtown district. The space opened in July 2023 with plans to maintain its presence in the city's Monument Circle until November 2023. So far, the city has seen a 40 percent increase in foot traffic in the area compared to the same period in 2022. With more data to come, SPARK plans to reopen in the summer of 2024, and due to SPARK's success, the partnership is receiving an outpouring of support from civic leaders and partners.
According to Director Rusty Carr at the City of Indianapolis' Department of Metropolitan Development, the project is a pilot stemming from the Mayor Joe Hogsett Administration's South Downtown Connectivity Vision Plan, which serves as the blueprint for connectivity and infrastructure downtown. After an extensive public engagement process, the city designed the space for people with a focus on mobility, accessibility and fun for all SPARK visitors. Carr expressed that this was achieved through a focus on comfortable seating, plenty of shade, food and drink options, local art and games as well as creating the feel of a permanent park space with shades of green from the trees, umbrellas and seating options carefully placed for visitor use (Image 1). This initiative connects with other plans to support the city's downtown resiliency strategy, multimodal and bus rapid transit efforts.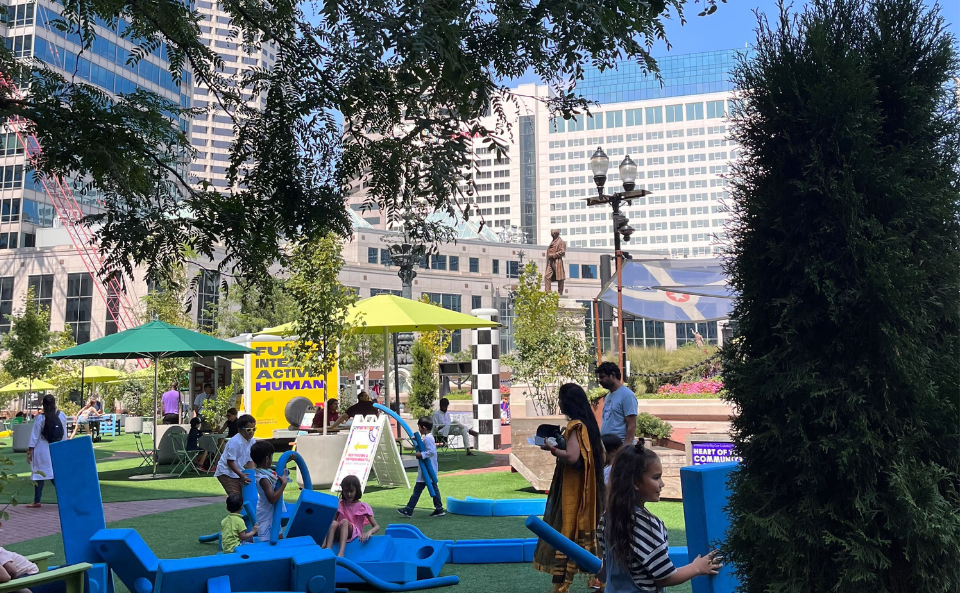 Pedestrian Zone in Portland, ME
Pedestrian zones are far from limited to large urban centers and are taking root in smaller and mid-sized cities like Portland (pop. 68,000). Before the COVID-19 pandemic, city staff considered the closure of streets in the popular Old Port district as part of a larger redesign. According to City Transportation Systems Engineer Jeremiah Bartlett, demand for street closures began to develop organically during the pandemic amidst experimentation with innovations like outdoor dining. In September 2021, Portland's City Council voted to permanently close the cobblestone Wharf and Dana streets to traffic, along with part of nearby Milk Street.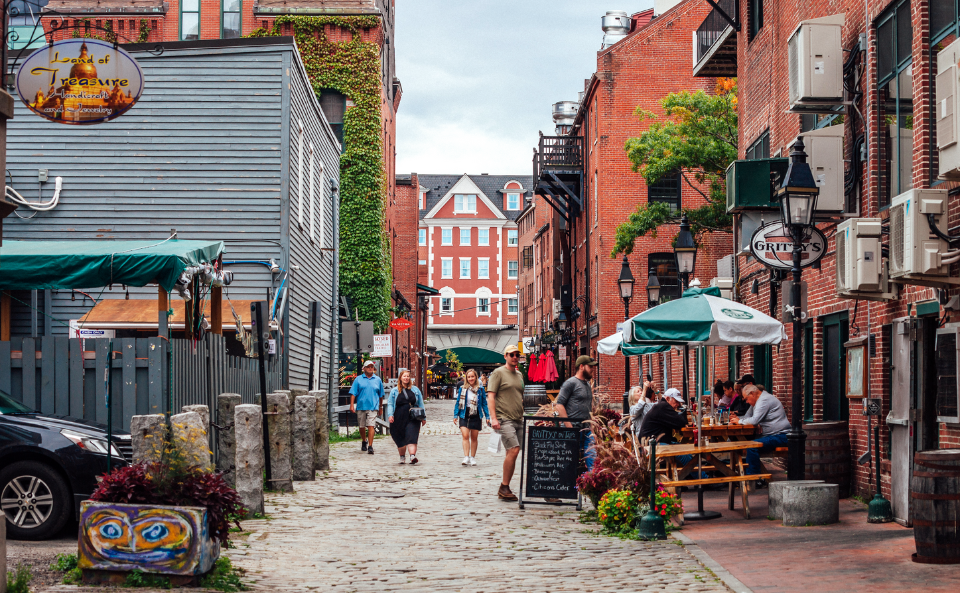 Approved as part of the Open Air Portland plan—which also made permanent certain pandemic-era business accommodations—the pedestrian zones intersect clearly with larger efforts to increase livability and mobility in Maine's largest city. Particularly, the emphasis on pedestrianism is in line with the city's work to shift the balance away from automobiles by launching a bikeshare program, eliminating parking minimums, and partnering with METRO, which provides transit to the greater Portland area. Not only have the pedestrian zones increased foot traffic and brought renewed investment to downtown, but according to Bartlett, they have increased the area's accessibility to many groups of people. In this way, walking has served as a "great equalizer" in contrast to car-dependency, which "state[s] implicitly or explicitly that some people are not welcome."
How to Start a Pedestrian Zone in Your Municipality
Both Indianapolis and Portland identified the need for community buy-in when investing in large capital improvement projects like pedestrian zones. For municipalities interested in establishing a pedestrian zone in their community, they can begin by building a plan, gathering stakeholders, and looking at their assets (like parking spaces). They can also start by:
As local leaders look for ways to encourage community connections, municipalities are well-positioned to create safe and welcoming environments that can have long-lasting social and economic impacts that are convenient and equitable for all. Further considerations should be made for how a 15-minute city, transportation and equity plans, as well as parking and jaywalking laws could impact a pedestrian zone.
Learn More
Access NLC's resources library to learn more about policies— like transportation and infrastructure—that impact cities, towns and villages across the US. By becoming an NLC member, municipalities can receive access to leading resources for local leaders, advocacy for America's cities, towns, and villages, and best practices to build thriving communities.