Local leaders are responsible for creating spaces that allow all people to thrive. Universal design is the design and composition of an environment that ensures it can be accessed, understood and used to the greatest extent possible by all people regardless of their age, size, ability or disability. This model arose to address how all people can not only exist, but more importantly, thrive in spaces. The Americans with Disabilities Act (ADA) provides fundamental public and private space requirements. However, public space development often overlooks the crucial understanding of how comfortable, welcome and joyful people feel in public.
A collective of built environment experts collectively created seven principles of universal design to guide design, products and communications around the built environment.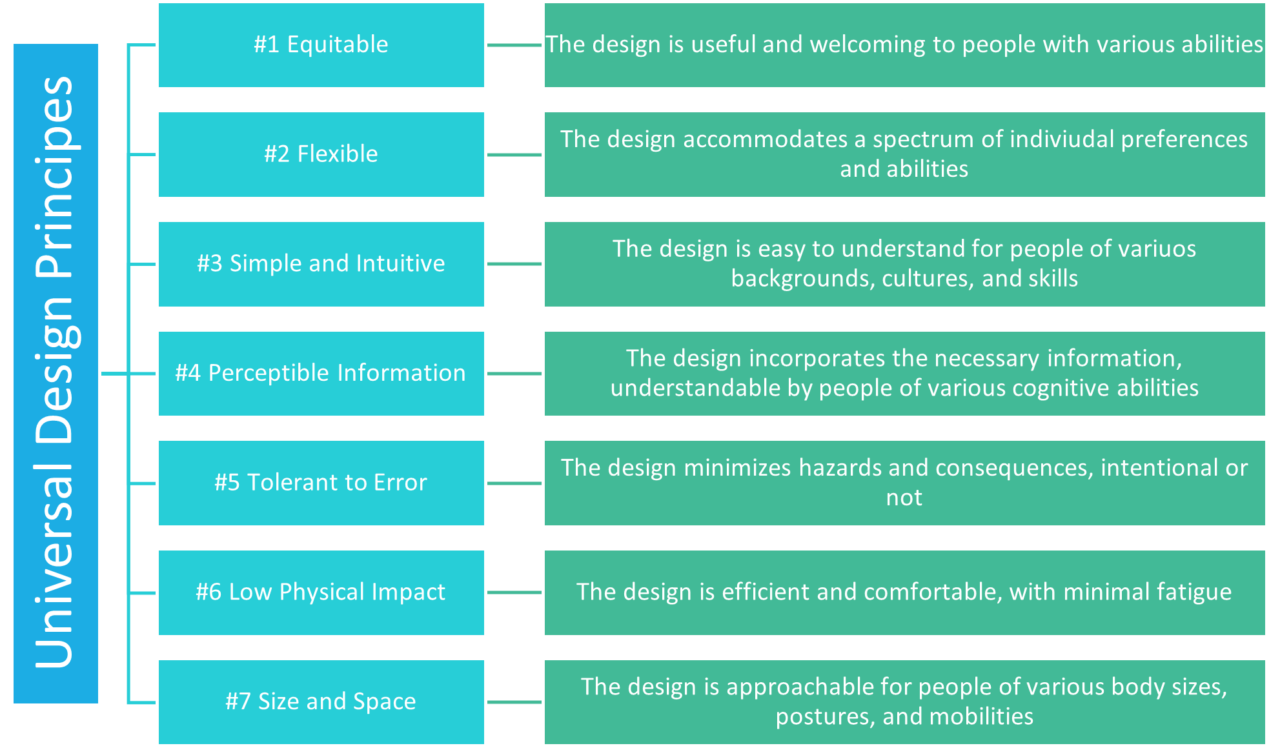 What Does Universal Design Mean for People & Places?
Economic return is often the top priority when we develop a new space. How often, however, is someone likely to return and patronize a place's businesses if the space does not feel made for them, with their abilities in mind or with amenities they enjoy? Racial and social equity values have taught us about factors that must be integrated to improve people's experiences in the built environment, particularly considering how people feel in public spaces. This can be done by revamping community engagement efforts beyond typical evening public meetings. Local governments must offer opportunities that foster resident empowerment in the process, such as:
Charette activities that help cities brainstorm values, desired amenities and actual designs
Accessible surveys for people who do not feel comfortable speaking up or concentrating well during in-person engagement
Materials or engagement activities in multiple languages
Hiring of local artists for design and programming opportunities
Targeted engagement activities at places of community trust, such as schools or community centers
Feeling Seen in Programming & Amenities
Local leaders are working to build inclusive programs and amenities for all individuals. Harris County opened the James Driver All Inclusive Park, the first of its kind, in Houston, TX in December 2021. The park integrates features that meet community needs, such as wheelchair-friendly equipment where kids can spin, sway, swing, slide and splash. Other amenities in the park include event lawns, expanded community centers, sensory gardens with native plants, local artist installations, a connected bus stop and more. The park hosts weekly events for targeted individuals, including seniors, adults, youth, veterans, families, young adults and teens. Events range from healthcare resources to workforce development, fitness, afterschool programming and more.
Public spaces must make people feel welcome, safe and joyful as they interact with the world.
Feeling Safe in Public Spaces
Parks after dark are often viewed as unsafe places. To improve the public's perception of parks, many communities have begun investing in nighttime programming. The city of Clarksville, TN created the Mayor's Summer Night Lights program, which provides intentional programming for Clarksville youth. The city will host 14 events this summer that will feature music, sports tournaments, enrichment sessions, health and job information booths, motivational speakers, arts and crafts and more. City leaders also plan to provide free meals to participants. The program considered its diverse resident demographics, as well as the interests and needs of city residents, ensuring it was made with them in mind to foster more positive, safe feelings about parks at night-time.
Feeling Welcome in the Neighborhood
To make spaces feel welcoming, cities must make them seem approachable and easy to navigate and understand. Creating clear and legible spaces with easily identifiable and accessible signs and maps can improve navigation and wayfinding while making spaces more welcoming. Cities, towns and villages across the country are implementing more accessible wayfinding options, whether that be at playgrounds or on the street. The city of Hagerstown, MD incorporates wayfinding throughout the city's Cultural Trail. The cultural train includes signs with words and images of landmarks and destinations along the trail to make the space easier to navigate for all people. The city also provides visitors with a virtual map to preview the art installations along the trail and learn more about the various artists and their works' inspiration.
Wayfinding refers to information systems that guide people through a physical environment and enhance their understanding and experience of the space

RSM Design
How Local Leaders Can Support Universal Design in Programming, Amenities & Neighborhood Design
Embrace the role of facilitator and bridge builder: Local leaders can work with neighborhood associations, community development corporations and other nonprofits that residents trust to foster community relationships. These relationships will allow coalitions to develop communication between residents and local leaders to understand what is missing from communal spaces. Including residents in these discussions, especially individuals who are often excluded in these processes, allows connections to form between the role local government plays in making necessary changes and how those roles can address residents' needs.
Conduct public amenity audits: Local governments should conduct audits with residents to capture how welcoming and accessible the spaces are in a community. This can include attending programming in public places, completing walking tours and creating additional ways for residents to participate in public spaces that are unique to each community. Including residents in this process is key to ensuring community needs are being met through public spaces.
Decipher social impact metrics: Municipal leaders must evaluate the impact and effectiveness of elements in fostering a welcome, safe, relevant and overall desirable place for residents. They should consider other ways to measure the inclusivity of a space by evaluating these social impact metrics on an annual basis. These evaluations can be done through community surveys, focus groups or other methods to ensure that all residents have a chance to provide feedback on the impact these spaces have for them.
Want to learn more about how city leaders can reimagine public space?