2021 was a historic year. As cities, towns, and villages across the country continued to battle the COVID-19 pandemic, Congress listened to local leaders and provided critical investments to support economic recovery and rebuild our nation's infrastructure.
NLC was there every step of the way to help you advocate for and navigate this legislation. As we head into 2022, know that our team will continue to be your go-to partner in accessing and maximizing these opportunities.
Read on for some of our most useful resources and highlights from this year!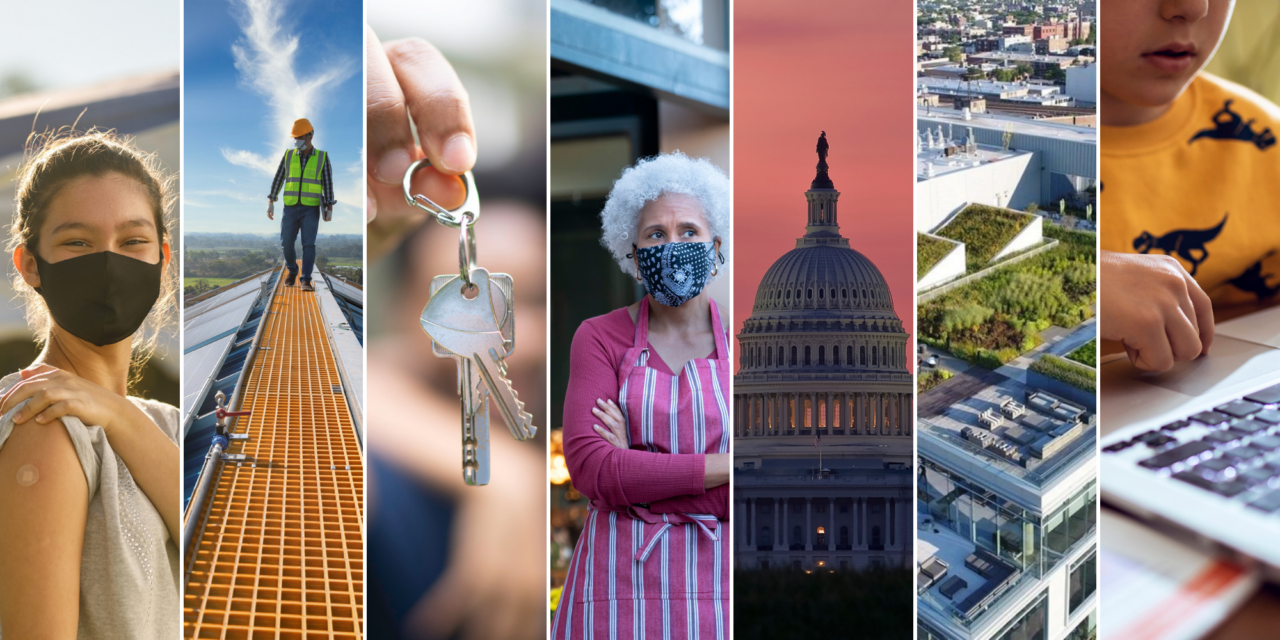 Response and Recovery
Local Fiscal Recovery Funds Playbook: A playbook designed to educate local leaders on the value of the historic ARPA SLFRF program, help local leaders access critical implementation resources from the Treasury and NLC, and generate the biggest impact for their communities.
ARPA Local Relief Frequently Asked Questions: Identifying your frequently asked questions about Coronavirus Local Fiscal Recovery Fund grants.
ARPA Fiscal Recovery Funds & Supporting Small Businesses: This brief is for local leaders looking for guidance on how to best use American Rescue Plan Act (ARPA) Local Fiscal Relief Funds to support local businesses.
State of the Pandemic: Using Data to Combat COVID-19: With another variant of concern knocking at our doors, many are concerned that COVID-19 cases will climb in the weeks and months to come, even with 70.9 percent of the U.S. adult population fully vaccinated. This article goes through what the data tell us and what city leaders should do going forward.
How Communities Can Help Students Return to and Learn Safely in School: Written by U.S. Department of Education Secretary, Dr. Miguel Cardona, this article gives recommendations and shows examples that local leaders can take to keep students going back to school.
Fact Sheets on Clean Water and Drinking Water SRFs: NLC fact sheets on the Clean Water and Drinking Water State Revolving Funds explain eligibility guidelines for wastewater, drinking water and stormwater projects under both ARPA and the bipartisan infrastructure bill.
Rebuild
Infrastructure Bill Insights: The Infrastructure Bill Insights tool below provides a searchable list of programs of interest included in the Bipartisan Infrastructure Law so that you can search and find what you need as a community more easily.
How Hard-to-Fill Infrastructure Jobs Impact Building Our Future: The American Rescue Plan Act (ARPA) and bipartisan Infrastructure Investment and Jobs Act provide funding streams that target expansion, maintenance and remediation of a wide range of infrastructure systems and assets. This will spur an unprecedented number of new infrastructure jobs. This resource dives into whether our workforce is aligned, willing and ready to take on these new jobs.
The Build Back Better Act: What You May Have Missed: The Build Back Better Act (BBBA) includes key priority areas for local governments, including programs to support workforce development, increase housing affordability and improve climate resilience. This article explains what you might've missed.
Equity in Action
Digital Equity Playbook: How City Leaders Can Bridge the Digital Divide: A toolkit with steps for city leaders to bring digital equity to their communities.
Two Playbooks from Davis, CA for Centering Equity when Reopening our Cities: An article written by Mayor Gloria Partida on how her city of Davis, CA reopened with equity in mind.
A Path Toward Safe and Equitable Cities: Toolkit from the NLC Reimagining Public Safety Task Force recommending that city leaders consider acting in five interrelated areas based on local landscapes and community needs.
ARPA & Health Equity Fact Sheet: This fact sheet demonstrates the steps local leaders can take to spend ARPA funds equitably towards public health.
Other Helpful Resources:
On The Frontlines of Today's Cities: Trauma, Challenges and Solutions: This report focuses on the harassment, threats and violence local leaders across the country are facing and has recommendations for forming a pathway to a more civil discourse.
State of the Cities 2021: State of the Cities 2021 examines how the COVID-19 pandemic has exacerbated critical issues facing municipalities.
Beyond Recycling: Policy to Achieve Circular Waste Management: This resources provides information on how local leaders can lead in recycling, and the actions needed to make change.
NLC Delivers!
NLC is a strategic partner for local leaders and municipal staff, serving as a resource and advocate for communities large and small. Join our network and get access to timely resources, proven best practices, and connections to peer networks.