It's that eventful time when students and their families are thinking ahead to the upcoming school year, even as they enjoy the remaining weeks of summer. Right now, these preparations feel more important than ever, and as U.S. Secretary of Education, I'm so encouraged by the groundswell of support from city leaders across the country in helping our nation's communities, and our nation's schools, become fully operational again heading into the new school year. In acknowledging your hard work and contributions to this important mission, we can all agree there's more to be done. Opening schools in the fall will require a total team effort, and won't be successful without your continued help.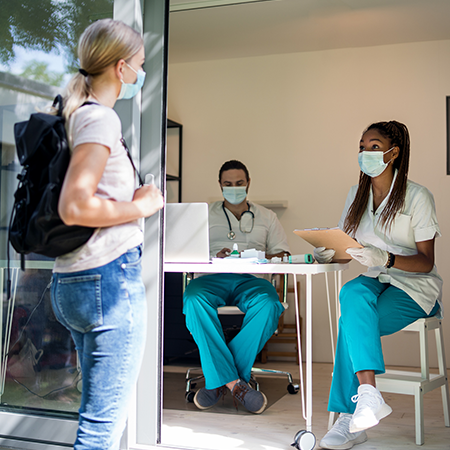 One of the best ways to maintain the positive momentum is by helping eligible people — those age 12 years and older – to get fully vaccinated. Vaccination is our leading public health strategy to end the COVID-19 pandemic – and having as many individuals as possible in our school communities vaccinated will go a long way toward preventing COVID outbreaks, so that students, teachers, and staff can safely remain in school.
President Biden has called for every school district in the country to host a school-based vaccine clinic before the school year begins, so that students, their families and other members of the community can get vaccinated. Research shows families are more likely to get vaccinated in a familiar environment, and around others they know and trust. City leaders can facilitate this work, in collaboration with public health and education leaders, to promote safe and successful outcomes in your neighborhoods.
In the past week, I've had great conversations about school-based vaccine clinics with a number of Governors. It has been so encouraging to hear about ways their states are boosting access and opportunity, and how dedicated communities have been to helping protect their young people. Every state and local leader has my deepest appreciation for committing additional resources and technical assistance in the interest of public health and safety.
I want to particularly highlight the creative youth vaccine initiatives that have been underway in cities nationwide. School districts are doing their part by creating their own unique opportunities, launching campaigns, mobile clinics and comprehensive outreach efforts to get more students vaccinated. Here are just some examples:
I invite every school district in America to host at least one pop-up vaccine clinic as their middle and high school students come back to school this summer and fall. I encourage all participants to be creative in how and where they locate these clinics to maximize their turnout.
There are many resources to make school-based clinics available. If your community has already hosted one of these clinics, please consider holding another one. The need continues. The following offer step-by-step instructions for how to facilitate school-based vaccination clinics:
I am also excited to share that the Department recently released a Return to School Roadmap.  This user-friendly website and set of resources will help educators and parents plan for a safe school reopening and a school year that meets not only the unique academic needs of students but also their social and emotional needs and those of the school community. 
The Roadmap can help communities build excitement and confidence around returning to classrooms. It outlines how federal funding can support the safe and sustained return to in-person learning. And, it includes strategies to implement the CDC's updated guidance for K-12 schools. I encourage you to utilize the Roadmap across your communities.
Finally, I want to share something that has been especially meaningful to me.
I have spent the last several months traveling to 17 states and territories, seeing and hearing directly from educators, parents, and most importantly, students. As I'm speaking about safely reopening schools, I feel it's important for the American people to also see me in schools. Touring classrooms in the spring, visiting enriching and engaging summer programs, attending college vaccination clinics, and observing school buildings in desperate need of upgrade, I've seen firsthand the challenges and opportunities in education, and the incredible resilience and love that educators in your communities have for their students. These experiences have given me an invaluable perspective and reinforced my passion for working with you to advance the goals of the President's Build Back Better Agenda.
Thank you again for your partnership in these important initiatives. We're all looking forward to a new school year, with all the supports our students, schools and communities need to thrive.