Over the last 21 months, local leaders have been at the forefront of the COVID-19 pandemic – from providing information and data about the virus to keeping essential municipal services up and running – our cities, towns and villages have been working harder than ever before to ensure the health and safety of our communities.
Essential to our roles has been providing information about and access to COVID-19 vaccines. In cities large and small, urban and rural, there have been unique challenges associated with delivering and administering much-needed vaccinations in hard-to-reach populations. Whether they be homebound seniors, the homeless, those without easy access to a vaccination site or a resident who asked for more information or support to inform their vaccination decision, these groups of residents challenged us to think outside the box to ensure equitable access to information and vaccines.
Earlier this year, NLC partnered with the White House in support of the National Month of Action and the We Can Do This campaign and challenged local leaders to help increase vaccination rates in our communities. Cities have answered the call. Through creativity, partnership and determination, we have seen hundreds of actions in the NLC Local Action Tracker that depicts the phenomenal work being done across our country.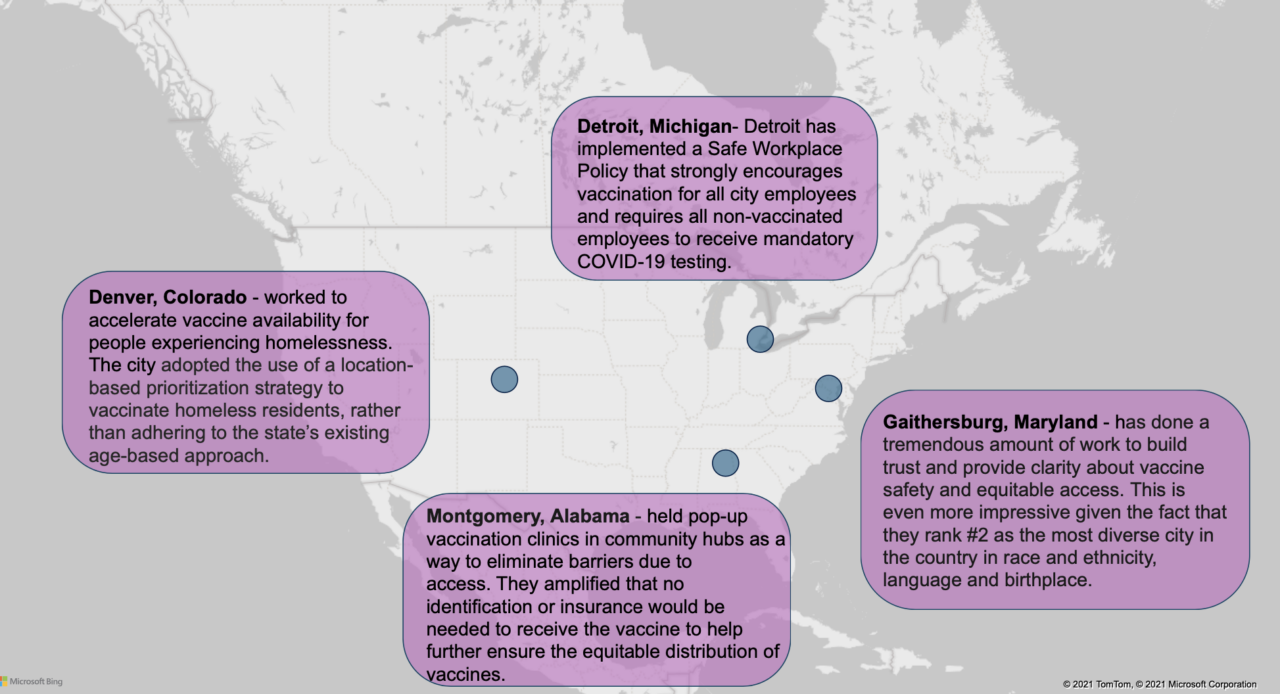 At this year's City Summit, we recognized four of these communities, one in each of our regions across the country, for their efforts:
WEST:

Denver, Colorado (pop. 705,000) – Denver worked to accelerate vaccine availability for people experiencing homelessness. The city adopted the use of a location-based prioritization strategy to vaccinate homeless residents rather than utilizing a traditional age-based approach.

NORTHEAST:

Gaithersburg, Maryland (pop. 67,700) – has done a tremendous amount of work to build trust and provide clarity about vaccine safety and equitable access. This is even more impressive given the fact that they rank #2 as the most diverse city in the country in race and ethnicity, language and birthplace.

MIDWEST:

Detroit, MI (pop. 674,800) – Detroit has implemented a 'Safe Workplace Policy' that strongly encourages vaccination for all city employees and requires all non-vaccinated employees to receive mandatory COVID-19 testing.

SOUTH:

Montgomery, Alabama (pop. 199,700) Montgomery held pop-up vaccination clinics in community hubs as a way to eliminate barriers due to access. They amplified that no identification or insurance would be needed to receive the vaccine to help further ensure the equitable distribution of vaccines.
NLC has worked to bring together resources and real-life examples of local leaders creating change and impact in their communities. As new variants of the COVID-19 virus are discovered in our communities and as more of our nation's children become eligible for vaccines, we encourage local leaders to continue to share their tactics and best practices with each other by submitting them to NLC to be amplified with all members.
Tell us how you are partnering with your school districts, local businesses, employers and community partners – we want to hear from you! Together we will continue to lead the way out of this pandemic and into equitable economic recovery to help fulfill the promise of America's cities, towns and villages for all our residents.
NLC Delivers
NLC is a strategic partner for local leaders and municipal staff, serving as a resource and advocate for communities large and small. Join our network and get access to timely resources, proven best practices, and connections to peer networks.