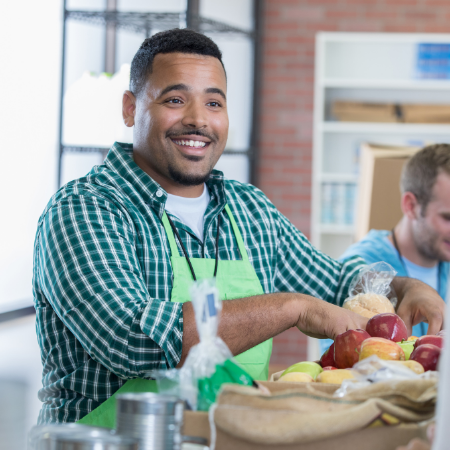 During the pandemic and the economic crisis, cities across the country worked tirelessly with local partners to stabilize their food ecosystem (farmers, food producers, grocers, and restaurants). Cities also fed residents through contracts with local food businesses and connected those food businesses to capital. Innovation, flexibility, and thinking holistically about the role cities can play to support the food ecosystem were critical in meeting resident needs and building food access resilience in communities.
The American Rescue Plan Act (ARPA) invests over $1.9 trillion to blunt the impacts of the COVID-19 crisis and support struggling communities and families. ARPA funds made available through several federal agencies will provide individuals and families with increased funding for food, strengthen local food businesses, and boost employment.
Targeted APRA funding to support people accessing food include:
Another round of direct Economic Impact Payments of $1,400 for individuals, $2,800 for joint filers, and $1,400 for each qualifying dependent phased out by income. If funds are used to purchase food, these funds will allow individuals to select the most culturally appropriate food and support food businesses operating within the community. While funds go directly to individuals, community leaders have a role to play, including helping residents understand that they are eligible to receive these payments and the amounts available. Furthermore, leaders can connect residents with nonprofit partners that can help them claim these funds and connect with banking so that residents can receive funds quickly and safely.
$1 billion to establish the Pandemic Emergency Assistance Fund. These funds can help families who receive Temporary Assistance for Needy Families (TANF) support meet their specific crisis needs, including emergency food aid. Cities leaders can make sure that residents on TANF are aware of these funds and how they can connect with state agencies to receive the emergency funding.
Extension of the Supplemental Nutrition Assistance Program (SNAP) 15% increase through September.This increase provides roughly $28 more per person, per month, or more than $100 more per month for a family of four in additional SNAP benefits. The U.S. Department of Agriculture (USDA) estimates that the extension will provide $3.5 billion in direct relief to more than 41 million people. Additionally, monetary funds have been sent to states to support the administrative costs of increased SNAP participation.
$490 million for improvement to the Special Supplemental Nutrition Program for Women, Infants, and Children (WIC). These funds increase the number of fruits and vegetables WIC participants can purchase, with their benefits rising from $9 to $35 per month through September 2021.
$390 million for program modernization for the WIC program and the $25 million to expand SNAP online purchasing and assistance to retailers and farmers markets makes it easier for SNAP participants to order and pay for their groceries online.
Extension of the Pandemic Electronic Benefit Transfer (P-EBT) program through the summer. USDA expects the P-EBT program to reach 30 million children. Families with eligible children should expect to receive roughly $375 per child. City leaders can work with school districts and state agency partners to make sure that children are connected to P-EBT.
$150 million in additional funding for the Maternal, Infant, and Early Childhood Home Visiting Program(MIECHV), which works with pregnant women and families to connect them with supports and benefits such as WIC and SNAP to meet their growing family's needs. City leaders can connect residents with the home-visiting providers to share resources and help streamline referrals for food benefits.
Stay Updated
Visit NLC's ARP Resource Page for all the latest events and information, including the latest on federal guidance and funding availability.
$37 million in additional funding for the Commodity Supplemental Food Program, which provides supplemental food to low-income people at least 60 years of age. City leaders can directly connect age-appropriate residents with partners that provide these supplemental foods or highlight through communication channels like social media or direct mail where residents can pick up food.
Support meals for young adults up to age 25 in emergency shelters participating in the Child and Adult Care Food Program.
$400 million in additional funding for the Emergency Food and Shelter Program through the Federal Emergency Management Agency.
Targeted ARPA funding for the food supply chain include:
$3.6 billion to support the food supply chain, including grants and loans to small to mid-size processors, seafood processing facilities, farmers markets, producers, and others responding to COVID-19, support purchasing food and agricultural commodities, and assistance to maintain and improve food and agricultural supply chain resiliency.
$300 million for the surveillance and monitoring of animals susceptible to COVID-19 transmission.
$100 million to reduce the impact of overtime inspection costs for meat, poultry, and eggs at small establishments.
$4 billion to help farmers and ranchers of color pay off their Farm Service Agency (FSA) loans or FSA loan guarantees and make loan modifications where possible.
Over $1 billion for assistance and support for socially disadvantaged farmers, ranchers, forest landowners, operators, and groups. USDA will provide grants and loans to improve land access, financial training, and other technical assistance to disadvantaged farmers, ranchers, and forest landowners. A Racial Equity Commission will be established to facilitate the outreach and technical assistance.
ARPA funding also provides targeted support to food businesses like restaurants, food carts, and caterers through the Restaurant Revitalization Grant Fund and other SBA resources. Local leaders can raise awareness of these opportunities and connect food business owners with supportive financial institutions like Community Development Financial Institutions to help them navigate their options.
The USDA waivers and ARPA targeted funds can jump-start the development of more resilient food ecosystems that provide local employment opportunities, increase access to food for residents of all ages, and empowers them to select culturally appropriate food for their families. As local leaders utilize the Five Principles for ARP Implementation, think about the gaps in the local food ecosystem and how targeted funding can support long-term access to food that residents want and local food businesses that can provide this food while employing residents.
Reach out to the Economic Opportunity and Financial Empowerment team to get started on building a food access agenda for your city.
Learn More
Beyond the ARPA program funds, the USDA has recently issued new national waivers to support schools, and childcare facilities feed students through June 30, 2022. These waivers allow schools to continue to serve meals for free to all children, allow schools and childcare facilities to provide meals in non-group settings at flexible mealtimes, and allow parents or guardians to pick up meals for their children when needed.