CONTACT INFO

Polco is changing how local governments inform and get input from their constituents.
Polco is a civic engagement tool that helps city leaders find smarter ways to engage with their communities. Designed and built in close coordination with over a dozen municipalities, Polco can help you get the answers you need to lead with confidence. Polco delivers the ease and accessibility of an online survey combined with the verification and reliability of in person engagement.
Benefits to Cities, Towns and Villages
Leverage the power of data

On-demand reports help you stay on top of trends and public opinion while game changing analytics let you compare results across age, gender, location, and much more – automatically!
Resident service-delivery satisfaction metrics allow you to quantify success and progress on strategic goals and performance measures. Understand overall community level metrics as well as census track/precinct level sentiments.
Communicate regularly
Commitment to the Public Sector
All NLC members will receive a 25% discount
Open up a two way dialogue with your residents, where you ask questions, they provide feedback, and you use that information to make community decisions. You can even message respondents on the outcomes, and ask for their help again!
Make it easy for busy and thoughtful residents who struggle to attend in-person events to provide meaningful input through improved accessibility.
Promoting positive civic engagement is a core tenant of the National League of Cities (NLC), which is why we're proud to partner with Polco. All NLC members will receive a 25% discount on Polco, so they engage in quality civic engagement at an affordable rate.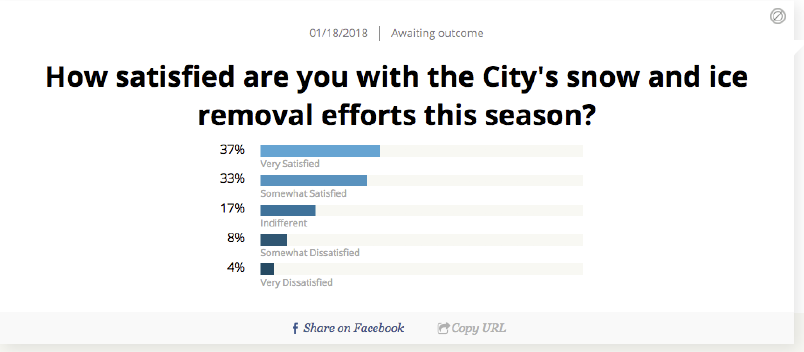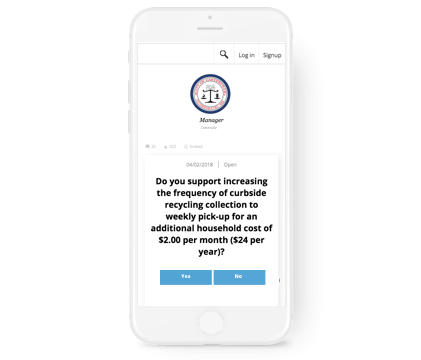 Polco in Action
Perhaps most interesting in Purcellville, VA has been the focus on geographic answers to questions that affect different neighborhoods and their residents in different ways. Whether looking at potential bike path fixes or a three way stop-sign, the use of geographic breakdowns has helped the Council consider all voices, while taking particular note of those most affected by proposed changes.
As new topics come before council for consideration, this input has helped both educate the community and help build trust that government is listening. As engagement grows using Polco's online tools, residents gain confidence that elected officials have their interests in mind.
The answers to all of your community-based questions are at your finger tips. Request a demo in the contact form below and learn how Polco can help your city, town or village!
---
Questions about working with this partner?
Fill out the contact form below.