Cities Advancing Equitable Youth Economic Recovery and Empowerment
To support cities' efforts to improve outcomes for young people who are marginalized from economic success, the National League of Cities (NLC) is implementing an innovative initiative, Youth Excel: Cities Advancing Equitable Youth Economic Recovery and Empowerment. Through this initiative, NLC will support cities in creating equitable outcomes for marginalized youths.
Economic mobility is out of reach for too many young Americans. Since the Great Recession, nearly 95 percent of all new jobs have gone to workers with at least some college education. The economic disruptions from COVID-19 will likely follow a similar pattern. Many young people – particularly youth and young adults who identify as Black, Indigenous, or People of Color (BIPOC) – are disconnected from school and/or the workforce and marginalized from receiving essential educational and career opportunities. Too often they face structural barriers to accessing equitable career pathways and quality jobs, particularly in high-demand science, technology, engineering and mathematics (STEM) industries.
City leaders – including mayors, city councils and city managers – are well-positioned to respond to these challenges. Their responses can include, improving the building of strong pathways to quality jobs in STEM industries; and by promoting long-term community economic security for youths.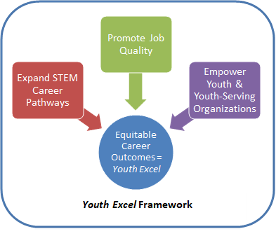 In lending prompt assistance, NLC has developed the Youth Excel Framework to help cities:
develop partnerships and implement strategies that improve access to quality postsecondary education and career pathway opportunities,
focus on job quality improvement strategies and
integrate the critical perspectives of youth and young adults.
How to apply for the Youth Excel Cohort
NLC is currently accepting applications for its Youth Excel Cohort. The application deadline is November 19, 2021.
Before submitting your application, review the Request For Proposal to learn more about the initiative and key information required to start your application.
Once you've reviewed the RFP and gathered your requirements, you may start your application.
The Youth Excel initiative is made possible with the generous support of the Siemens Foundation.
Check out our latest event
Info Session: Youth Excel City Cohort
Find out how NLC can support you in this efforts. This is an informational session on a new opportunity from NLC for up to six cities interested in building equitable pathways to meaningful careers for youth and young adults from marginalized communities.