To support cities' efforts to improve outcomes for youth and young people who are marginalized from economic success, the National League of Cities (NLC) is implementing an innovative initiative, Youth Excel: Cities Advancing Equitable Youth Economic Recovery and Empowerment.
Economic mobility is out of reach for too many young Americans. Since the Great Recession, nearly 95 percent of all new jobs have gone to workers with at least some college education. The economic disruptions from the COVID-19 pandemic are following a similar pattern. Many young people – particularly youth and young adults who identify as Black, Indigenous, or People of Color (BIPOC) – are disconnected from school and/or the workforce, are low-income, and have limited access to quality educational and career experiences. Too often they face structural barriers to accessing equitable career pathways and quality jobs, particularly in high-demand science, technology, engineering and mathematics (STEM) industries.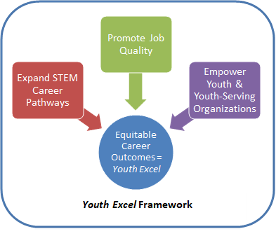 City leaders, including mayors, city councils and city managers, are well-positioned to respond to these challenges with bold actions that will improve the trajectory of marginalized young people. To inform and guide city leaders, NLC has developed the Youth Excel Framework to help cities promote long-term community economic security by:
Developing partnerships and implementing strategies that improve access to quality postsecondary education and career pathway opportunities that lead to higher-wage jobs.
Focusing on job quality improvement strategies.
Integrating the critical perspectives and voice of marginalized youth and young adults.
Applications Open for the New Youth Excel Fellowship
To expand the work of Youth Excel NLC has announced the Youth Excel Fellowship, an opportunity for up to 12 senior city leaders to work with NLC staff, policy experts, and their peers throughout 2023 to advance the ideas of Youth Excel in their communities. To learn more about the Fellowship, plan to attend the Info Session.
Youth Excel Fellowship Application
To learn more about this opportunity and to share your interest, please click on the button to complete the application.
The Youth Excel City Cohort
NLC is proud to work with the following six cities on this important initiative:
Bridgeport, CT
Houston, TX
Lauderhill, FL
Madison, WI
Sacramento, CA
Saint Paul, MN
Each city will form a cross-sector team that will be spearheaded by city leaders and will have the opportunity to connect with City Cohort peers to share and refine promising approaches to overcoming barriers to accessing quality jobs in STEM fields. Along with NLC, the City Cohort cities will approach their work through an equity lens centered on the needs, goals and voices and young people.
The Youth Excel Fellows
The Youth Excel Fellowship supports 13 senior city leaders to work with NLC staff, policy experts, and their peers throughout 2023 to advance the ideas of Youth Excel in their communities. This year's Fellows include:
Mayor Nathaniel George Booker,
Village of Maywood, IL
Sheldon Cruz, Director of Strategic Partnerships & Government Affairs, Department of Youth Development, City of Los Angeles, CA
Rebekah Dixon, Youth Employment Program Manager Raleigh, NC
Briana Evans, Equity & Inclusion Officer
Redwood City, CA
John Everett, Director of Workforce Development
Kids Hope Alliance
Jacksonville, FL
Ren Floyd-Rodriguez, Young Adult Workforce Programs Manager, Office of Economic and
Workforce Development
San Francisco, CA
Victoria Grace-Barksdale, Youth Coordinator
Vallejo, CA
Shannon Harris, Our Community's Children
Executive Director
Grand Rapids, MI
Dr. Lerone Joseph, Program and Operations Manager, Office of Community Wealth Building
Richmond, VA
Marlys McKinney, Senior Management Analyst
Children and Youth Success
San Antonio, TX
Emily Norris, Youth Engagement Coordinator
Office of Community Empowerment
Knoxville, TN
Karissa Selvester, Executive Director
Mayor's Fund for Education
Long Beach, CA
Desmond Wilson, Director of Community Development,
Montgomery, AL
To learn more about the 13 Fellows, download their bios here.
The Youth Excel initiative is made possible with the generous support of the Siemens Foundation.
For more information about the Youth Excel initiative, please contact educationexpandedlearning@nlc.org.