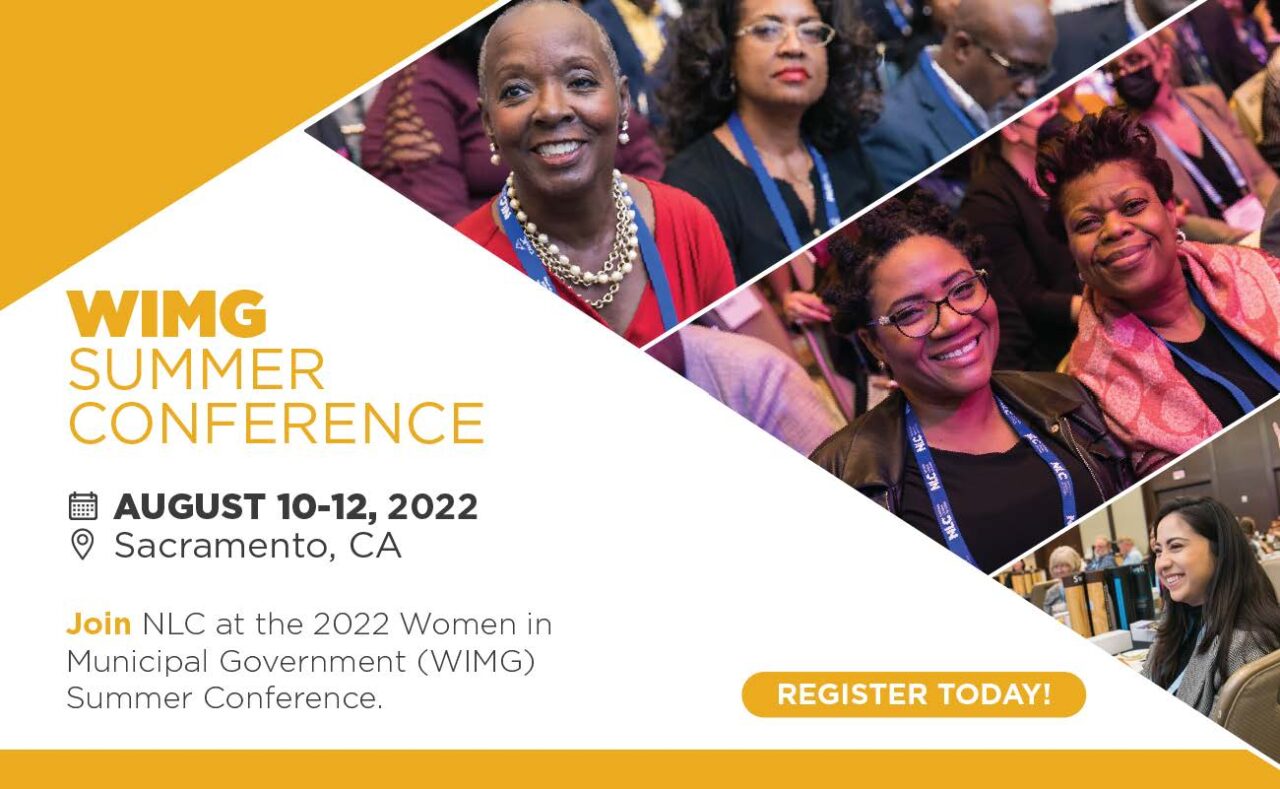 Join us for the Women in Municipal Government (WIMG) Summer Conference, August 10-12, 2022, in Sacramento, CA to connect with fellow women local leaders and build on your skills to bring back to your community.
After two years of connecting virtually, we are excited for WIMG to come together in Sacramento, California, to learn about local policy issues, discuss federal advocacy concerns, and build a stronger network.
Established in 1974, the WIMG constituency group was formed to serve as a forum for communication and networking among women local elected officials and their colleagues within the National League of Cities (NLC).
During the conference you will:
Enhance your network with local female leaders from across the country.
Learn about timely issues in special seminars that help to expand your skill sets.
Find solutions to challenging problems in your hometown.
Registration Rates
Early
(April 1-July 23)
Advance
(July 24-August 9)
On-site
(After August 9)
WIMG Member
$250
$300
$350
Non-WIMG Member
$350
$400
$450
Guest/Spouse registration
$150
$200
$250
Youth Registration (under 18)
$100
$175
$200
Note: Reservations for Hotel Room Block Ended July 19th
---
Schedule-at-a-Glance (Subject to Change)
Wednesday, August 10
3:00 pm – 5:30 pm Conference Registration
4:00 pm – 5:00 pm WIMG Board of Directors Meeting
6:00 pm – 7:00 pm Welcome Reception
7:00 pm – 9:00 pm Welcome Dinner – WIMG Board (Invitation Only)
Thursday, August 11
8:30 am – 5:00 pm Conference Registration
9:00 am – 10:15 am Opening Breakfast
10:30 am – 11:45 am Workshop – Disaster Preparedness Using Infrastructure Dollars
12:15 pm – 1:30 pm Luncheon – Encouraging Women to Run for Office/Work in City Hall
1:30 pm – 1:50 pm Leadership Interest Session / Break
2:00 pm – 3:30 pm Fireside Chat – Connecting Women Leaders: How to Build a Network in Your State
3:30 pm – 5:00 pm Workshop – Empowering Girls for Future Success: Career, Self-Care, and Awareness
5:00 pm – 6:00 pm Afternoon Break
6:00 pm Bus Loading for Museum – Meet in Hotel Lobby (1st bus departs at 6:15 pm)
6:30 pm – 9:00 pm Evening Out – California Museum, Women Inspire Exhibit
Friday, August 12
8:00 am – 2:00 pm Conference Registration
9:00 am – 10:15 am Breakfast Workshop – Early Childhood Development Opportunities from IYEF
10:30 am – 11:45 am Workshop – Managing and Understanding the Unique Pressures of Leadership Through the Pandemic
12:00 pm – 1:15 pm Luncheon – Women and Girl's Empowerment in Our Communities
1:15 pm – 1:30 pm Break
1:30 pm – 1:45 pm Bus Loading for Mobile Tour – Meet in Hotel Lobby (Bus departs at 2:00 pm)
2:00 pm – 5:00 pm Mobile Tour
6:30 pm Night Out on Your Own
Saturday, August 13
8:30 am – 9:30 am Breakfast Available
---
Sponsorship
Interested in supporting this summer conference? Learn more about our sponsorship opportunities here.
---
Contact Us
For assistance registering for the conference, booking your hotel stay, or additional questions, please contact constituencygroups@nlc.org or (202) 626-3100.
NLC is committed to the health and safety of our conference attendees, staff and guests. NLC's health and safety protocols are based on the laws in the hosting jurisdiction, guidance from the CDC, and any restrictions of the hosting event facility. Please note these protocols are subject to change.