Cities across the country are recognizing the importance of supporting high-quality summer learning programs today more than ever before. "High-quality" programs can be defined as those incorporating a range of fun, educational, and enriching opportunities and may include hands-on projects, field trips, academic activities outside of the regular school year curriculum, and even wraparound services for families. Such programs, when planned collaboratively and with a rigorous approach to program evaluation and continuous quality improvement, have been shown to improve school day attendance and behavior, academic achievement, and mental health.
By recognizing the significance of summer learning programs and allocating resources to support them, city leaders can help provide equitable opportunities for their youngest and often most vulnerable residents. National Summer Learning Week is an opportunity for individuals and organizations across the country to recognize and amplify the importance of high-quality summer learning programs. This National Summer Learning Week, NLC is highlighting cities supporting high-quality summer learning programs in their communities.
Albuquerque, NM
In Albuquerque, Mayor Tim Keller believes all families deserve places for their kids to stay safe, engaged, and learning, especially during the summer. With the mayor's leadership, the city directly served over 35,000 youth in the summer of 2022 through a range of programs, including full-day programs at the city's 22 community centers. The city hired nearly 1,000 young people to help run these programs, spending $3.1 million on youth wages, and set them up with free and secure bank account in addition to a great start on their career paths. In response, Albuquerque families have expressed how meaningful it is to know they can count on their children having enriching activities, warm meals, and positive social interactions all summer long. Read more in Albuquerque's annual State of the Summer Report here .
Houston, TX
In partnership with United Way of Greater Houston, Houston Endowment, and the Harris County Department of Education, the Mayor's Office of Education and Youth Engagement leads the Out 2 Learn program, a public-private partnership committed to expanding access to high-quality out-of-school time services to all families in the Greater Houston region through a coordinated, youth-centered approach. This summer, the city will be supporting high quality summer programs by growing their network of providers who have low- or no-cost programming, focusing on nature and outdoors, STEM, and healthcare programs. The city will also continue to fund TechConnect summer programs at 15 community centers, bringing STEM education, career pathway education, and literacy resources to under resourced communities.
Cambridge, MA
Cambridge strongly believes that summer programs provide students with opportunities to build strong relationships, make new friends, build academic skills, and engage in new experiences. The city prioritizes summer learning for its youth through hundreds of programs for all age groups and currently provides programs through MIT and Harvard, city-sponsored programs, and community-based options. The City of Cambridge also runs a Mayor's Summer Youth Employment Program, hiring around 900 students between the ages of 14-17 and employing them at various job sites throughout the city for 20 hours a week. Cambridge Mayor Sumbul Siddiqui also co-sponsors a summer program called RECESS, a free student-designed summer program to encourage students to get out and play while also interacting with community-based partners to learn cooking, hair braiding, or coding skills. Mayor Siddiqui says, "Summer programs are a great way to continue learning and developing new skills outside the classroom. Cambridge is very fortunate to have numerous options for students."
Port St. Lucie, FL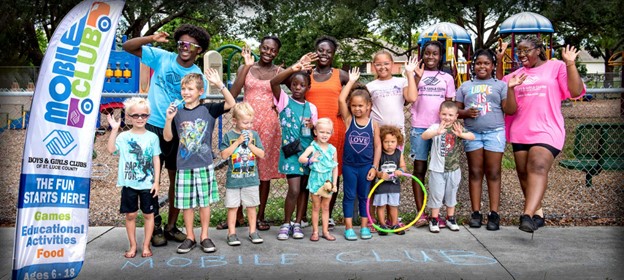 Photo caption: The City of Port St Lucie is providing space in city parks this summer for a mobile Boys and Girls Club summer learning program.
The City of Port St. Lucie (PSL) supports partnerships to advance education and support area youth every summer. This year, the city will continue to partner with their local Boys and Girls Club (BGC) for its "Summer Camp-A-Thon", hosted in a city event space. The program will offer a variety of performing arts activities, culinary classes, martial arts training, crafts, S.T.E.A.M. activities, and more. The idea to host a summer camp at the city's event center was developed during the pandemic and was one of the first summer camps in the area to re-open and has continued since that time, building on the successful city-provider partnership. The city will also be supporting a BGC "Mobile Club", bringing summer learning and Saturday programs to city parks in neighborhoods where youth do not have access to other summer programs. Finally, this June, the city was honored as one of 19 finalists in the National Civic League's 2023 All-America City Awards; city staff, PSL's new Youth Council, parents, and youth traveled to Denver to celebrate the city's accomplishments within the theme of "Creating Thriving Communities Through Youth Engagement".
Through supporting high-quality summer learning programs, city leaders can equip the next generation with the tools and opportunities they need to succeed, paving the way for prosperous and thriving cities in the future. To show support for expanding access to afterschool and summer learning programs, sign on as a pledge or ally with the Engage Every Student Initiative, a bold call to action from US Secretary of Education Miguel Cardona to provide these opportunities for every child who wants to participate.
For more information on how to support summer learning programs in your city, please contact NLC's Education & Expanded Learning Team at educationexpandedlearning@nlc.org