With over 55 million students (16% of the total U.S. population) studying remotely during the height of the pandemic, the effects of lost instructional time and developmental growth will be widely felt for years to come. As our country works to rebuild, many cities are investing in afterschool and summer learning programs to help young people access the social opportunities, enrichment programs, and support services they need to recover. To examine the extent to which municipalities prioritized afterschool and summer learning programs in their communities throughout all phases of the pandemic, the National League of Cities (NLC) conducted a survey to assess the scale of services, partnerships, and investments from cities into these programs.
Top Three Trends:
1. Cities invested in afterschool and summer learning programs as part of their pandemic recovery, and plan on continuing to do so once the pandemic ends.
The number of cities funding afterschool and summer learning programs during pandemic recovery has surpassed pre-pandemic levels. A significant number of these cities not only invested in youth programs after school and during the summer but increased their investment amounts during pandemic recovery. Encouragingly, even more cities (64% of respondents) anticipate increasing their funding for these programs post-pandemic (2023-2024).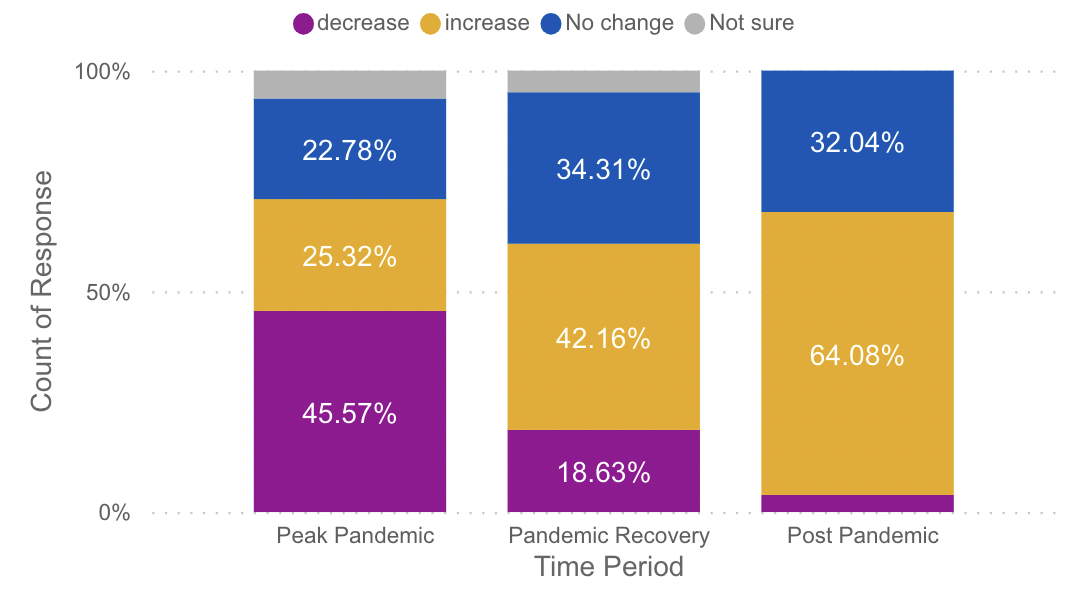 These findings illustrate city leaders' deep understanding and awareness of the great need that young people and their families faced while schools and enrichment programs were closed. Furthermore, it also speaks to their recognition of afterschool and summer learning programs as impactful investment strategies to address young people's needs.
2. As the nation works to recover from Covid-19, municipal leaders believe that afterschool and summer learning programs are more important than ever.
Afterschool and summer learning programs have historically been a critical part of a community's infrastructure for decades, but now these findings underscore this truth. Respondents overwhelmingly indicated that afterschool and summer learning programs are even more essential and valued now compared to prior to the pandemic, with 87% of respondents stating that these programs were "very" or "extremely" important to the children and families in their communities.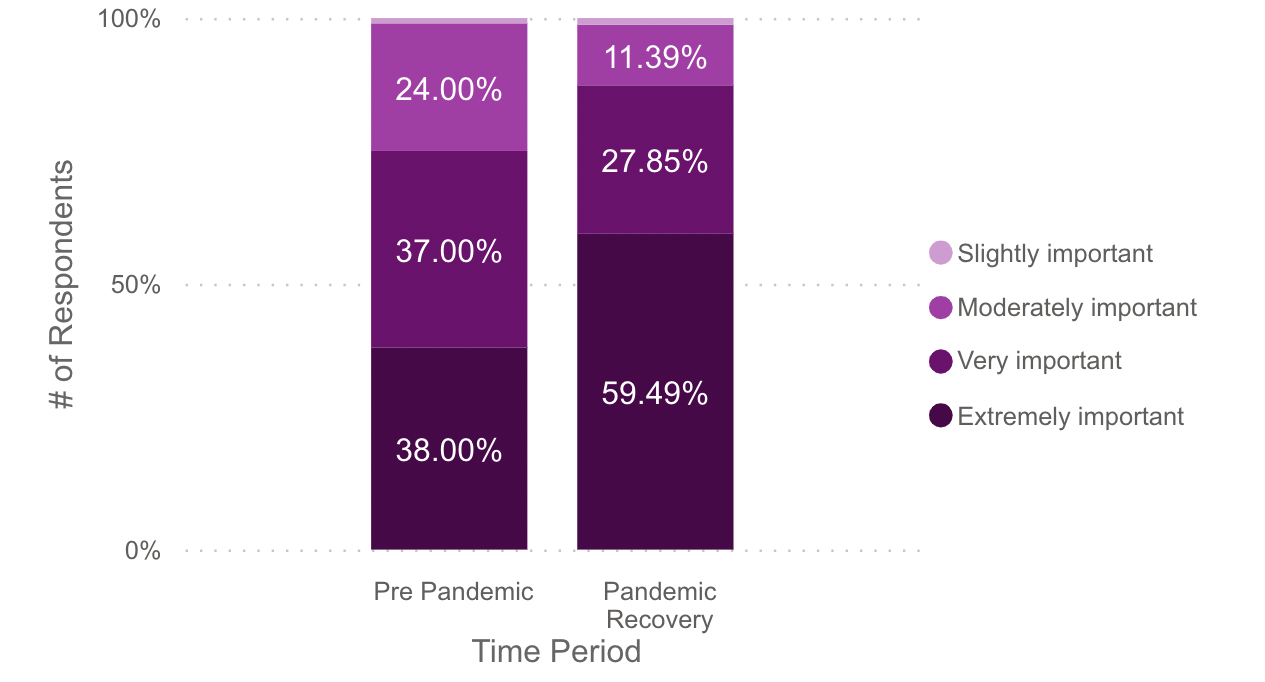 3. To invest in afterschool and summer programming in their communities, municipalities drew upon a variety of funding streams, including their own general fund dollars as well as the American Rescue Plan Act.
Cities leveraged a combination of local, state, and federal funding streams to invest in their afterschool and summer programming with local general fund dollars being the topmost reported funding stream utilized. As federal funds from the Coronavirus Aid, Relief, and Economic Security Act (CARES) and the American Rescue Plan Act (ARPA) became available, cities began using these new funding streams to invest in young people. Coming soon, NLC will provide its members with concrete examples of how cities are using their historic State and Local Fiscal Recovery federal dollars to expand support for children and youth to help other cities understand how to make similar investment decisions.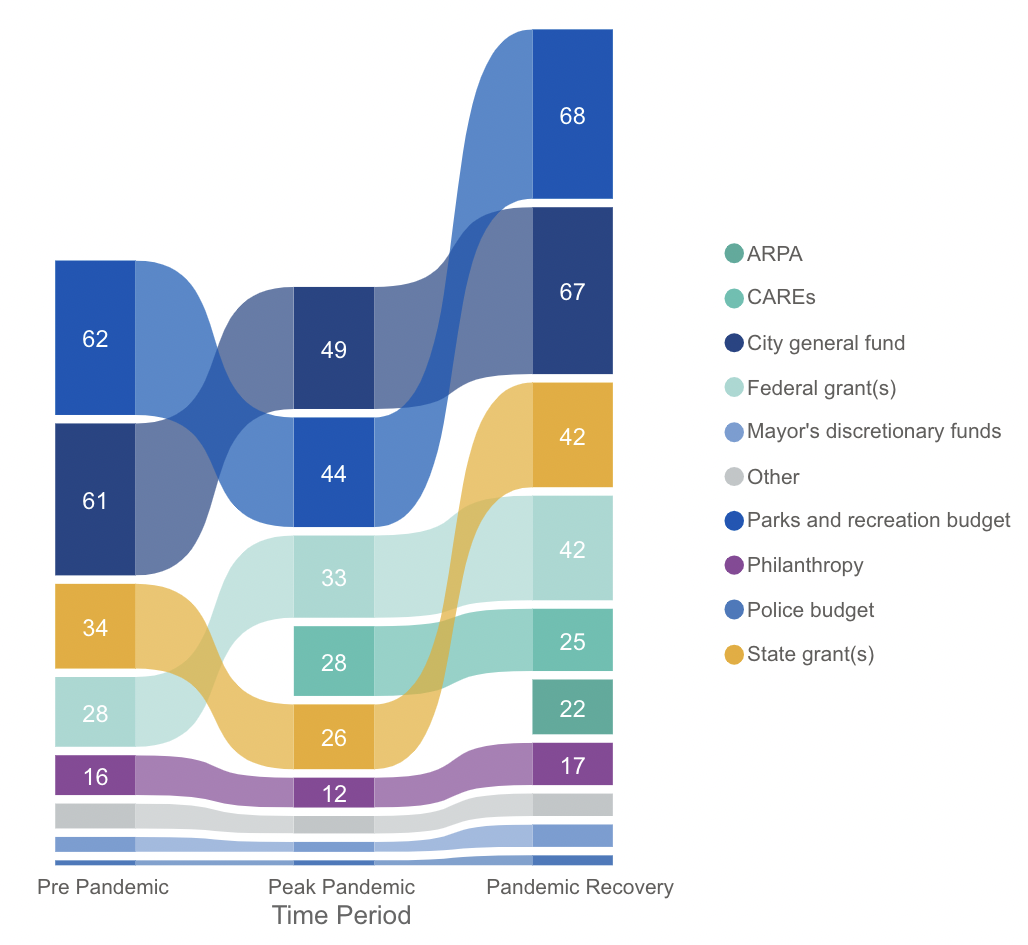 Action Steps:
While these findings signal good news for the future, there is still more work to be done to ensure all young people have access to enriching opportunities after school and during the summer. Below are a few steps municipal leaders can take to become champions for afterschool and summer learning:
1. Utilize federal recovery funding from ARPA and CARES to invest in afterschool and summer programs.
ARPA's State and Local Fiscal Recovery funds provide critical resources that municipalities can use to enhance or expand the afterschool and summer learning programs in their community. These funds can even be combined with school districts' ESSER funds to further invest in enriching programs for young people. You can find out more about how your city is using its ARPA funds with NLC's new Local Government ARPA Investment Tracker.
2. Champion the work of community-based afterschool and summer programs by investing in, and uplifting, their work.
Community-based organizations (CBOs) play a vital role in serving students with the greatest needs in your community. Municipal leaders can serve as powerful, high-profile champions for the work of CBOs. Use your bully pulpit to highlight their work and connect them to funding streams including those provided by the city, school district, and philanthropic organizations. This is especially important right now as school districts are required to use 20% of their ARPA funds for learning recovery which includes comprehensive afterschool and summer learning supports.
All 50 states have a Statewide Afterschool Network which provides tools, training, expertise on programs in your community and across your state, and knowledge of the state funding streams to support young people. Use these networks as a key partner to help your municipality increase the quality and quantity of your afterschool and summer learning programs.
4. Promote and participate in national public awareness celebrations
Mayors, city council members, and other elected officials can uplift the importance of afterschool and summer learning by participating in national awareness campaigns. National Summer Learning Week and Lights on Afterschool Day, both held annually in July and October respectively, provide an opportunity for local leaders to showcase their support for these important programs by lighting up a local landmark or signing a mayoral proclamation.
Additional survey findings, along with more action steps for municipal leaders, can be explored through NLC's new report, Meeting the Moment: Cities Increase Investments in Young People to Support Pandemic Recovery and Beyond and interactive dashboard. The survey report and accompanying data dashboard can serve as a tool for local elected officials and advocates as they promote the programs and services necessary to support children, youth, and families in their communities.
*Notes: NLC issued the survey in October 2021 prior to the announcement of new Covid-19 variants. All time periods listed in the survey were predicted based on Fall 2021 estimates. NLC acknowledges that the "recovery" and "post-pandemic" terms may not reflect the true timeline of the ongoing pandemic.
For more information about the survey findings or to partner with NLC, contact educationexpandedlearning@nlc.org.