Wastewater, which includes the waste from our daily activities, like showering, handwashing and toilet use, carries valuable public health information that cities can leverage to make informed decisions, allocate resources and implement targeted interventions to effectively control the spread of the disease. Wastewater systems can play an integral role in ensuring that neighborhoods and populations — that have too often been put at increased risk for poor health outcomes by the local systems — are included in wastewater monitoring. This is a simple, effective way of building non-invasive, citywide public health infrastructure that advances equity because no home, business, or neighborhood served by the sewage treatment system is left out.​
Early Warning System for Outbreaks
Wastewater monitoring can provide critical insights into the overall infection rate within a community. It acts as a powerful tool for tracking the spread of a disease — even before clinical cases are reported — by identifying areas where resources may need to be deployed. Healthy Central Valley Together (HCVT), a network of communities in California's Central Valley, is engaged in increasing access to public health data through wastewater monitoring ultimately aiming to increase health equity in the region. HCVT co-lead Dr. Heather Bischel notes that "HCVT was established to help fill gaps in public health data in California's Central Valley, a richly diverse and important agricultural region. Over a third of the communities in the Central Valley of California, a richly diverse and important agricultural region, are classified as disadvantaged — with inadequate access to healthcare, lower socio-economic status, and higher exposure to air and water pollution."
HCVT in collaboration with local public health agencies, city officials, wastewater treatment plant staff, and academic researchers joined the WastewaterSCAN Initiative, a national wastewater monitoring network to enable equitable decision-making particularly in relation to COVID-19 and other pathogens, such as influenza, RSV, and mpox. During the COVID-19 Omicron surge, wastewater data offered near-real-time insights into the introduction of the variant in the Central Valley. HCVT and its partners leveraged the population-level data provided through wastewater monitoring to quickly guide communication and preparedness efforts particularly in the areas most impacted by the surge.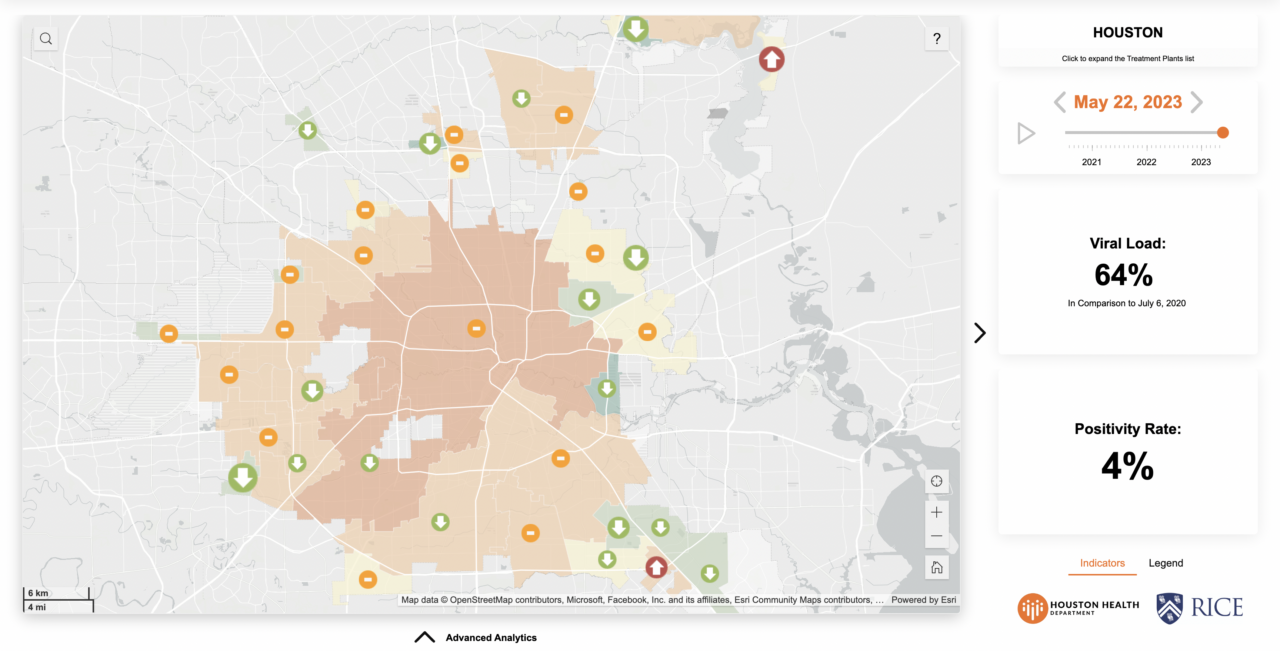 Source: City of Houston Wastewater Monitoring Dashboard
Communicating Wastewater Monitoring Data Requires Strategic, Ongoing Outreach
Wastewater monitoring systems are most effective when the data is accessible and understandable to a wide variety of audiences. City leaders often utilize wastewater monitoring data to inform communication efforts regarding the transmission risk within specific areas. This allows for targeted messaging and education campaigns to raise awareness and promote proactive health measures. For example, HCVT and its partners developed a dedicated website presenting wastewater data in plain language. To reach broader audiences, HCVT partnered with communications specialists and directors to disseminate data through social media channels and news outlets. Acknowledging and responding to different audiences can facilitate informed decision-making, fosters trust, and allows for active participation from individuals who may otherwise be excluded.
In conclusion, wastewater monitoring data as a public health tool has revolutionized decision-making and prompted effective action in combating the spread of disease. By providing insights into the overall infection rate at the community level, this data equips city leaders with a comprehensive understanding of disease spread, facilitating real-time mitigation and response efforts. Harnessing the full potential of wastewater monitoring relies on essential elements, including efficient data collection and dissemination, collaborative efforts across multiple sectors, and meaningful engagement of decision-makers and the public. Through this comprehensive approach, cities can leverage the power of wastewater monitoring systems to enhance preparedness efforts and create a more equitable and resilient future for all.
As a CDC designated Center of Excellence for Wastewater Epidemiology, the Houston Health Department has developed a best practices document and training modules to support municipalities in interested in establishing and/or enhancing their wastewater epidemiology efforts.