In late 2021, arts supporters in the three towns of Genoa, Limon and Hugo, all in Lincoln County on the Eastern Plains of Colorado, came together to form Tri-Town Arts. The area is about 100 miles east of Denver and has few opportunities for arts engagement or arts education. After the school closed in the small town of Genoa (population: 155) in the mid-1980s, students were sent to the town of Hugo (population 855). Today, the Hugo-Genoa consolidated school has one art teacher for over 1,000 K-12 students, limiting contact with the art teacher for elementary students to twenty minutes every two weeks. Students in the town of Limon (population 2,075), unfortunately, have no arts program in any of their schools.
The goal of Tri-Town Arts is to bring creative arts programming to children in Lincoln County, presenting free art workshops in three unique spaces, with one in each town. This work is made possible in part through a unique grant program—Arts in Society—that leverages local, state and foundation funding to support the intersectional work of arts and community well-being.
In Lincoln County, the Arts in Society grant program is propelling community leaders to bring much-needed arts learning and experiences to an underserved area of Colorado by reestablishing and reusing historical infrastructure. The Arts in Society program is administered by RedLine Contemporary Art Center, with funding from the Bonfils-Stanton Foundation, Colorado Creative Industries, the Colorado Health Foundation and Denver Arts & Venues.
This is part four in a blog series produced by the National League of Cities and the National Assembly of State Arts Agencies. The arts and creativity are increasingly recognized as necessary infrastructure for healthy, prosperous and equitable communities regardless of community size or geography. This blog series highlights policies and programs that leverage the power of the arts to engage communities and improve well-being. These conversations and stories provide inspiration and examples for local leaders looking to engage their jurisdictions through the arts and creativity with the help of state and federal resources.
Q: What was the inspiration behind the Tri-Town Arts project?
Chandler Romeo: The "tri-town" concept had been floated to our group from the very beginning of our involvement with the World's Wonder View Tower. There had been an idea to try to connect three historically significant sites in Lincoln County—the Hugo Roundhouse, the Limon Train Depot and the Genoa Tower.
The Tower itself is a work of folk art, and our ideas for restoring the Tower had always included some form of creative enterprise—a writer's retreat, art residencies, a gallery or museum space. In 2018, the Tower was chosen as an aid station on the Pedal the Plains bike tour. We set up an artist, Emily Moyer, to do screen printing on bandannas, which seemed to be a great way to engage the cyclists who rolled through. Two young 4H girls were there to help with giving out water and snacks to the riders, but they were totally intrigued with the printmaking. They jumped in and learned how to work the press. They told us that they attended school in Limon, where there was no art teacher and no art classes. It nearly broke my heart to hear that students in Lincoln County had so little access to the arts. This seemed to be the perfect way to solve multiple problems: connecting the three towns and providing arts experiences for students in the county.
Lares Feliciano: Arts in Society is a collaborative grant-making program that fosters cross-sector work through the arts by supporting the integration of arts and culture into multiple disciplines critical to the health and well-being of Coloradans. In the case of Tri-Town Arts, the arts are being used as a vehicle for community connection and rural capacity building. By connecting the resources across these towns, each town is made stronger. The spirit of cross-sector work exists in both the funding collaborative that supports the projects and the incredibly community-driven projects it funds. Tri-Town Arts is a great example of that. It is a true, boots-on-the-ground community responsive work—folks recognizing a need and coming together to pool resources and skills to address the need together.
Q: Donna and Gillian, what kind of arts opportunities are available for children in Lincoln County?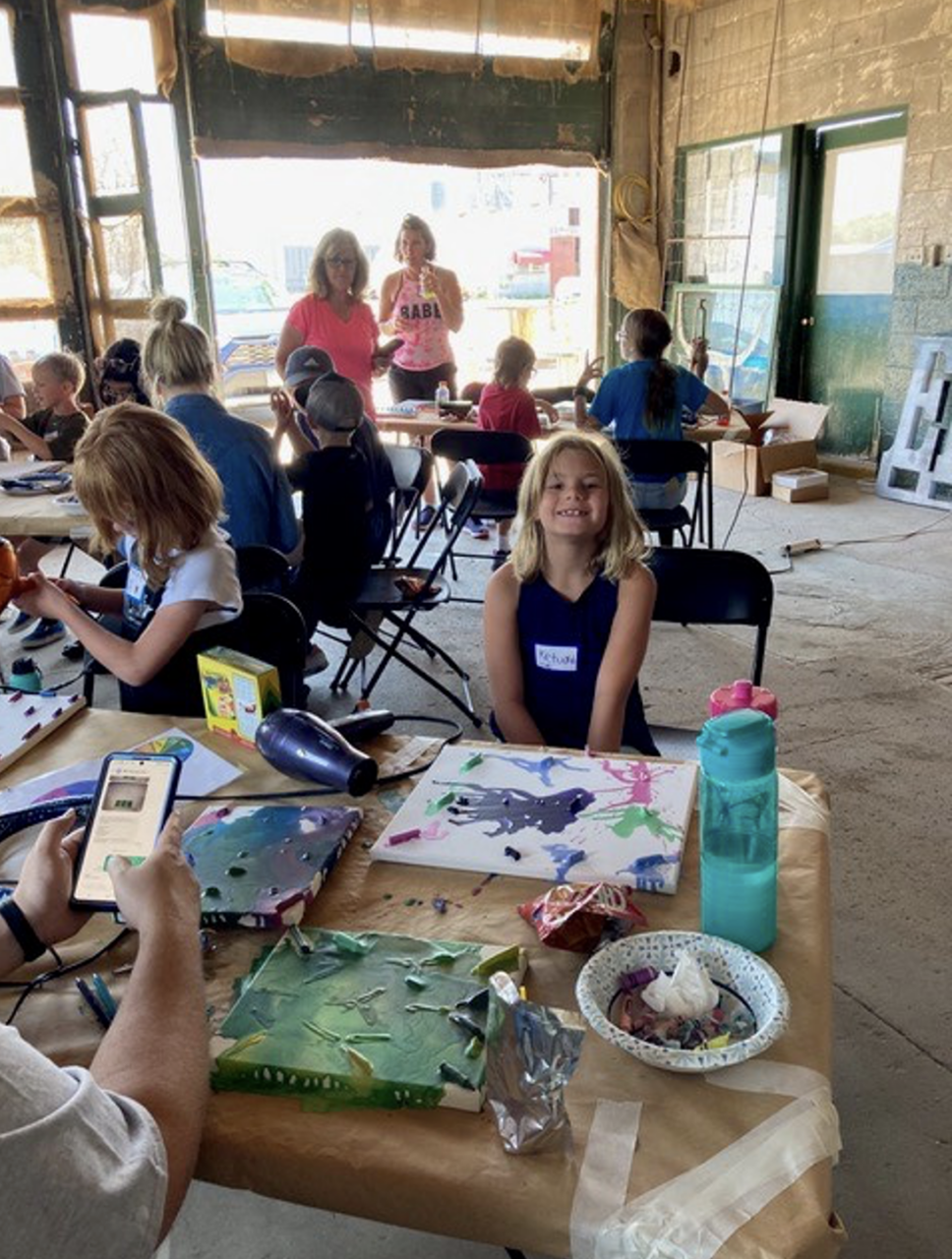 Gillian Laycock: We are blessed to have an art program at our Hugo-Genoa school with a very talented art teacher. The Garage Workspace in Hugo is an old auto garage now being renovated into a co-working and creative space. We hosted a variety of arts classes once a month at the space through 2019, but during the pandemic, we had to shut down all of our community programming, leaving the community with little to no access to any kind of arts programming. Getting back up and running, Tri-Town Arts has provided the platform to exponentially expand and enhance what we have been working toward, with particular focus on an underserved demographic within our community, our youth.
Donna Metcalf: I consider art an integral part of creating well rounded-citizens for the future of our nation. Our community has very creative individuals who are involved in Boy Scouts, church Bible classes, 4-H, and education. These individuals share their gifts by using hands-on arts and crafts as a way of teaching the lessons they are presenting.
Q: What was it like to see kids who'd had little access to arts instruction suddenly create art?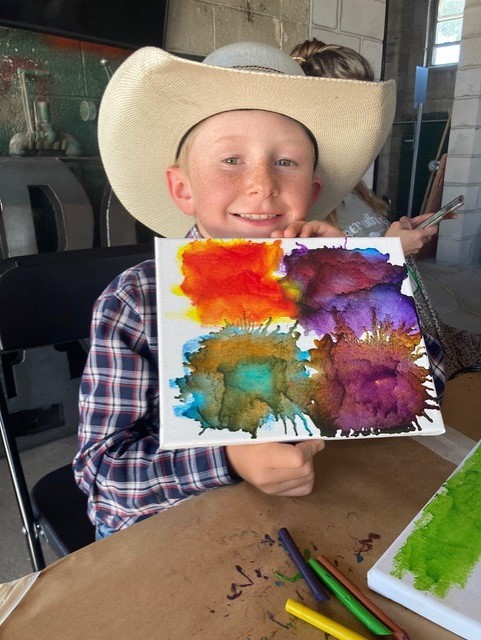 Chandler: To see students and parents stream into these unique buildings to participate, and to feel their anticipation and excitement, has been magical. The arts are a great way to connect and develop a sense of community in small towns. It's a way to include all kinds of people with divergent interests and abilities. It's a way to develop a sense of place and pride in the place where you live.
Gillian: Seeing the kids having their brains and hands challenged, being exposed to learning new approaches, and thinking about what they are creating differently (than the way they are confined to in academic classes) is a truly incredible experience. When you watch these kids and the thought and reaction process they are going through, you know you are doing something good.
Donna: It has been fun to see the students try something new. I have been a little surprised by who has joined the classes. It has opened the door to those who may not be involved with the other programs in our community that provide a creative outlet.
Q: What have you learned so far, and what's next for Tri-Town Arts?
Gillian: I'm really fulfilled with the development of the cross-town collaboration and what we are seeing happen across the three communities. When a kid can't make a class in their hometown, they get to go to the same class in the next town over, which is already developing stronger ties across geographic boundaries. I have been positively surprised—I thought it would take longer to gain the traction we are already seeing in class attendance.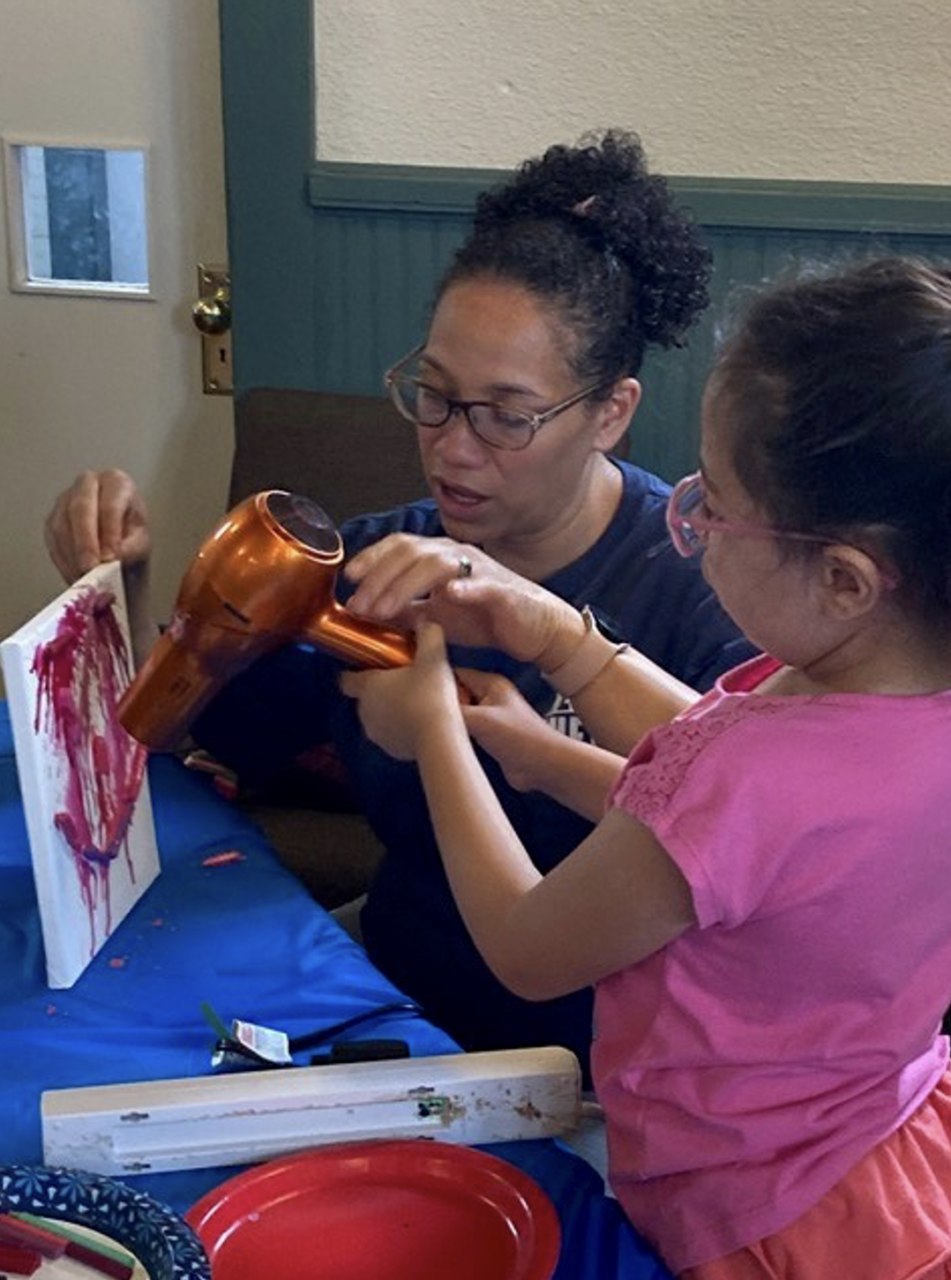 Chandler: I've learned that there is no lack of enthusiasm or interest for the arts, but there is a huge deficit in resources to provide creative programs. I've also learned that if you connect with the right people, things will happen. There are already fantastic resources for youth that are oriented towards skills and crafts (through 4H and Future Farmers of America), which is a great base for students to develop their abilities; however, tapping into their creativity is not always at the forefront.
Lares: Colorado is a big state with many communities that could very easily be isolated and overlooked. The pandemic has only exacerbated that for many. Arts in Society is committed to getting the word out about this and other opportunities to all Coloradans, so they know there is money out there to support this work. We are hopeful that by funding Tri-Town Arts, the word will get out to even more of the frontier and Eastern Plains. We are so grateful to our collaborative funders who see the value of this work and support it enthusiastically and for the tireless work of Coloradans committed to making their communities brighter.
About the Authors:
Patricia Calhoun is the founder and editor of Westword, Denver's news and arts website and weekly that wrote several pieces about the World's Wonder View Tower before she set out to save it.
Lares Feliciano is an interdisciplinary artist and cultural worker who manages Arts in Society in her role as the art grants manager at RedLine Contemporary Art Center.
Chandler Romeo is a working artist and entrepreneur and serves as coordinator for Tri-Town Arts on behalf of Friends of the Genoa Tower, Inc.
Gillian Laycock is the founder of The Garage Workspace and Red Brick on Main in Hugo, Colorado. She is the Assistant Town Manager of Limon, the Manager of Hugo's Main Street Program, and Proprietor of Hugo Liquors, as well as an artist working in metal and other media.
Donna Metcalf is a native of Lincoln County. She has a passion for God, Family, and Community, her occupations include cattle ranching, farming, ACE Hardware owner, and real estate.