In the United States, renters searching for homes almost never know how much they will have to pay in energy bills. At a time when rents and other costs of living are increasing dramatically, cities can support renters by requiring landlords to disclose energy information when listing their rental properties.
Disclosure policies can be a powerful tool for helping renters find efficient properties with low energy costs, a new study from the American Council for an Energy-Efficient Economy (ACEEE) shows. While energy costs can be a major strain on people's budgets — the U.S. Housing Survey found that more than 40% of renters have to occasionally cut back on necessities like food and medicine to afford their energy bills — only a few U.S. cities require energy disclosure for rental properties.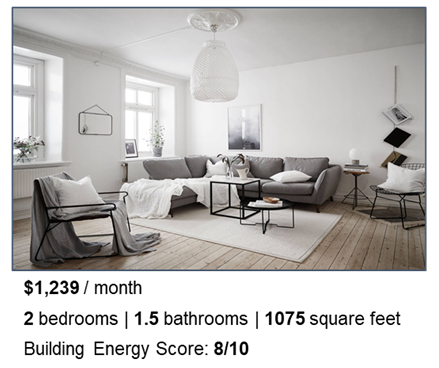 In a discreet choice experiment designed to look like a rental listing website, the ACEEE team asked a nationally representative sample of current renters to select their preferred rental properties out of a few sets of choices. Most participants saw rental listings that included energy information labels in one of six possible formats, while those in a control group saw no energy information.
How Energy Efficiency Labels in Rental Listings Impact Renters' Behavior
Participants who saw energy efficiency information on listings chose the most efficient properties 21% more often than they would've chosen those same properties absent energy information, and were willing to pay more in rent for a more efficient property. This response shows that renters care about energy efficiency and would factor it into their decision-making if provided the information. This shift in renters' behavior could in turn motivate landlords to invest in efficiency improvements.
The experiment also showed that the design of energy information labels matters. ACEEE tested six different types of labels in the experiment. The most effective labels explained how efficient a unit was relative to others. This could look like presenting an energy efficiency score as "8/10" or showing the energy efficiency score or monthly energy costs along a visual continuum. ACEEE's findings suggest that the label design does not need to be complicated, but it does need to help renters put the efficiency information in context.

Lastly, renters who saw energy information for only the most efficient properties did not behave differently from renters in the control group. This suggests that mandatory labeling policies that require labels for every property will likely be more effective than voluntary labeling policies. Voluntary labels are an excellent first step in implementing an efficiency disclosure policy, but ultimately a mandatory assessment and labeling policy for all rental units would be best.
Takeaways for Local Policymakers
The lack of information currently available to renters prevents the rental market from fully accounting for the value of energy efficiency. By requiring all landlords to disclose energy information to prospective renters — and sharing that information with easy-to-interpret labels on rental listings — cities can help renters make the housing choices that are best for them and give landlords extra motivation to make efficiency upgrades. While energy disclosure policies are one mechanism for supporting renters, additional policies will be necessary to address housing affordability.
Based on our findings, ACEEE recommends a few quick tips for policymakers that want to implement energy disclosure policies for rental housing:
Pass mandatory labeling policies and only use voluntary policies as a stepping stone to mandatory policies or in situations where mandatory policies are prohibited by state law.
Use energy information labels that are intuitive and provide important context information.
Consider complementary policies and programs like incentives to help building owners improve the efficiency of their buildings.
The bipartisan Infrastructure Investment and Jobs Act (also known as the Bipartisan Infrastructure Law) includes key funding opportunities for local governments to invest in energy efficiency and renewable energy to reduce greenhouse gas emissions. The U.S. Department of Energy is developing guidance around these programs, with expected funding opportunities opening in Fall 2022. More information is available on the DOE website.
Dig Deeper
Learn how the Energy Efficiency and Conservation Block Grant program can support building efficiency projects.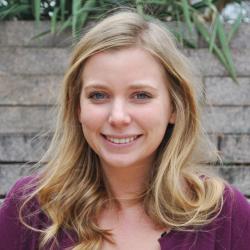 About the Author:
Hannah Bastian is a senior research analyst at the American Council for an Energy-Efficient Economy.