Since Day 1 of the Biden Presidency, addressing climate change has been a top priority. With Executive Orders on Tackling the Climate Crisis, Climate-Related Financial Risk, Electric Vehicles and Reducing Greenhouse Gas Emissions, the Administration has taken key actions through executive power to carry out the President's Climate Action Plan.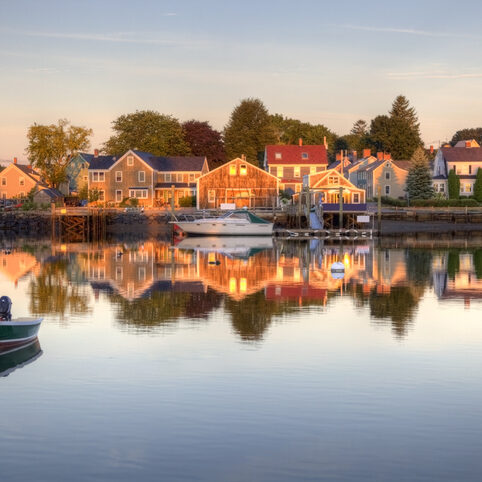 These executive actions, along with the U.S.'s reengagement in the Paris Climate Agreement, also requires legislative action to put into place the policies and programs that can get the country to its goal and support cities, towns and villages, which have been leading the way on climate action.
Increasingly, local leaders are leading their communities through devastating climate-related extreme weather events. 2020 set the new annual record of 22 billion-dollar-plus weather or climate events – shattering the previous annual record of 16 events that occurred in 2011 and 2017 – and was the sixth consecutive year (2015-2020) in which 10 or more billion-dollar weather and climate disaster events have impacted the United States. 2020 was also the second warmest year on record, behind 2016.
The bipartisan Infrastructure Investment and Jobs Act (IIJA) makes significant progress in three areas to address climate change and help local leaders build resilient communities.
Strengthening Infrastructure and Communities Against Extreme Weather Events
Communities across the country face more frequent and more severe extreme weather events, impacting our nation's local and regional infrastructure, public safety, public health, water resources and more, and causing billions of dollars in economic damage. The IIJA addresses this increase in extreme weather events by investing in pre-disaster mitigation and flood and wildfire mitigation, while also strengthening our nation's water, transportation and power infrastructure to improve resilience to extreme weather events and climate impacts. This funding includes:
$500 million for the STORM Act to provide support through loans and grants to local communities facing rising water levels, coastal erosion and flooding.
$3.5 billion for the FEMA Flood Mitigation Assistance program, which helps provide financial and technical assistance to states and communities to reduce the risk of flood damage to homes and businesses through buyouts, elevation and other activities.
$1 billion for the FEMA Building Resilient Infrastructure and Communities (BRIC) Program, a pre-disaster mitigation program supporting states, local communities, tribes and territories undertaking hazard mitigation projects to reduce the risks they face from disasters and natural hazards.
$8.3 billion for Bureau of Reclamation western water infrastructure, including for aging infrastructure, water storage, water recycling and reuse, waterSMART, and drought contingency plans, among other things.
$5 billion over five years to prevent outages through a new grant program to support activities that reduce the likelihood and consequence of impacts to the electric grid due to extreme weather, wildfire and natural disaster.
$5 billion over five years for electric grid reliability and resilience research, development and demonstration through a new Program Upgrading Our Electric Grid Reliability and Resiliency
$3 billion over five years for the Smart Grid Investment Matching Grant program to deploy technologies to enhance grid flexibility.
With the inclusion of the transportation reauthorization in the IIJA, there are several new programs and key policy changes related to strengthening transportation infrastructure to climate impacts. For example, the bill:
Augments the purpose of the National Highway Performance Program to include a focus on measures that increase resiliency to the impacts of sea level rise, extreme weather event, flooding, and other natural disasters, such as earthquakes and rockslides.
Adds new eligibilities to the Surface Transportation Block Grant program, including for resilience features.
Creates a new formula and competitive grant program to help states and communities improve the resilience of transportation infrastructure to current and future weather events and natural disasters. The Promoting Resilient Operations for Transformative, Efficient and Cost-saving Transportation (PROTECT) program would assist with assessing vulnerabilities and planning transportation improvements and emergency response strategies to address those vulnerabilities.
Creates a Healthy Streets Program to provide grants to deploy cool pavements and porous pavements and to expand tree cover. The goals of the program are to mitigate urban heat islands, improve air quality, and reduce the extent of impervious surfaces, storm water runoff and flood risks, and heat impacts to infrastructure and road users.
Reducing Greenhouse Gas Emissions Throughout the Transportation Sector
With the transportation sector generating the largest share of greenhouse gas emissions in the United States—29 percent of 2019 greenhouse gas emissions—there is an opportunity to invest in clean energy vehicles, which will help communities meet their emissions reduction goals, as well as air quality goals. Funding in the IIJA includes:
$5 billion for states for a National Electric Vehicle Formula Program for charging infrastructure network buildout.
$2.5 billion in Electric Charging and Fueling Infrastructure competitive grants to strategically deploy publicly accessible charging infrastructure along designated alternative fuel corridors.
$5 billion over five years for the replacement of existing school buses with zero emission and clean school buses, with a priority on low income, rural and Tribal schools.
$2.5 billion over five years for the replacement of existing ferries with low carbon ferries and to assist states with operational costs for essential rural ferries.
Additionally, the IIJA establishes a carbon reduction program to reduce transportation emissions and a congestion relief program to provide competitive grants for projects in large urbanized areas to advance innovative, integrated and multimodal solutions. Together these programs will improve the air people breathe and help communities achieve or maintain air quality attainment under the Clean Air Act.
Investing in Clean Energy
The IIJA makes significant investments in clean energy programs aimed at reducing greenhouse gas emissions and advancing renewable energy. This funding includes:
$550 million for the Energy Efficiency and Conservation Block Grant – a key local government priority.
$225 million over five years for grants for implementing updated building energy codes.
$3.5 billion for the Weatherization Assistance Program.
$500 million over five years for competitive grants to make energy efficiency, renewable energy and alternative fueled vehicle upgrades and improvements at public school facilities.
$500 million for the State Energy Program.
$250 million for a new Energy Efficiency Revolving Loan Fund capitalization grant program within the State Energy Program for recipients to conduct commercial energy audits, residential energy audits, or energy upgrades or retrofits. 
Going Further – Part II of President Biden's Climate Action Plan
While the IIJA checks off a number of key policies and programs of President Biden's Climate Action Plan, one key item remaining is a clean energy standard. NLC policy supports creating a national portfolio standard that increases the use of carbon neutral energy and promotes energy efficiency, with the goal of 50 percent carbon neutral energy by 2030 and 100 percent by 2050.
The budget reconciliation bill that Congress is negotiating includes a clean electricity performance program that would incentivize electricity suppliers to provide increasing amounts of clean energy, but other strategies, like carbon pricing, are still on the table.
The budget reconciliation bill also provides additional funding for electric vehicles and infrastructure, building efficiency and resilience, home energy efficiency and appliance electrification rebates, and low-income households and multifamily affordable housing solar facilities and community solar projects.
The budget reconciliation bill and IIJA are key to local leaders' ability to build sustainable and resilient infrastructure.
In the lead up to COP26 in November in Glasgow, Scotland, where officials from across the globe will gather to reaffirm and recommit to climate action, now is the time for bold action from the U.S demonstrating our commitment to mitigating the effects of climate change and hold warming to 1.5°C, which is needed to stave off the worst impacts.
Take Action
As the process on the IIJA and budget reconciliation bills moves forward, local leaders can take action to encourage Congress to vote 'yes' on the IIJA and ensure that city priorities, including workforce development and training, are included in the reconciliation bill. Your voice can make a difference! Click the button to send a letter to your members of Congress.