With another variant of concern knocking at our doors, many are concerned that COVID-19 cases will climb in the weeks and months to come, even with 70.9 percent of the U.S. adult population fully vaccinated. This comes at a time when the U.S. is emerging from the fourth wave of the pandemic, children are back in school, more employees are back in the office and friends and families are dining out again.
While cities, counties and school boards are considering waiving mask mandates or doing away with business occupancy limits, the onset of cold weather is once again bringing people indoors, where the virus can spread more easily. The Institute for Health Metrics and Evaluation at the University of Washington's COVID-19 Projections model predicts that the daily rate of deaths will increase in the winter due to the relaxation of mask mandates.
While we are still learning more about Omicron, COVID-19 has been around long enough for us to know what steps we can take to reduce transmission and mitigate the spread of this new variant. Widespread vaccination is the best protection against the virus. Cities must continue pushing vaccines to populations with low vaccine uptake, encouraging booster shots, prioritizing at-risk populations and communicating effectively about critical mitigation efforts, such as indoor masking and maintaining social distance. What does the data tell us and what should city leaders do going forward?
What Does the Data Tell Us?
Cities must be careful when they choose to relax restrictions and consider the longer-term consequences, particularly with the arrival of Omicron and the winter months underway. Even countries with high vaccination rates are still facing outbreaks, fueled by the resumption of economic activity and growing complacency over public health measures such as social distancing and mask-wearing.
Cases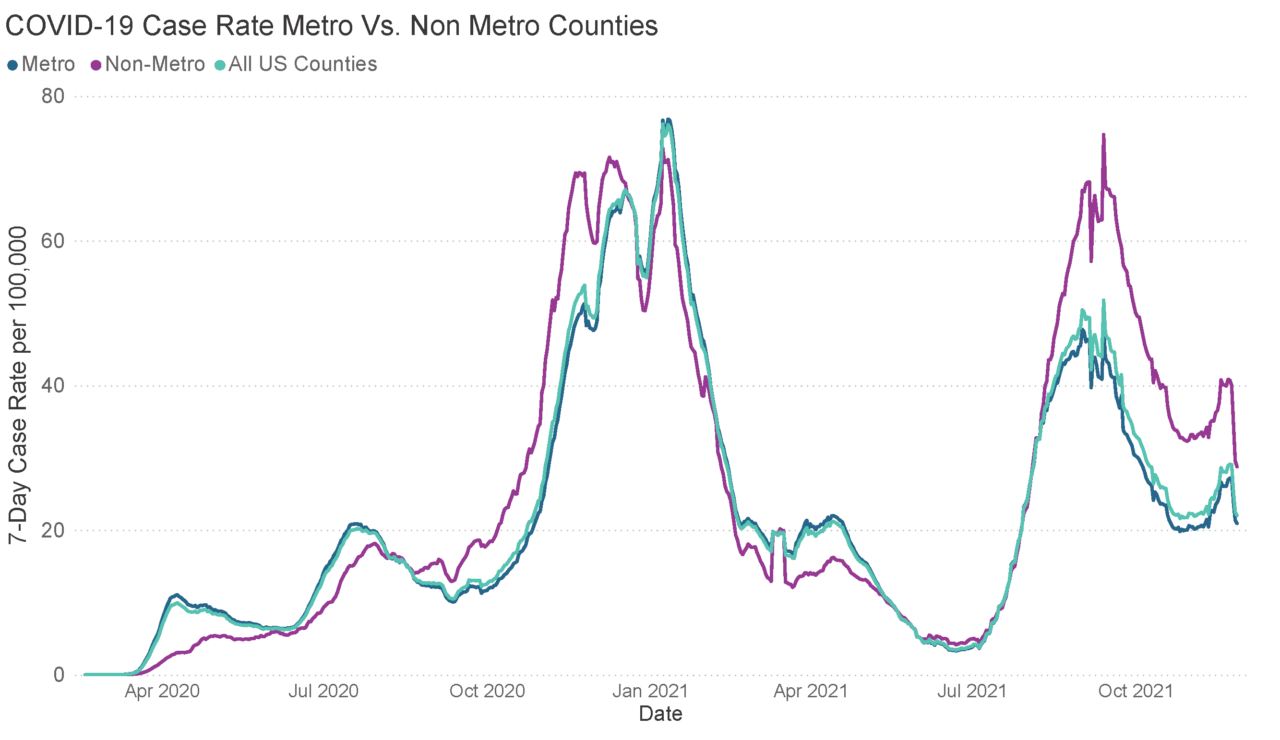 The COVID-19 case rate is decreasing but is still disproportionately high in non-metro areas.
According to the CDC, the U.S. has tracked over 48 million total cases. Since the pandemic started, case rates have varied dramatically across regions. Since August 2021, the seven-day case rate per 100,000 people has been disproportionately high in non-metropolitan counties. While cases across the entire U.S. are declining, the disparities in case rates between metro and non-metro counties persist, due in part to lower vaccine uptake in rural (or non-metro) counties. According to the U.S. Department of Agriculture's Economic Research Service, there is a 10 percent difference in full vaccination rates between metro and non-metro counties, which is likely a driving force behind the higher non-metro case rate from August 2021 onward.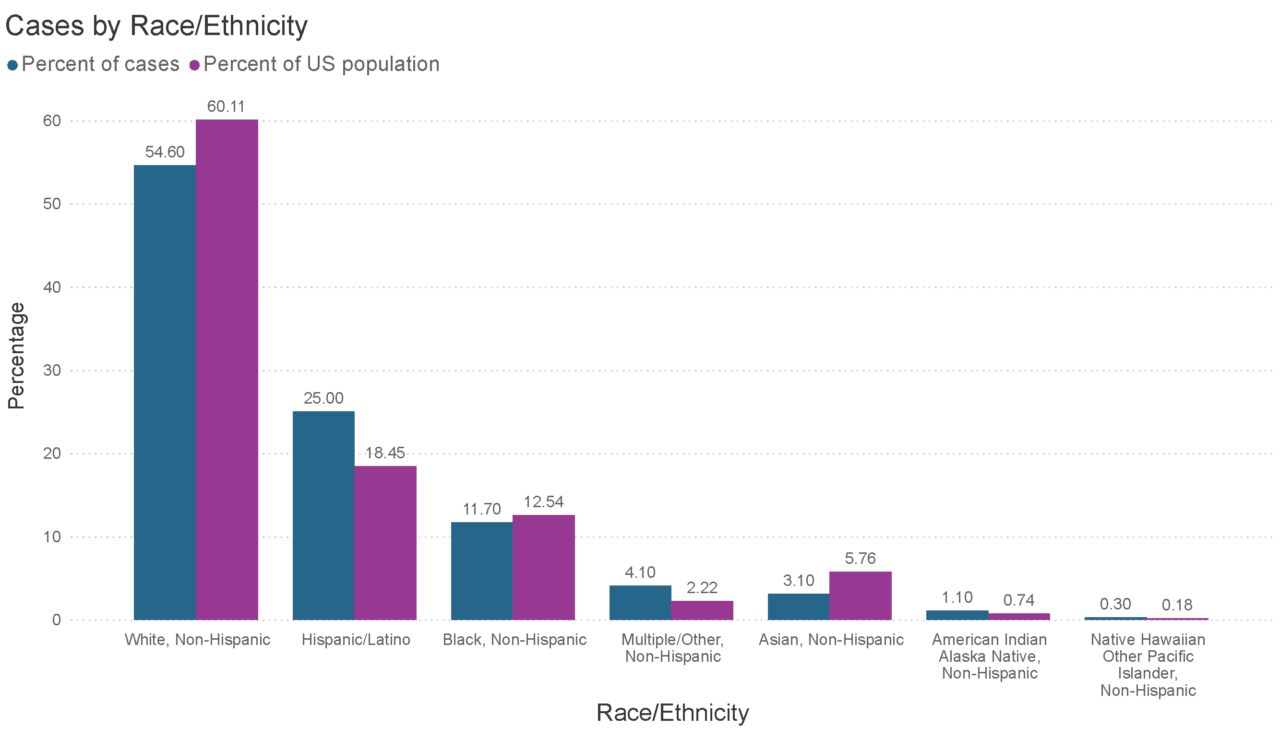 Cases by race/ethnicity are disproportionate in comparison to national demographics.
COVID-19 cases have disproportionately impacted BIPOC communities, particularly Hispanic/Latino, American Indian Alaskan Native and Native Hawaiian and Other Pacific Islander households. While the disparities in case rates have diminished over time as the virus has spread across the country, case rates remain higher for BIPOC. When adjusted for age, the disparities in case rates increase further.
Deaths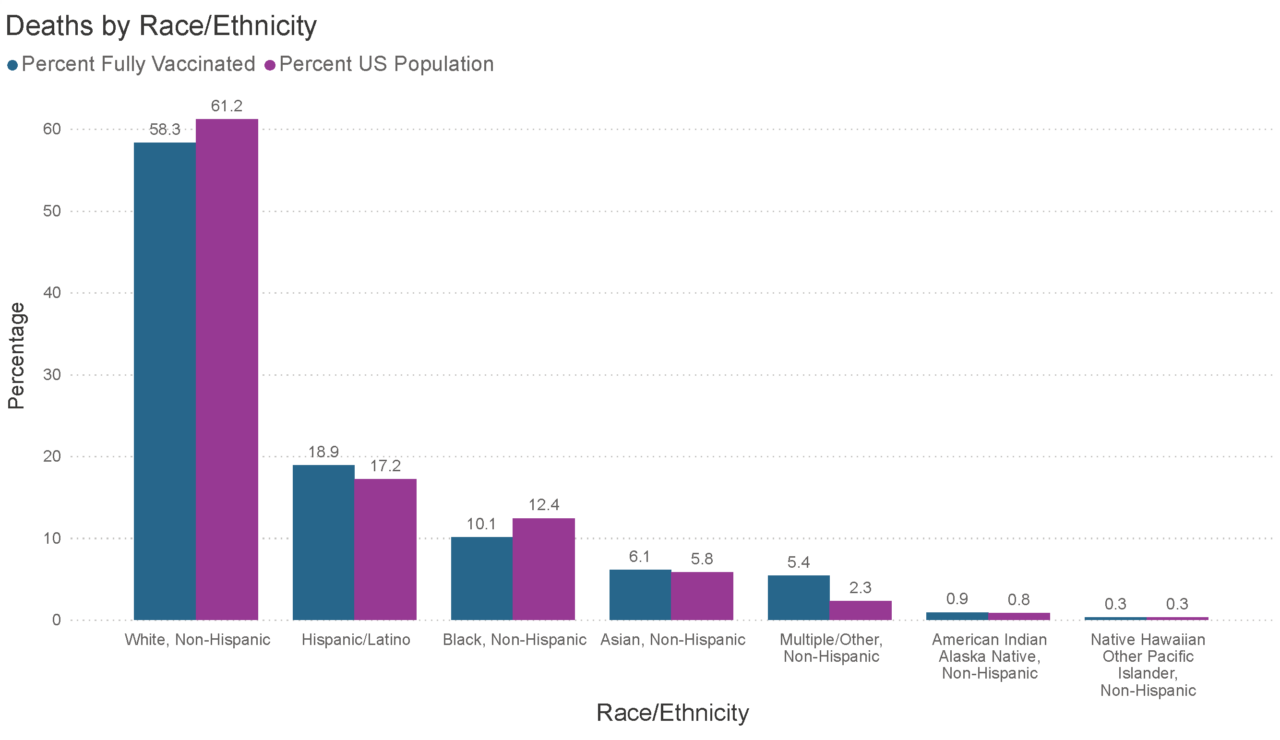 Deaths by race/ethnicity are disproportionately high in BIPOC populations.
The U.S. recently surpassed the grim milestone of 750,000 deaths related to COVID-19 recorded, of which Hispanic/Latino, American Indian and Alaskan Native (AIAN) and Multiple/Other groups are overrepresented. The death rate across demographics has narrowed over time as the pandemic spread throughout the country, social distancing measures have eased and more people have gotten vaccinated. However, when adjusted for age, Black, Hispanic or AIAN groups have still experienced disproportionately high death rates (at 2%, 2.3% and 2.4% respectively), according to the Kaiser Family Foundation.
Given how COVID-19 cases and deaths have disproportionately impacted some groups more than others, cities should use this information to target vaccination efforts accordingly.
Vaccinations
The U.S. vaccination rate stagnated in April 2021 despite President Biden's push to vaccinate 70 percent of adults by July 4th. It was not until August that CDC data showed the U.S. had reached that milestone. High vaccine uptake and booster shots remain critical to successfully curbing the virus' spread.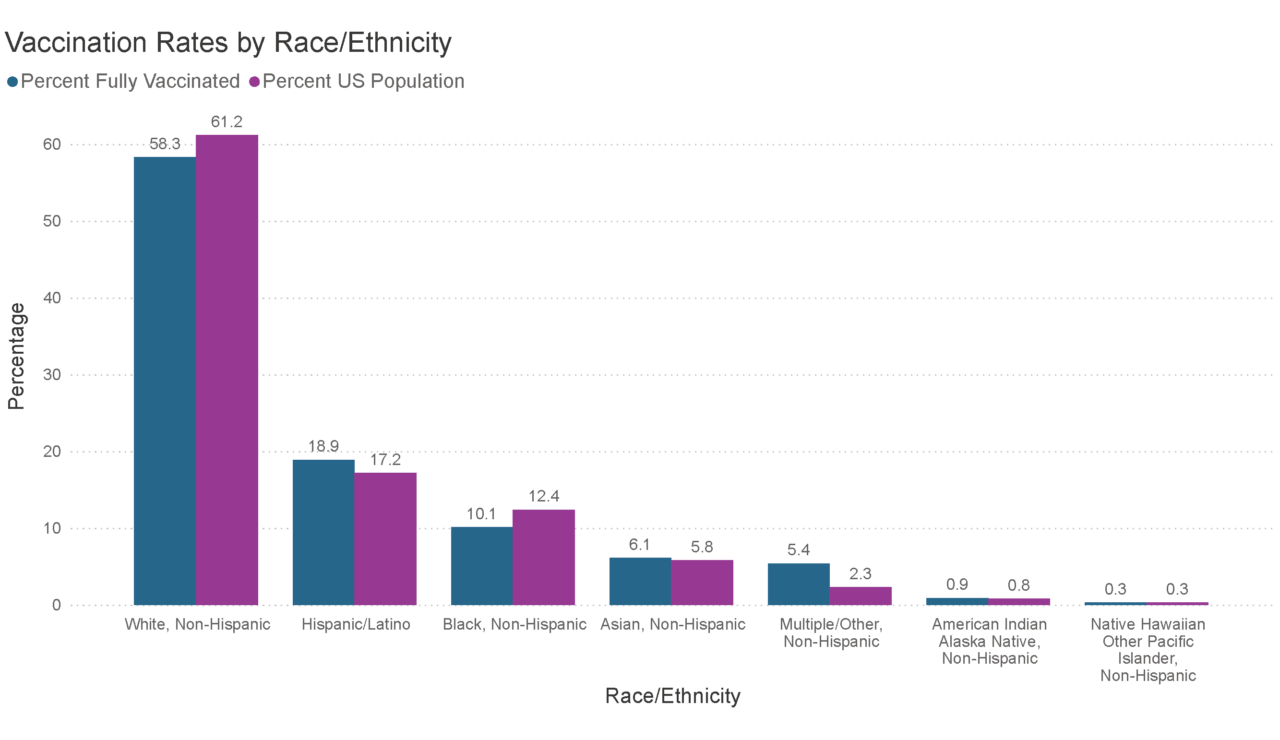 Vaccination rates by race/ethnicity.
According to the Kaiser Family Foundation's September poll, 12 percent of Americans say they will "definitely not" get vaccinated under any circumstances. Another 24 percent of parents say they will "definitely not" allow their child to be vaccinated. The CDC's Household Pulse Survey data show how geographic vaccine response is – some states such as California have consistently low vaccine hesitancy rates (2.7% to 9.3%) compared to states such as Montana with high vaccine hesitancy rates (22% to 27%).
Cities continue to encourage vaccinations. The city of Camden, NJ launched an on-the-ground effort in which a team of ambassadors knocked on as many doors as possible to persuade residents to take the vaccine, understanding the prevalence of vaccine hesitancy in the BIPOC community. The city of New Orleans, LA discovered that there was lower vaccine hesitancy in communities of color and a higher tendency for conservative white men to have reservations about getting vaccinated. The city is encouraging residents to share when they have been vaccinated on social media, urging hospitality businesses to incentivize and support staff vaccinations and making efforts to make the inoculation process a position one, with a few local bars even hosting a "shots for shots" event. The Colorado Department of Health is enlisting the support of fire chiefs, farmers and doctors to encourage vaccination in rural areas. While approaches will differ for each municipality, using data to understand who is most at risk, who is vaccine-hesitant and how to reach those populations is key to increasing vaccination rates.
What's Next:
Beyond the grim number of deaths, people in cities, towns and villages across the country have felt strong negative impacts of the pandemic on their finances, employment, and healthcare. And yet, an estimated 70 million eligible Americans remain unvaccinated. Beyond that, vaccination rates are deeply uneven across the country. Health experts say the pandemic's fourth wave has peaked overall in the U.S., particularly in the deep south, which was hit particularly hard. However, many states such as Montana and Idaho, are still struggling with rising cases.
With the winter coming, a new variant which President Biden has called a "cause for concern, not panic," schools reopening and people going back into the office, it is unclear what is in store for us. Last year, December and January proved to be the deadliest months of the pandemic in the U.S.
Cities should use data to identify who is not getting vaccinated, and more importantly, why they are not getting vaccinated. While strategies for each community will look different, cities must effectively communicate about the importance of vaccinations, leverage appropriate incentives for their unvaccinated population and continue to alleviate barriers to access that BIPOC continue to face.
As Dr. Fauci said in a White House press briefing, "So, it's good news that we're starting to see a turning around of the curve and coming down. That is not an excuse to walk away from the issue of needing to get vaccinated." Local leaders need to be steadfast in their commitments to support their communities through this public health and economic crisis, championing vaccines, boosters and public health measures as the way out.
Become a NLC Member
Want more information like this? Join our network and get access to timely resources, proven best practices, and connections to peer networks.