COVID-19 vaccination rates have slowed across the U.S. since the initial rollout, and although we've vaccinated a majority of adults, millions remain unvaccinated; 17 million people live in rural vaccine deserts and 50 million people live in urban vaccine deserts (geographic areas where people have little or no convenient access to vaccines).
Public health and community leaders have expressed the need for real-time, evidence-based resources to help them equitably and efficiently vaccinate communities, and help people who are not yet vaccinated overcome access-related barriers.
In June, Ariadne Labs and Boston Children's Hospital, with support from Google Health, introduced the Vaccine Equity Planner, a tool to help researchers, healthcare providers and public health officials identify Vaccine Deserts and plan for potential new vaccination sites to address the gaps. The tool is powered by Google's COVID-19 Vaccination Access Dataset.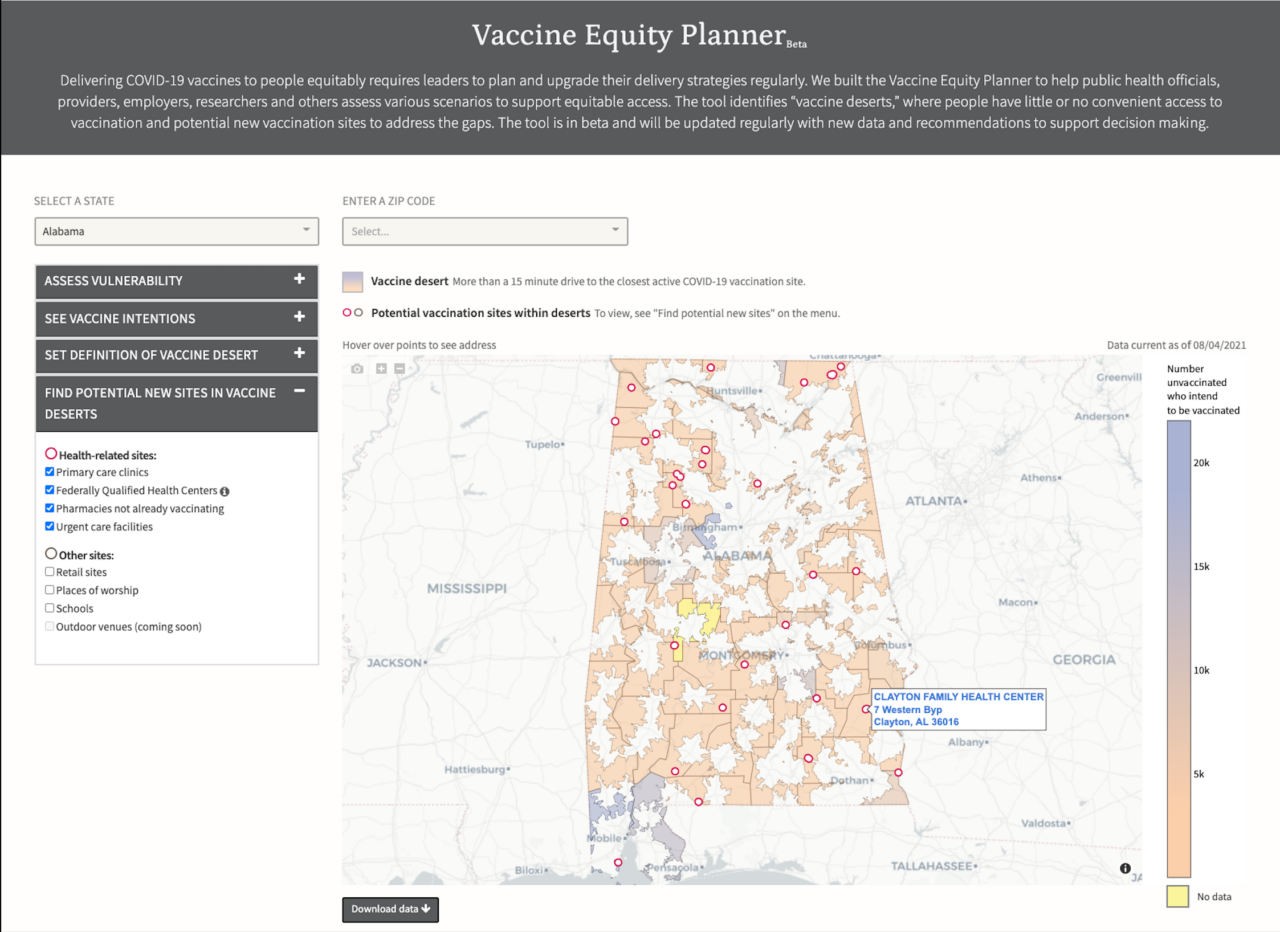 Acknowledging that there are many barriers to vaccination that need to be addressed, distance to vaccination sites is a clear barrier. It requires individuals to be deeply invested, to have the time and the resources to get to a vaccination site, and to overcome a series of obstacles to make a long trip. For some, getting vaccinated might mean taking time off work, finding child care, and riding public transportation for 30 minutes or more for each dose. For others, the walk or drive is simply unattainable. The aim of the tool is to identify Vaccine Deserts based on travel time via different modes of transportation (driving, walking and public transit) to show decision makers where further intervention is needed.
Understanding your Community
Information from the tool can be useful in helping city officials better reach unvaccinated people in their communities. By using a variety of data sources including the CDC's Social Vulnerability Index, we're able to highlight particularly vulnerable populations as well as potential locations for new vaccination sites within deserts, including primary care practices, pharmacies, schools, places of worship, and other venues.
Putting the Data to Use
Public health officials across the US have been utilizing this information in their distribution planning efforts. In Mississippi, for instance, the Vaccine Equity Planner tool shows that many areas in Montgomery County are vaccine deserts – requiring longer than a 15-minute drive to the closest vaccination site. About 2-3 thousand people living in this county are not vaccinated, but would like to be.
In a press conference, Jim Craig, Senior Deputy and Director, Office of Health Protection for the Mississippi State Department of Health discussed how they use the Vaccine Equity Planner tool as they look to develop pop-up vaccination locations. They used the tool to identify both vaccine deserts and areas of high social vulnerability to focus these efforts.
Further, with public health officials historically lacking data resources, Dr. Daniel J. Nigrin, CIO of MaineHealth said, "The Vaccine Equity Planner exemplifies the importance of good information and technology in ensuring equitable access to vaccination. The tool uses data to show us where vaccine deserts may be — and where we may need to focus efforts–and potential sites that could help us fill the gaps."
"I hope that other state and local leaders will take advantage of the information to shape their responses and continue working to make sure no one is left behind and we can continue working together to end the pandemic," Nigrin added.
Helping more People Access Vaccines
Throughout the pandemic, under-resourced public health organizations have had difficulty finding accurate and granular data. Collaborations among companies like Google Health, Ariadne Labs and Boston Children's Hospital can help these organizations by giving them anonymized and aggregated data-driven insights, down to the zip code level, to ensure nobody is left behind, while ensuring individual privacy.
There is a lot of work still to be done to ensure everyone in the US has equitable access to COVID-19 vaccines, and cross-industry collaboration is essential to achieving this goal. We're hopeful that our tool will make it easier to reach vulnerable communities, and that these methods can serve as a template for future public health initiatives.
Join Us
Please join Google, Boston Children's Hospital, and Ariadne Labs for a demonstration and discussion of these tools via webinar on August 31 at 12pm EST.
About the Authors:
Mansi Kansal, Product Manager, Google Health
Dr. Rebecca Weintraub, Director of Vaccine Delivery at Ariadne Labs and Associate Physician, Division of Global Health Equity at Brigham and Women's Hospital
Dr. John Brownstein, Chief Innovation Officer at Boston Children's Hospital