After years of advocacy, we were proud to stand with President Biden this week as he signed the Infrastructure Investment and Jobs Act (IIJA) into law. This ​bipartisan bill means transformative investments in transportation, broadband and water are heading to cities, towns and villages across the country. As cities rebuild and recover, these funds will be used to increase equality, create safer transportation, build resilient structures and strengthen our economy.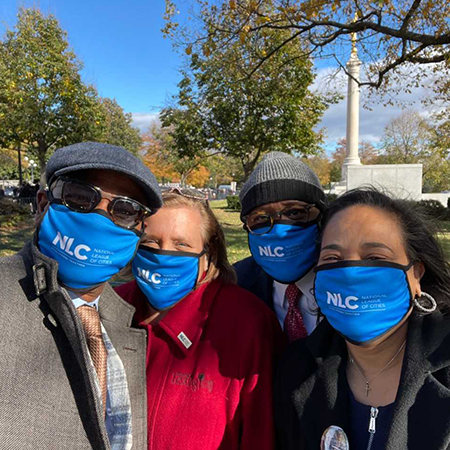 NLC leadership including myself, NLC President Councilmember Kathy Manness of Lexington, SC, First Vice President Mayor Vince Williams of Union City, GA and Second Vice President Mayor Victoria Woodards of Tacoma, WA attended the White House signing ceremony for this historic bill. It took years of advocacy from local leaders to make this legislation a reality.
We are ushering in a historic investment in America's infrastructure.

NLC President Kathy Maness, Councilmember, Town of Lexington, SC
Former New Orleans Mayor Mitch Landrieu was in attendance, after recently being named White House Senior Advisor and Infrastructure Coordinator. We look forward to working with former Mayor Landrieu, who understands the local perspective, to help communities make the most of the opportunities in this legislation.
As we celebrate this week's huge infrastructure win, we also want to make sure you are already beginning to plan and prepare to make the most of these new opportunities coming from the Infrastructure Investment and Jobs Act.
What Cities Leaders Should Know About the IIJA
Make new infrastructure program friends but keep the old – The IIJA includes may new programs that cities can specifically take advantage of, but it also renews many existing programs that will be just as valuable to cities. In the discussion of what's new, don't miss those existing programs will be just as helpful to your city.
Most infrastructure programs will require a local ask – The number of program funds that cities can access are substantial, but they will not come to your community without taking the effort to ask for them through applications, programs and processes. Get ready to compete and shape your city's story for all the funds that will be available.
Prepare to make your match – The majority of federal grants come with some expectations that a local match will be provided which is often around 20% for transportation but some programs were negotiated down especially for smaller and disadvantaged communities. Take care to understand what your contribution may be and how to organize the funding.
It was made possible by NLC members and advocates for state and local governments – NLC has been fighting for infrastructure for over a decade. Sustaining this fight was made possible by our member cities. If you are not a member, consider joining today to get the most up to date information about this bill and continue the fight to ensure cities priorities are heard in Washington, D.C.
Begin Your Infrastructure Journey
Identify your local priorities and how they match up to federal grants using NLC's new Infrastructure Bill Insights Tool. Please note this is exclusive to members, and you will need to log into MyNLC to access it.We look forward to continuing to refine this resource with information as it becomes available.
Plan to attend NLC and federal training sessions on various grants in the IIJA. If a program existed before, review previous information on the federal websites along with application criteria that can begin to show your city what will likely be needed. Programs will begin being released in a few weeks.
Save the date for the 2022 Congressional City Conference, March 14-16, in Washington, D.C., where we'll hear from key Department stakeholders and bring conversations together on how to advance your city priorities with Congress and the Administration.
What's Next?
Cities, towns and villages are ready to rebuild, and we are excited to work with you to make the most of this historic opportunity.
And our advocacy doesn't stop here – we know that the Build Back Better Act paves the way to sustained local recovery including investments in workforce development, housing and technical assistance. We also will push for H.R.5735 to bring more flexibility for your ARPA recovery dollars, leveraging the impact of the IIJA.
Let NLC deliver for you!
The National League of Cities (NLC) is your partner in recovery. This is the time for America to do more than survival we can thrive.
NLC is a strategic partner for local leaders and municipal staff, serving as a resource and advocate for communities large and small. Click the button to learn how NLC can help deliver for your city.