Equity and Access: Hispanic Elected Local Officials (HELO) meet with Secretary Haaland in honor of Hispanic Heritage Month.
To mark Hispanic Heritage Month, the U.S. Department of the Interior (DOI) welcomed local elected officials from NLC's Hispanic Elected Local Officials (HELO) constituency group for a listening session with Secretary Deb Haaland to discuss ways that DOI can support and amplify access to nature and support climate solutions and environmental justice for the Hispanic community, while also uplifting stories of Hispanic heritage. NLC leaders were also joined by representatives from the National Hispanic Caucus of State Legislators and the NALEO Educational Fund, who echoed similar concerns.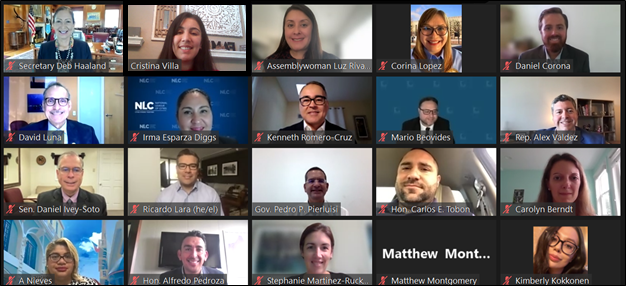 With authority over the National Park Service, Fish and Wildlife Service and the Bureau of Land Management, local leaders have a vested interest in programs administered by DOI. As outlined in a transition memo to the Department earlier this year, local leaders look forward to continued engagement with DOI around these programs and many more that improve local parks and public lands, protect the environment and rebuild the economies of gateway communities. By engaging with local leaders from HELO's leadership, the Department is working to strengthen its relationship with the communities across America that will be most impacted by their work.
Here is what our leaders shared:
Councilmember David Luna, Mesa, Arizona, HELO President and NLC Board Member
Emphasizing that clean land and water contribute to the health and wellbeing of communities, HELO President and Councilmember David Luna shared his focus in Arizona on conserving and protecting public lands and water that have been cared for by many generations of the Latino community. Through organizations such as HECHO (Hispanics Enjoying Camping, Hunting, and the Outdoors) his community is partnering to engage with the Latino community and encouraging them to be more active and to enjoy and protect the land on which they grew up.
Council President Aidee Nieves, Bridgeport, Connecticut and First Vice President of HELO
Representing an industrial community on Connecticut's coast, Council President Aidee Nieves highlighted the challenges her community faces regarding equitable access to the waterfront for residents. To address this issue Bridgeport created a 10-year program via land trusts to give waterfront access to residents for fishing, pocket parks and general accessibility. Council President Nieves also highlighted the ongoing challenges with clean air as the city works to address carbon footprint challenges that impact the health and wellbeing of residents. The city is also working to strengthen language access for its significant Hispanic community, ensuring that materials and services are available in Spanish.
Councilmember Corina Lopez, San Leandro, California, NLC Board Member and NLC Board Liaison to HELO
A coastal community in the San Francisco Bay Area, San Leandro is working to create close to home opportunities for its residents to connect to nature that are both intentional and affordable. Councilmember Corina Lopez shared that as a young girl she lived in a community that was adjacent to a national park but it was not accessed regularly by the Hispanic community members. Equitable access to national parks and other natural wonders is critical for Latino communities to support connections to nature and mental health and wellness. This includes pushing for public policy that makes accessing public land affordable and culturally competent. For example, park entrance fees should not be a barrier to entry as they are now. Signage and literature should be multi-lingual. It is imperative that the entire public of all ages can witness and experience nature as this is the pathway to stewardship. Councilmember Lopez uplifted the need for grants for communities of all sizes to help create and protect public lands that would further empower Latino households. A critical component to access in her community is also in supporting access to parks for children. Councilmember Lopez encouraged the Department to consider expanding the Every Kid Outdoors program, which provides free access to national parks for all students in the 4th grade, to being longitudinal in scope to not just 4th grade but throughout the duration of education into adulthood.
Mayor Daniel Corona, West Wendover, Nevada NLC Board Member, Board Member of HELO and NLC Board Liaison to LGBTQ+ Local Officials
A small city in the northeast of Nevada, nearly 60% of the population of West Wendover is Hispanic. Mayor Corona spoke to the need for equitable access to land for his residents. Mayor Corona has advocated for the creation of more affordable housing as well as strengthening the ability for Hispanic small business owners to purchase the land on which their businesses are located. He also pushed for continuity and efficient processes when purchasing land or needing assistance from the Bureau of Land Management.
Continuing the Partnership
In her remarks, Secretary Haaland emphasized that it was essential to the Department to advance more inclusive American stories and to push for environmental justice and equity through policies that work in conjunction with local leaders and their communities. The Department is eager to continue to work with NLC and HELO as they work to advance their priorities and strengthen the federal-local partnership.
Learn more about NLC's work on Cities Connecting Children to Nature, which supports municipal leaders and their community partners to connect children to the benefits of nature, more often and more equitably.
Connect With Us
Connect with local officials on these topics by attending the NLC Virtual City Summit, Nov. 12, 15-19, with sessions including, "Helping Young Kids Thrive in Place: Creating a Natural and Built Environment that Contributes to Optimal Early Childhood Development."