In communities across our nation, local leaders have long called for an investment in our crumbling infrastructure – the roads, bridges, water and broadband systems that connect us, as well as the human capital infrastructure that will build and maintain these critical assets.
Across all sectors in the United States there are currently 7.4 million job openings and 9.7 million unemployed persons. Even if we trained all these people and placed them into the open jobs that exist in our cities, towns and villages, we would still have a training and skills gap in America. And so, if Congress is serious about investing in the much-needed repairs and upgrades to the infrastructure in our communities, they must put equal weight behind ensuring that we have the skilled local labor to get the job done.
According to estimates from Georgetown University, the American Jobs Plan would create or save 15 million jobs over the next decade. And, as noted by Mark Zandi, the chief economist of Moody's Analytics, "a majority of the jobs probably will not require a college-education, but they do require skills, and thus the funds in the [American Jobs Plan] for training will be important." Our residents know this, too. According to polling by the National Skills Coalition, 89% of voters want to see an infrastructure package that is coupled with an investment in skills training.
89% of voters want to see an infrastructure package that is coupled with an investment in skills training.

National Skills Coalition
As local leaders, our experience on the ground shows us the negative impact that COVID-19 has had on workers in our communities, especially those without an education past high school, workers of color, and women. Workers with a high school degree or less have been displaced at nearly three times the rate as those with a bachelor's. Minority workers, particularly women of color, have shouldered the greatest job losses due to their concentration in low wage service industries, which have been hardest hit by the economic downturn.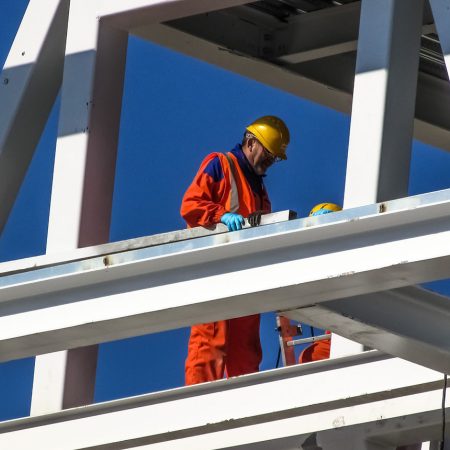 In my city of Fairburn, Georgia, we are experiencing major infrastructure deficiencies with failing roads and pipes that were installed over 30 years ago and are now collapsing or crumbling with expanded traffic and developments. Because of COVID-19 and the reduction in revenue in 2020, the City has been unable to meet demands of repairing these streets and roads. Fairburn's population of 18,400 is suffering with an unemployment rate of 3.1%. It is absolutely critical that congress continue to invest in our infrastructure which is the lifeline of cities, towns, and villages.
It is time to work together with Congress to enable infrastructure investments that will address the long-deferred needs of our crumbling infrastructure while simultaneously addressing the workforce and skills needs in our communities. Together, this combination will surely put our nation back on a path to economic recovery.
As chair of NLC's Human Development Committee, I am hopeful about the American Jobs Plan, which calls for an investment in training and skills development that will meet the needs in our communities. As the conversation moves forward with Congress, we look forward to a recovery package focused on infrastructure that also makes this historic investment in our workers.
What Local Leaders Want to See on Workforce
Earlier this month, NLC outlined seven local goals for recovery legislation. Central to these principles is the investment in workers:
Support a $15 billion investment in immediate capacity for our public workforce system, which has been cut by nearly 40% over the last two decades.
Support a $35 billion investment to provide workers, especially those who have historically faced barriers and those most affected by the pandemic, with the pathways and support needed to access good-paying infrastructure, manufacturing, and clean energy jobs.
Meet the national training needs and support $50 billion for training for workers who are unemployed, underemployed, or most at risk for losing their jobs to reskill and upskill for new careers of the 21st century.
Eliminate the local/targeted hire prohibition and create clear guidance for federal grant recipients interested in using local/targeted hire to boost investments in local workers and businesses.
Learn More
To learn more about NLC's priorities around building sustainable and resilient infrastructure, visit our resource page