Despite America having a wealth of parking spots, U.S. truckers are struggling to find the parking they need inside or immediately outside major urban areas, even during the pandemic. Like all drivers, commercial truck drivers need access to safe, secure, and accessible parking. Right now, cities and towns are reporting that they are not using all of the city-managed parking that typically is a highly sought-after commodity. Could this be a good supply-and-demand match for both cities and truckers?
Review Your Available Parking
Prior to the pandemic, many cities were looking at better managing their parking strategies and street-side access to allow for more seamless pick-ups and drop offs for both people and packages. It's likely that commercial trucks were considered in some capacity, as were light duty trucks like mail trucks, delivery vehicles, and personal delivery devices. Ask your transportation planners how they are looking at the future of parking management and revenue and how other cities are managing parking. Find out if the available parking spots that are underutilized might be appropriate to explore for truck parking.
Parking areas to explore may include:
Excess airport parking
City-owned staging areas, properties or parking lots near highway exits or trucking destinations including ports, rail yards, or major businesses
Stadium parking
Government building parking lots
Transit or maintenance yards
Major shopping malls
Government-owned sites waiting for development
Warehouses and other major shipping/receiving pressure points
See Where Truck Parking Is Planned and Needed
While the COVID pandemic has offered a reprieve, the projected growth of truck traffic may continue to outpace the supply of public and private parking facilities. This will only exacerbate the truck parking problems experienced in many regions in our nation. To see where truck parking is needed, review your state Department of Transportation's freight plan and reach out to their staff and your local metropolitan planning organization's staff.
Based on a survey conducted by trucking industry leaders, the following states are reported to need more truck parking spots:
New York
New Jersey
Pennsylvania
Illinois
Georgia
In addition, truck parking may be needed along these corridors:
Engage with Local Companies Focused on Trucking or Truck Stops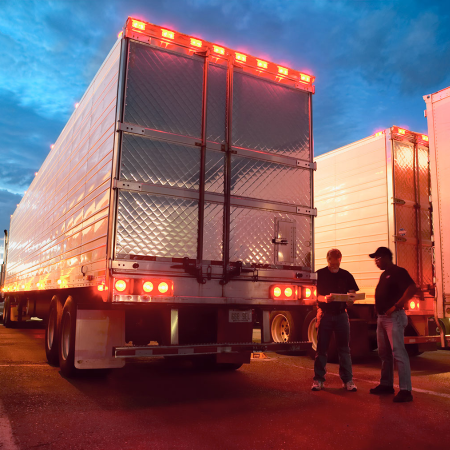 Before moving forward, a conversation with local trucking companies and truck stops who operate truck parking near you is necessary. Consider where cities should play a convening role with local business or engage in providing options for parking themselves. Urban areas are noted as particularly difficult to access parking, especially overnight, and cities may be able to address these challenges in a more long-term sustainable manner through regulatory changes and partnerships, rather than making investments.
What Makes Good Truck Parking
Truckers are business owners who are trying to move goods efficiently, and so parking really needs to be ideally located where they are coming and going. Truckers are just like other travelers – they need a place to rest, to use bathroom facilities, to get a meal, and to do it all safely. Some truck parking facilities offer fencing, restricted access, security personnel patrolling periodically, and more.
However, some truck parking may only be needed for a brief window – to wait until a business opens for delivery, for example. However, others are looking for more security for a longer period. The U.S. Department of Transportation believes there is often a mismatch between driver demand for parking at a point in space and time and the availability of an adequate parking space at that point and time. The result is a shortage of parking, which leads to illegal or unofficial parking on shoulders, ramps, and local streets, which can often be unsafe.
Cities Can Be Part of the Solution
The federal government and states have been working on truck parking since 2015. In December 2020, the Federal Highway Administration (FHWA) issued findings from its 2019 Jason's Law survey, which found that truck parking shortages are still a major problem in every state and region of the country. A handful of states actually have fewer public parking spaces than they did at the time of the original survey. While cities are eligible, few have used federal grants to modify existing parking or to build new truck parking with existing operators. Cities and towns are only recently experiencing excess parking opportunities.
As Congress approaches the FAST Act reauthorization of the transportation programs, truck parking may become a grant program that cities can leverage to be part of the solution. Whether you're a small town strategically placed on a busy freight corridor, a first tier suburb right outside a major hub, or a large city that needs a strategy for moving freight through your city, considering your role in truck parking may be a win-win for your area and for the safety of the truckers who move goods throughout the country.
Resources and More Information: