The COVID-19 pandemic continues to portend enormous amounts of pressure and uncertainty on local government budgets. To better understand the fiscal impacts of the pandemic on cities across the country, NLC conducted an update to its April 2020 survey during the period 11/10 to 11/22 in partnership with the COVID Relief Now Coalition. Of 901 responding city governments, 69% indicated their financial health has been negatively impacted by COVID-19. Of that group, 90% have experienced a revenue decrease of 21%, and 76% have experienced an expenditure increase of 17%, on average. In total, cities could be facing a $90 billion blow to their current year revenues. If Congress does not pass another stimulus, 71% of city governments will continue to face dire economic conditions.
Hiring Freezes, Furloughs and Layoffs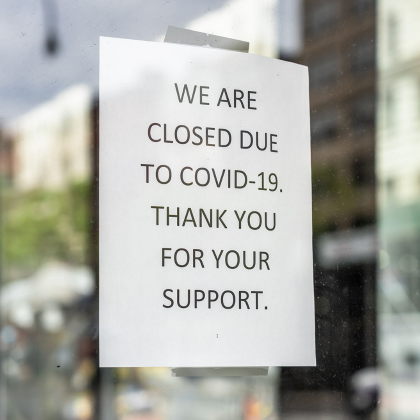 Nearly 40% of cities have implemented workforce changes such as hiring freezes and wage holds, and the situation has not improved much since April despite the provision of aid. Vulnerable employees – those at-risk of layoffs, furloughs and pay freezes – represent 95% of the 3-million-strong municipal workforce.
Nearly 50% of cities over 50K in population have had to cut the workforce with moderate measures, which aligns with what we are seeing on social media as well, where half of the mayors who have a Twitter handle in the top 100 cities by population tweeted about budget shortfalls, municipal actions to cover those shortfalls, unavoidable workforce cuts, and the need for federal aid this year.
Duluth, MN is projecting a $25 million budget hit to its $93 million general fund and has responded by laying off over 50 workers and frozen hiring. Similarly, Dover, DE approved a plan where the majority of city employees will be required to take furloughs which will severely limit the city's capacity to provide municipal services.
Challenges in Providing Needed Services
When asked to describe their economic outlook, 56% of cities indicated their government will face significant challenges in providing needed services. Infrastructure investments have seen cuts across the board as revenue streams directly tied to these investments, such as gasoline taxes and other fees, have been hit particularly hard with decreased travel.
Additionally, for cities that rely heavily on tourism, such as Ashland, OR, local businesses have suffered tremendously, which further limits tax revenue streams for the city. Revenue declines have forced communities such as Claycomo, MO to cut non-essential city spending, which includes community development projects that directly impact residents' quality of life.
CARES Act
The $2.2 trillion economic stimulus bill passed by Congress in late March has had a tremendous impact on cities across the country. Earlier on we learned that cities were using their Coronavirus Aid, Relief, and Economic Security (CARES) funding to support small businesses; provide housing and in particular, rental assistance; deliver equitable educational access during periods of remote learning, and improve COVID-19 contact tracing and testing.
Seventy percent of cities used their CARES funding to purchase PPE and other cleaning supplies, such as Caldwell, ID and Long Beach, CA. Thirty percent of cities used their CARES funding to support local businesses, such as Boulder, CO and Grove City, OH. Twelve percent of cities used their CARES funding to provide housing assistance, such as Mesa, AZ and Holland, MI.
But while nearly 3/4 of cities indicate the CARES Act has had a very or somewhat positive impact on their government, cities across the country are hurting and need additional aid. NLC continues to call on Congress and the Administration to enact a comprehensive COVID-19 aid package that provides flexible, direct fiscal relief to all communities, regardless of location or size.
To view NLC's infographic summarizing the results of the survey, click here. To view NLC's one-pager, click here.
The National League of Cities has joined the COVID Relief Now Coalition, in partnership with over 300 major public and private sector organizations, including the American Hotel & Lodging Association, U.S. Travel Association, International Franchise Association, and the National Association of Counties. The coalition represents a diverse cross-section of our country and our economy, calling on Congress to pass a bipartisan economic relief package.
Use Your Voice
Take this opportunity to call your members of Congress and call on them to pass an aid package without further delay.