Local elected officials are uniquely positioned to help their communities manage the economic and health impact of COVID-19 and to address severe chronic inequities exposed by the pandemic. This blog is a continuation of a series dedicated to highlighting mayors' priorities to help guide and focus local responses to support residents' health and safety in the near term, and to position the city to improve equity and resiliency in the longer term.
---
Local government budgets have been hit hard due to COVID-19. Many cities have furloughed or laid off employees, paused planned community investment projects, and tried their absolute best to avoid tax increases despite major budget blows. NLC analyzed Twitter data as of October 16th to understand how mayors are addressing these challenges in their communities. Nearly 50 percent of the mayors who have a Twitter handle in the top 100 cities by population tweeted about budget shortfalls, municipal actions to cover those shortfalls, unavoidable workforce cuts, and the need for federal aid.
"Without immediate aid at the federal level, we face a budget shortfall of $130 million dollars for this year alone," tweeted Mayor LaToya Cantrell of New Orleans, Louisiana. And with no federal funding in sight, many other cities are having to go at it alone. "Localities may be the laboratories for relief innovation, but we need federal $$ to develop & expand those programs, maximizing their impact for the people who need them most," tweeted Mayor Levar Stoney of Richmond, Virginia.
Furloughs and Layoffs
Jersey City, New Jersey was especially hard hit. The city offered employees of 15 years or more $20,000 or 25 percent of their salary, whichever is greater, to voluntarily quit. The city also froze all city employee salary adjustments and has prohibited any new hires until further notice. Mayor Steven Fulop acknowledged that while layoffs are a last option, "govt isn't immune to any of this. I'm going to continue to do my best to manage this w/a goal of minimal additional hardship on ppl." Similarly, Pittsburgh, Pennsylvania is trying to avoid city layoffs despite revenues since March decreasing by 25 percent when compared to the same time period in 2019.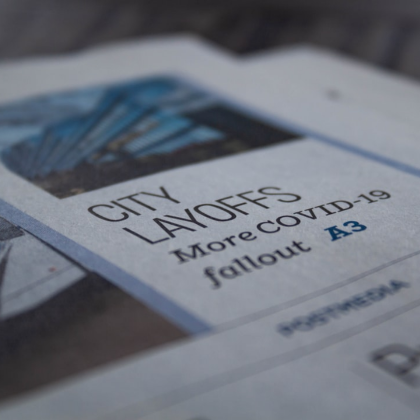 In New Orleans, Louisiana, all city employees, including the mayor, will be furloughed one day per pay period through the end of the year to balance the 2020 budget. "We have to be smart now so that we can sustain our service & @CityOfNOLA in the months ahead," tweeted Mayor LaToya Cantrell. Similarly, in Denver, Colorado, both the mayor and council took furlough days. Denver, Colorado closed its 2020 budget gap by reducing agency budgets, freezing most hiring, requiring employees to take furlough days, and using a portion of their reserves.
On the other hand, Mayor Kevin Faulconer of San Diego, California signed an executive order to classify city employees as disaster workers to avoid furloughing them. Stockton, California's 2021 budget will include no layoffs, no cuts to staff salaries, no cuts to services, and no new furloughs. Similarly, St. Paul, Minnesota's 2021 budget proposes zero staff layoffs, zero use of emergency reserves. And the mayor of Honolulu plans to avoid furloughs at any cost. "There are no plans to furlough or cut the pay of any City and County of Honolulu employees. If we ever need to take that step, I will be taking a pay cut, and will ask my cabinet to do the same," tweeted Mayor Kirk Caldwell.
Municipal Actions
Despite these challenges, several cities are instituting municipal action plans to narrow revenue shortfalls. Nashville, Tennessee decided on a property tax increase to restore financial health and maintain essential services. "Our property tax increase was an unfortunate but necessary step to restore Metro's financial health as of July 1st," tweeted Mayor John Cooper. This year, residents in some states had the opportunity to vote on critical municipal actions. In San Antonio, Texas, voters passed Prop B to allocate revenue from a previously approved sales tax of 0.125 percent to job training and scholarships for the Early Childhood Education Municipal Development Corporation through 2025.
Still, several cities, including St. Paul, Minnesota; Dallas, Texas; San Diego, California; Jacksonville, Florida; and Washington, D.C. want to avoid tax increases. In St. Paul, Mayor Melvin Carter proposes zero property tax increase, zero staff layoffs, zero use of emergency reserves, and "many difficult decisions to avoid adding financial stress for residents and businesses who are already struggling."
The pandemic and its economic fallout have not impacted all cities the same way, and the diversity of responses to new expenses and budget shortfalls reflect that difference. NLC continues to call on Congress and the Administration to enact a comprehensive COVID-19 aid package that provides flexible, direct fiscal relief to all communities, regardless of location or size. Click here to tweet to your members of Congress and call on them to pass an aid package without further delay.