The COVID-19 pandemic has impacted nearly every person in our nation in some way, leaving many Americans in circumstances they could have never imagined. Workers deemed essential have been placed on the front lines of the crisis, while many local businesses are struggling to survive.
As a longstanding partner to so many local communities nationwide, Clear Channel Outdoor (CCO) immediately put its digital displays to work when the crisis began to help its neighbors better understand emerging safety precautions. And as the country continues to grapple with the ongoing pandemic, we're continuing this support while providing vital resources to business owners as they navigate the recovery process.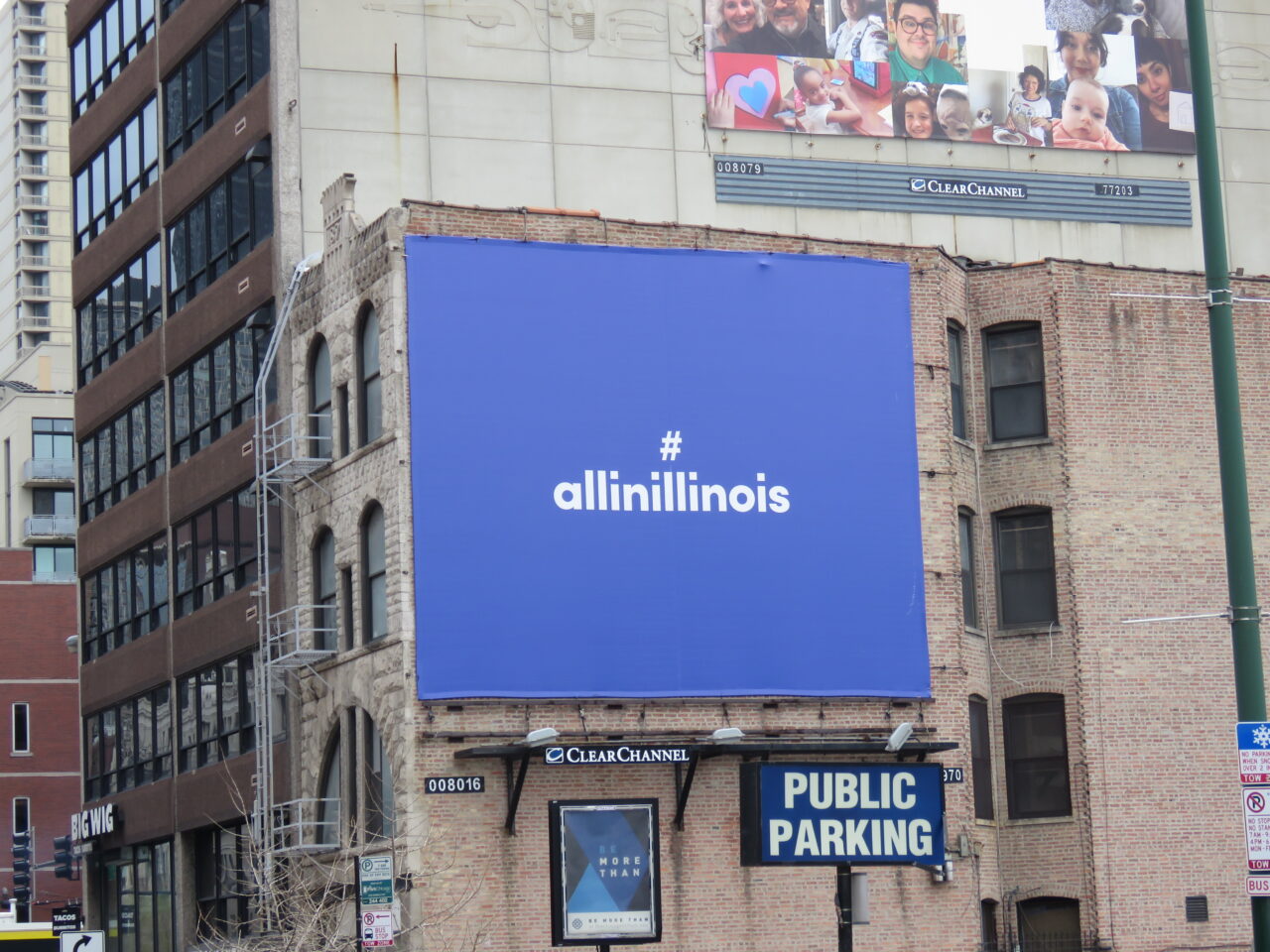 Partnering with Cities and States for American's Well-Being
As precautionary health information unfurled, municipal, state and the federal government leaned into Clear Channel Outdoor and other Out-of-Home (OOH) media companies to execute high-impact public service campaigns against the ever-changing backdrop of the evolving crisis.
Working with the City of Chicago via The Department of Cultural Affairs and Special Events, local artists designed COVID-related safety messages for digital billboards that stressed the importance of social distancing. This unique artwork appeared on CCO's digital displays in the Windy City on both the south and west sides.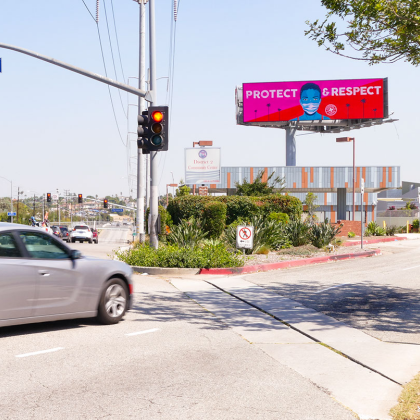 At the state level, the #AllinIllinois campaign, conceived by Governor JB Pritzker and the Illinois Bureau of Tourism, encouraged people to protect themselves and others by either staying home or wearing masks in public. The campaign hashtag encouraged residents to pledge that they were "all in" too – for their neighbors, grandparents, health care professionals and many more.
In California, as new health protocols were communicated, Los Angeles County, the California Department of Health and Governor Newsom partnered with CCO to launch a local campaign, asking Californians and Angelenos to, "Stay Home. Save Lives." The Governor even reiterated how OOH is a critically important medium to amplify these crucial stay-at-home messages.
And in June, and as much of the country entered Phase 3 reopening, Arizona, Texas and Florida launched new outdoor public service announcements in partnership with CCO to communicate urgent mask wearing requirements to citizens.
A 'Thank You Card' to Local Businesses
CCO believes that local businesses are the lifeblood of our communities. Their success ignites the economic engine that drives cities and towns across the nation, and we believe it is also our responsibility to use our media in ways that help them, and all our neighbors, succeed.
Throughout the infancy of the crisis, and into the early reopening stages of economic recovery, CCO shined a light on those essential businesses that remained open during the pandemic providing essential products and services to our neighbors.
As the crisis forced many businesses to close, CCO designed and displayed (at no charge) messaging on our digital billboards for local pharmacies, convenience stores, restaurants, etc. to help consumers find their way to vital supplies and services close to home while supporting our customers until they could get back on their feet.
What Recovery Looks Like Now
As municipalities and businesses continue to grapple with the pandemic, we're committed to using our resources in ways that bolster our communities into recovery. On our end, we are providing our partners with proven resources, including access to our new and growing online Recovery Resource Center, a portal of solutions that will help reignite their businesses.
This online resource center gives business owners and municipalities access to curated solutions, including:
incisive reports on COVID-influenced behavioral and travel patterns;
strategic marketing and creative ideas to engage with consumers and citizens and tell stories in a post-pandemic environment; and
the latest research and case studies to positively impact consumer behavior – even during a crisis.
This includes access to Clear Channel's custom creative galleries that share how other advertisers and cities have responded to this crisis and others. It also provides proactive ideas for messaging and design for customers and constituents.
The strength of our partnerships with states, cities and local businesses allows us to band together when communities need us most, especially during uncertain times like these. We are extremely grateful for those who are committed to helping our communities. It is on us to echo that same spirit and ensure success for all of our neighbors now and moving forward. That's why CCO is committed to serving as a Recovery Resource Partner.