Throughout 2020, local government leaders have creatively met unforeseen and unique challenges. While there's a popular temptation to look to 2021 as a reset to more "normal" times, it is a fair prediction that those challenges will remain as we enter the New Year.
That's why this year's City Summit is more important than ever. We've seen that the disruption of COVID-19 has accelerated technological advancements that were in many ways overdue in the public sector. Virtual solutions that enable remote work, ensure continuity of government business, and allow constituents to interact with government online are some examples. As these advancements continue with our evolving circumstances, city leaders and elected officials have a rare opportunity to harness the moment to better position their communities for long-term success. Along with this, there is an opportunity to tackle ongoing issues such as homelessness and affordable housing, mental health, and climate change, among others.
Technology alone is not the solution to these problems. Policy changes are where real solutions happen. That said, we have seen that effective policies are almost impossible to implement if technology does not support them. Local government can meaningfully navigate challenges and address pressing issues for a better future in a specific way: that is by building a digital infrastructure that eliminates silos and effectively reaches, serves, and engages all stakeholders.
Why a Future-Proof GovTech Stack Matters Now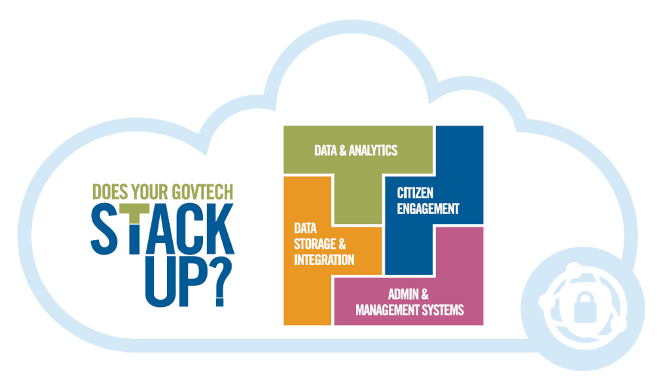 Without a full, modern technology infrastructure in place, sharing data between multiple systems to solve problems is complicated at best. Bottlenecks, miscommunications, operational delays, security vulnerabilities, and decisions based on anecdote, not fact, remain the norm.
The solution is for city leaders to drive enterprise-wide process and data integration that results in maximum levels of efficiency and insight. A GovTech Stack is a matrix of existing and new technology to streamline and automate business processes and improve stakeholder experiences to better:
Serve business partners,
Serve the public,
Provide internal and external decision-makers with actionable insight, and
Ensure security and access to the most up-to-date information.
These points expand the definition of "stakeholder" to ensure full, meaningful connectivity; the type of connectivity necessary to move the needle on current and future issues. A complete GovTech Stack contains:
Data and analytics,
Citizen engagement,
Data storage and integration, and
Administrative and management systems.
Encircling these essential components should be an enterprise-wide cloud architecture that provides 24/7 remote access to data and systems and improves the agility of government to respond quickly to crises and rapidly evolving situations. In addition, an advanced cybersecurity culture is necessary to keep up with the evolving threat landscape.
Cities across the country are effectively employing these foundational elements. In Buffalo, New York, a robust COVID-19 site provides actionable insight and facilitates real-time volunteer collaboration and resource deployment. Little Rock, Arkansas' Citizen Connect portal allows residents to enter and track requests for city services online. In Port St. Lucie, Florida, leaders saved more than $250,000 annually by connecting departments to create efficiencies.
Leaders can explore the GovTech Stack components in depth to see how their organizations can strategically build digital maturity over time, with beneficial returns on investment.
Reaching the Full Constituency for Equitable Service
The GovTech Stack approach is a coordinated strategy in which leaders examine – and meet – the desired experience for all true stakeholders through a city's digital infrastructure. One element, citizen engagement, deserves special mention. COVID-19 necessitated enhanced citizen engagement to maintain business continuity, impart emergency information, and gather data in real time and from remote locations.
Full citizen engagement requires a deeper understanding of all community members and how they interact with local government. Four different generations are currently engaging with cities as voters, residents, homeowners, and taxpayers. These distinct generations have very different experiences, expectations, and approaches to government. Cities can maximize service delivery, enhance public participation, and foster partnerships necessary for tomorrow's solutions only by reaching, serving, and engaging citizens in ways that work across generations.
New generational research from Tyler Technologies and the Center for Generational Kinetics provides leaders with crucial insight about commonalities and differences across generations as they relate to local government. Bridging the gap between expectations and reality across generations with modern technology improves service and contributes to more vibrant, successful communities.
Future-Ready Cities
In 2020, city leaders created changes that are here to stay. To continue these advancements and leverage the moment for positive change, leaders must thoughtfully construct a technology confluence that eliminates silos and builds all systems on the fundamental elements of a complete GovTech Stack. This readies cities for the future while serving all stakeholders in the broadest sense of the word. Applying critical generational context further improves cities' ability to effectively reach, serve, and engage all constituents for truly connected, thriving communities.
Strategic partnerships that facilitate these desired outcomes are another important component of success.
Join Tyler Technologies at City Summit for the following timely discussions:
How Chattanooga Prioritizes Collaboration, Data, and Racial Equity in Policing, Friday, November 13 from 11:45 am – 12:45 pm ET 
Closing the Analytics Gap for Economic Recovery, November 17 from 1:00 pm – 2:15 pm ET
Expert Hour: Third-Party Data's Role in Local COVID-19 Recovery Strategy, November 17 from 2:30 pm – 3:30 pm ET
Mobile Apps: When Hardship Hits, Talk with Your Residents, Thursday, November 19 from 11:00 am – 12:00 pm ET