Every 4 years we all focus intently on the presidential and national elections at hand, but important decisions that affect community members every day are decided with state and local ballot initiatives. Transit, labor, police reform, and drug decriminalization have taken top billing in many places this year.
Even as the 2020 election has not yet fully concluded—with votes continuing to be counted on races nationwide—there are significant shifts that will be seen in our cities as the result of these ballot initiatives. 
Transit is full speed ahead
Voters have consistently supported local transit initiatives in recent election cycles and 2020 continued this trend. Two critical wins can be seen in Austin, Texas and California's San Francisco Bay area. While not all transit initiatives passed on November 3rd with notable losses in Portland and in the Atlanta region this continues a trend noted by APTA's Josh Cohen that we have seen 32 out of 34 local transit measures already pass since January.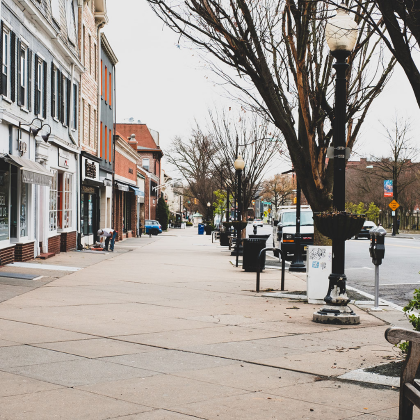 In Austin voters overwhelmingly approve transit-related ballot measures with two propositions passed, Propositions A and B. Prop A will raise property taxes in Austin to help pay for the Project Connect transit improvement plan—the $7.1 billion "Project Connect" transit plan—which includes two new light rail lines and expansion of the city's commuter rail. Prop B will allow the city to borrow $460 million for a host of infrastructure improvements, including new sidewalks, bikeways, and street repair. This initiative also includes funding set aside to fight housing displacement, a by-product of input from community members who worried about transit's potential gentrifying effects.
In California's Bay Area, Measure RR provides Caltrain with crucial funds for the future. This initiative offers a temporary lifeline and a long-term financial future for Caltrain after suffering during the pandemic. It will allow a ⅛ cent sales tax increase in those counties and raise an estimated $108 million annually for 30 years.
Police Reform
In response to the killing of George Floyd, officials responded to nationwide demonstrations and protests by issuing a number of executive orders and passing legislation to respond to a growing call to reform and defund the police. The proposed policy changes fell into a range of buckets, including police oversight, the powers and structure of oversight commissions, police practices, law enforcement department structure and administration, budgets and funding, training requirements, and body and dashboard camera footage. According to Ballotpedia, there were 20 local police-related ballot measures on the docket for November 3rd.
Several measures have been passed in cities across California, including Oakland and San Francisco. In San Francisco, two propositions seeking modest reforms were passed decisively, allowing for more oversight and transparency to the SF Sheriff's Office (Proposition D), and did away with a nearly three-decades-old minimum staffing requirement (Proposition E). While not fully meeting the goals many have to defund the police, prop E opens up the opportunity for the city to dispatch teams of social workers and substance use counselors to respond to calls where appropriate, joining a growing number of cities that already make use of alternate responders including, most famously in Eugene, OR and in other cities such as New Haven, CT.
While initially touted for the far-reaching impacts they would have on increasing accountability, police body cameras have not quite lived up to expectation. Still, some cities such as Akron, OH have passed a charter amendment which will require recordings from police body and dashboard cameras document police use of force that results in death or serious injury, to be released to the public. While not a panacea, it may be indicative of resident demand for increased transparency in police conduct.
Even as the 2020 election has not yet fully concluded—with votes continuing to be counted on races nationwide—there are significant shifts that will be seen in our cities as the result of these ballot initiatives.
Wins and Losses for Labor
Florida residents overwhelmingly voted to join 7 other states—making Florida the 8th state—to increase the state minimum wage to $15 an hour. This is a sign of how raising wages is proving to be an increasingly attractive bipartisan policy measure, particularly as the economic impacts of COVID-19 rage on. In California, on the other hand, gig economy workers' rights have been curtailed with the passage of Proposition 22, which largely reverses an earlier initiative providing app-based workers with labor protections by classifying them as employees not contractors.
Colorado voters approved Proposition 118, which will establish paid family leave, making Colorado the ninth state to offer workers 12 weeks off following the birth of a new child, worker illness, or caring for an ailing loved one.
Legal Drugs
The 2020 ballot was a big night for drug policy reform. There were five states with the legalization of marijuana on the ballot, all of which passed. South Dakota, Montana, New Jersey, and Arizona now bring the list of states who have legalized recreational use of marijuana up to 15. Mississippi joined 33 other states in legalizing the use of medical marijuana.
Oregon and Washington, D.C. have gone a step further to decriminalize the use of psilocybin, otherwise known as "magic mushrooms." D.C.'s Initiative 81 means that people will no longer be prosecuted for the possession, cultivation or sale of a variety of psychedelic plants and fungi. Oregon's yes vote goes a step further, creating a two-year period in which lawmakers will determine how the drug is regulated and will permit therapeutic use of the mushrooms.
Separately, Oregon has also become the first state to decriminalize small amounts of cocaine, heroine, methamphetamine and other drugs. Measure 109 makes what was previously a drug violation punishable by jail time, face similar repercussions as a traffic ticket. Responding to the states high rates of addiction, marijuana sales taxes will now fund drug addiction treatment.
While much remains to be seen on how the next four years of federal leadership will impact America's cities and towns, it is clear there is a growing movement for better transportation, higher wages, police reform, and drug decriminalization, at least in state and local ballot initiatives. These initiatives will not only have a tremendous impact on the cities and states themselves in which they passed, but other localities in the years to come as these newly passed measures may be a signal of a bigger appetite across other jurisdictions.