City leaders are at the center of civic engagement—they are first responders in times of crisis and advocates for their residents to state and federal leaders—on top of that, they play a tremendous role in setting local culture. This is especially true around elections and voting. This has never been more true than in 2020, which has seen elections infrastructure challenged and bruised by the realities of COVID-19, the ongoing question of racial justice and inequity, and the distractions of a difficult decennial census. With creativity and nimbleness, city leaders have spent this year engaging community leaders and trusted messengers to create a vibrant culture of voter engagement in even the most difficult times.
Amid the COVID-19 pandemic, established national, local, and civic groups have come together to support communities with PPE, food, housing, emotional support, and more. Partnerships have arisen in response to the need to ensure all eligible voters can participate safely this election season. Local leaders are experts at building and leveraging readily activated, community networks. Cities have successfully collaborated with local business leaders, sports teams, faith leaders, Chambers of Commerce, and schools.
Here are just a few of the ways that city leaders are innovating to address the challenges of the 2020 election:
Calling Spanish-speaking voters to explain voting options and answer questions: In Mesa, AZ., city leaders like Councilmember David Luna are taking the time to connect with voters one-on-one and letting them know Nov 3rd is not their only option to vote.
Hosting a voting site open house: The Voting Registrar's Office in Richmond, VA is holding an open house to give voters a chance to see the new office and have their questions answered about voting in-person absentee.
Placing Board of Elections in shopping centers: The Franklin County Board of Elections in Columbus, OH is in shopping centers, making parking, social distancing, and drive-through ballot drop-off a breeze.
Holding Facebook Live and podcast panels to address voting questions and key issues: In Hertford, NC, Councilmember Frank Norman is hosting community leaders, voting experts, and space for conversation on social media and podcast platforms.
Giving city employees PTO to vote and volunteer as poll workers: Mayor Kiesha Lance Bottoms, of Atlanta, GA, has issued an executive order to "diminish the challenges that voters experienced" back in June ahead of the general election.
Organizing a "Stroll to the Polls" and National Vote Early Day rally: Mayor Hardie Davis Jr, of Augusta, GA, has organized a day-long event to encourage voters to turn out.
Live-streaming 24-hour video of ballot processing: In an effort to show a transparent voting process, a number of cities and counties, including Baltimore, MD, San Francisco, CA, and Denver, CO, are live-streaming the ballot-counting process.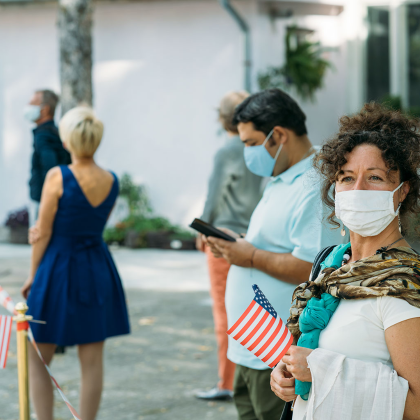 Moving poll sites to keep voters and residents safe: In Cumberland, ME, town officials will use the local high school instead of the town office to allow more space for distancing, while students will return to remote learning for the day.And in Kansas City, MO, the National WWI Museum and Memorial will serve as a poll site, notarize absentee ballots for free, and give visitors half off admission once they've earned their "I Voted" sticker.
Deploying a voting trailer to local sites: The Office of the Town Clerk in Muskegon, MI is using a voter registration trailer to travel to schools, parks, and housing complexes to collect absentee ballots, distribute ballots, register voters, and answer questions.
Partnering with local sports teams: With 51,000 poll workers to be trained in time for Election Day, the Board of Elections in New York City is partnering with the Yankees to offer trainings to 200 workers over a four-day period in the Bronx stadium. Across the country, cities have partnered with professional basketball, football, hockey, and baseball teams to convert stadiums into poll sites and engage voters.
Working with trusted messengers to reach often-overlooked communities: The city of Tampa, FL partnered with EmgageAction to encourage voter registration in the Muslim community.
Cities can and should think outside the (ballot) box to consider all the ways to make voter engagement an ongoing priority,even in the "off-season." Census Complete Count Committees can pivot to voter engagement activities, while officials can collaborate with national organizations such as the League of Women Voters, NALEO Education Fund, and When We All Vote to conduct regular registration drives, voter education, and voter turnout initiatives. City leaders can work together to set registration and turnout goals and develop a plan to move toward full participation in elections.
Take the pledge!
Are you passionate about supporting your residents, constituents and neighbors having fair and equitable access to the ballot box? Take the Cities Vote Election Pledge for more resources.