32nd annual City Fiscal Conditions report identifies trend last seen in 2006 prior to Great Recession
WASHINGTON, D.C. – September 12, 2017 – New National League of Cities (NLC) research indicates a potential slowdown in the municipal finance sector as city fiscal growth contracts for the second consecutive year. Several major findings from the report, City Fiscal Conditions 2017, signal a trend that was last seen in 2006 before the Great Recession, including waning confidence of city finance officers, slowing local revenues and insufficient post-recession revenue recovery.
"City leaders know that at the end of the day, they must balance their budgets to continue delivering the services their communities rely on," said Clarence E. Anthony, CEO and Executive Director of the National League of Cities (NLC). "Cities are the engines of innovation and economic growth. It's critical that Congress and the administration work closely with local officials to ensure American cities continue to grow our economy and lead our nation forward."
City Fiscal Conditions, which has been published annually by NLC since 1986, provides a window into the health of cities across the country, and helps local officials be realistic about the tools that are available to them.
Key findings:
General Fund revenues are slowing. General Fund revenues grew by 2.61% in 2016, and revenues are projected to stagnate with just 0.9% growth in 2017
Property tax revenue growth is budgeted much lower than 2016. Finance officers have budgeted for 1.6% growth in property tax revenues in 2017, compared to 4.3% in 2016
Finance officers project a decline in sales and income tax revenues for 2017. Both sales and income tax revenues grew in 2016 (by 3.7% and 2.4%, respectively), but finance officers project a decline in 2017 (by 0.2% and 2.7%, respectively).
Confidence of municipal finance officers has waned. Although the majority of finance officers (69%) are confident in the fiscal position of their cities, widespread optimism hit its peak in 2015.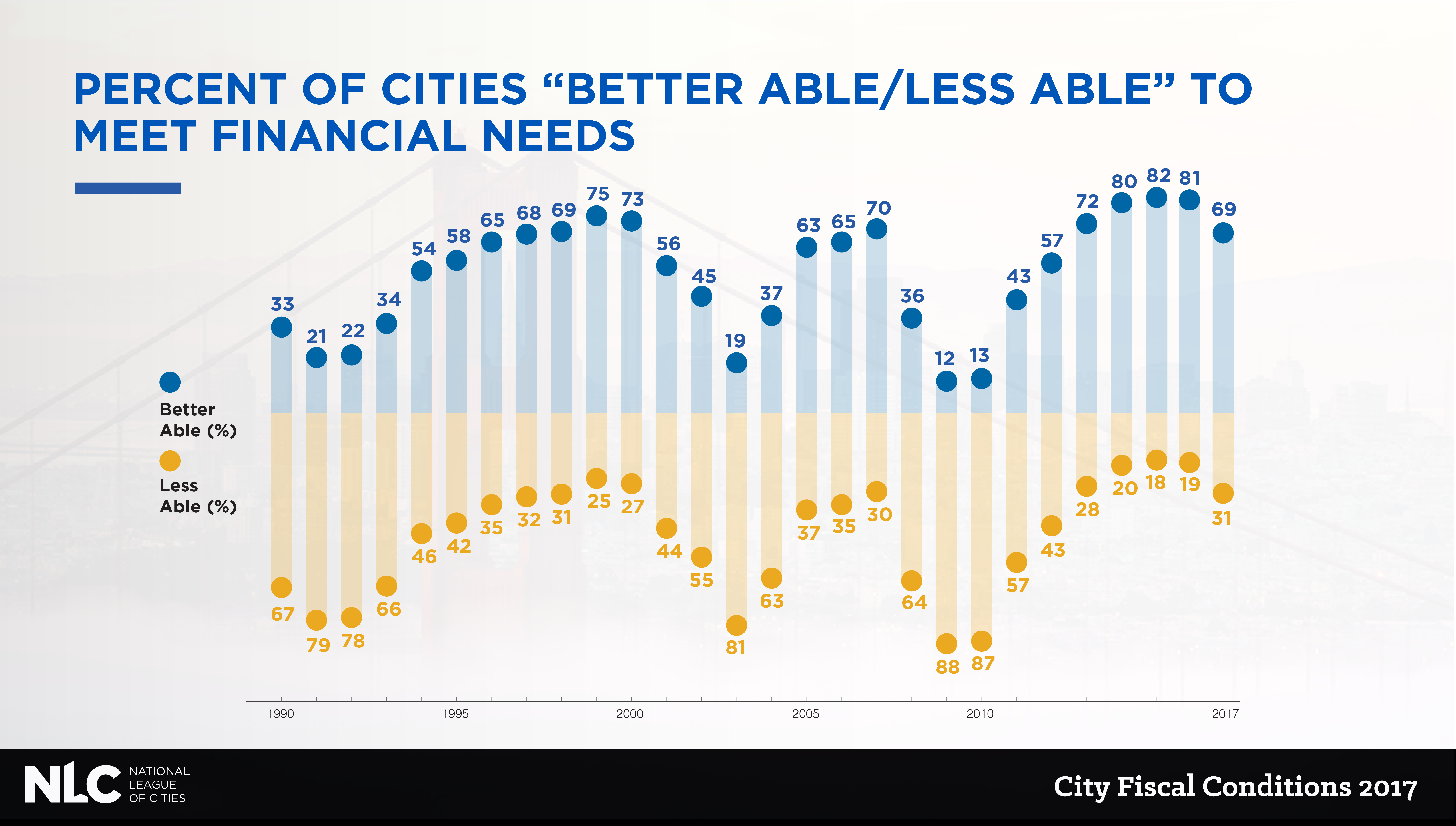 "Our findings raise cautionary flags, despite improvements in economic indicators, like productivity and unemployment," said Christiana McFarland, Director of Research at the National League of Cities (NLC). "These countervailing trends point to the imperative to expand the fiscal tools available to cities."
City Fiscal Conditions 2017 was released today in Washington at a roundtable event featuring elected officials, city leaders, analysts, economists and practitioners. They held a candid discussion of the findings, and whether this municipal-level contraction is a bellwether for the national economy.
Access the full report at: NLC.org/CFC
For questions or to receive an audio recording of the release event, please contact Courtney Bernard at Bernard@nlc.org.
###
The National League of Cities (NLC) is the voice of America's cities, towns and villages, representing more than 200 million people across the country. NLC works to strengthen local leadership, influence federal policy and drive innovative solutions. Stay connected with NLC on Facebook, Twitter, LinkedIn and Instagram.