The social, economic and health tolls of the COVID-19 pandemic have resulted in empty city streets, American communities struggling with physical and mental health challenges, and profound economic disruption.
Improving Community Health and Resilience through the Arts leverages the power of the arts to support city leaders' efforts to improve the health, cohesion and resilience of their communities. The goals are to:
build sustainable partnerships between municipal government and the health and arts sectors
renew public spaces
create economic opportunities
holistically improve community wellbeing
The National League of Cities (NLC) Institute for Youth, Education, and Families (YEF Institute), in partnership with One Nation/One Project (ONOP) is working with municipal leadership, community health leaders and safety net providers, local artists, and the communities hardest hit by the pandemic to achieve these goals.
Launched in April 2022, the pilot cohort includes the following nine communities:
Gainesville, Florida
Chicago, Illinois
Utica, Mississippi
Winston-Salem, North Carolina (in partnership with Forsyth County)
Providence, Rhode Island
Rhinelander, Wisconsin
Harlan County, Kentucky
Edinburg, Texas
Phillips County, Arkansas
In addition to developing and implementing ongoing local participatory arts activities, each city will work to develop an artistic project in response to the prompt "There's No Place Like Home".
For more information about this initiative, send your questions and comments to coo@nlc.org.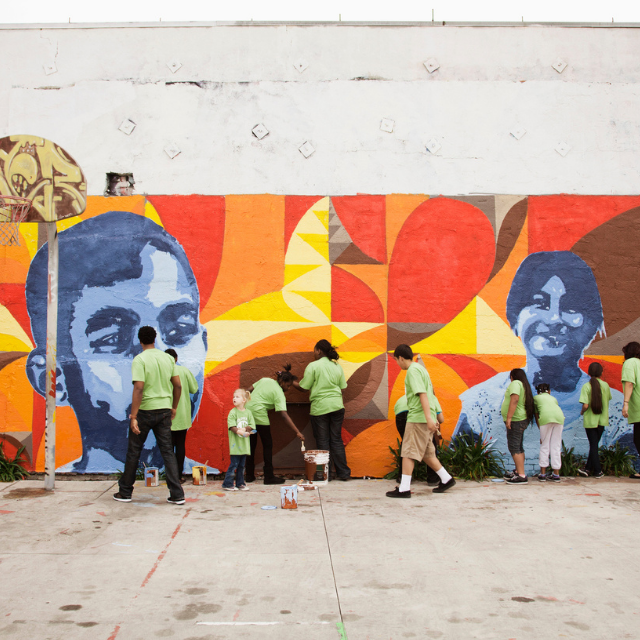 Impetus for Action and the Role of Local Leadership
By bringing together local government and the arts and health sectors through unique partnerships in each city, ONOP will use a large-scale arts and wellness initiative to rebuild the social fabric of recovering communities across our nation.
This project will deliver evidence-based benefits of the arts, such as:
Improved health outcomes
Strengthened social bonds
New, equitable employment opportunities
City Participation and Support
Each participating city will be supported through extensive context-specific technical, artistic and organizational assistance from ONOP's national team, which is spearheaded by formidable artistic leaders and production partners.
This initiative seeks a broad range of creative ideas for projects – and those including broad public participation from ideation to implementation are encouraged.  
Support provided to selected sites will include: 
Artistic guidance
Connections to national artists
Technical support
Documentation and research support
Peer-to-Peer support and hands-on assistance
Dissemination and distribution
Eligibility and application requirements include:
Commitment to leverage local American Rescue Plan Act (ARPA) Funding – Participating cities, towns, and villages will allocate at least 2% of their respective ARPA funds, with a minimum commitment of $500,000, to support an arts and wellness project within their respective communities. A submitted application affirms that your municipality is committed to the use of these resources.
Ability to assemble an effective core team- which includes a combination of top city executives (mayor, city manager) and/or cabinet-level city staff and senior departmental staff, local artists and/or local arts organizations, leaders from local CHCs, community representatives, and leaders from other key partner organizations (e.g., community-based organizations, business leaders, etc.).
Commitment of support by the mayor and or city manager
Commitment by local project team to participate in quarterly peer-to-peer engagements
How to apply for the Improving Community Health and Resilience through the Arts Cohort
NLC is currently accepting Letters of Interest and applications for this Improving Community Health and Resilience through the Arts Cohort. The application deadline is February 18, 2022.
A letter of interest from the Mayor or City Manager is welcome but not required before application submission. Send letters to coo@nlc.org
Before submitting your application, review the Request for Proposal (RFP) to learn more about the initiative and key information required to start your application.
Once you've reviewed the RFP and gathered your requirements, you may start your application.