Addressing Health Hazards in Homes
All residents deserve access to healthy, safe housing. But not everyone has such access. Too many children are poisoned by lead in their homes and suffer lifelong cognitive challenges. At the same time, asthma keeps many more out of school and parents from work.
City leaders are currently well-positioned to tackle these health challenges as investments through Housing and Urban Development (HUD), the American Rescue Plan Act (ARPA) and the Bipartisan Infrastructure Law (BIL) are providing greater resources to improve health and racial equity.
The Healthy Housing Local Action Challenge is an initiative of the National League of Cities (NLC), an organization with nearly a century of experience helping municipal leaders improve the quality of life for their residents. The Challenge helps leaders achieve their goal of providing all residents with safe, stable and healthy housing.
THE CHALLENGE: Make your Municipality a Nationally Recognized Healthy Housing Change Agent
Healthy Housing Change Agents:
Identify and assess their community's healthy housing needs
Implement policies, programs or practices that improve healthy housing
Evaluate the impact of implementation and share the results with other municipalities
When you take the Local Action Challenge, you'll receive support and tools to better mitigate housing health hazards for your residents. Plus, you'll receive national recognition for your work.
Whether you're already addressing your community's healthy housing needs or are in the initial stages, when you accept the Local Action Challenge you'll get:
Support in the form of a structured framework to accelerate your work, plus peer learning, technical assistance and more
Tools to identify needs, implement changes and evaluate the impact of reducing home-based health hazards such as lead and asthma triggers
National recognition at every milestone along the way to becoming a Healthy Housing Change Agent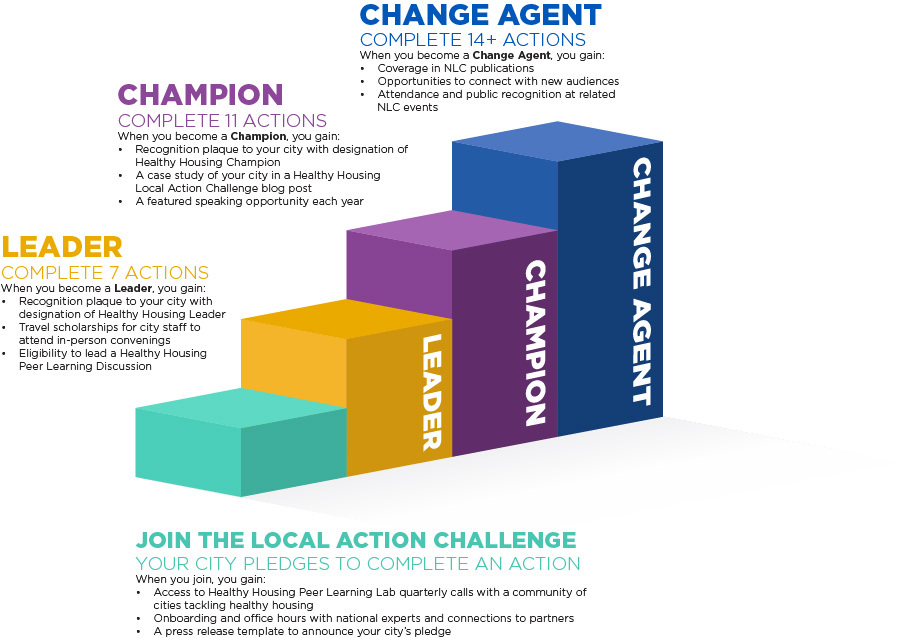 Summary of the Action Areas
Action Area 1
Action Area 1
IDENTIFY and ASSESS healthy housing needs.
ACTION: Needs Assessor 1.0
Complete a healthy housing needs assessment to understand the current housing landscape and barriers to changing unhealthy housing conditions.
ACTION: Community Engager
Engage multilevel community stakeholders to assess existing resources and current gaps in healthy housing resources, policies and enforcement.
ACTION: Findings Disseminator
Identify a research or data partner to analyze city or neighborhood trends and disparities in health and housing outcomes.
ACTION: Support Identifier
Engage community leaders, agencies and organizations who serve underrepresented communities to collaborate or apply for grants or other funding.
Action Area 2
Action Area 2
IMPLEMENT a policy, program or practice that improves healthy housing.
ACTION: Advocate Identification
Identify and engage with city leadership or council members who prioritize housing or health issues to find an "advocate."
ACTION: Commitment to Sustainable Solutions
Propose a policy, program or practice and garner input and shared support from stakeholders.
ACTION: Roadblocks and Consequences Identifier
Engage stakeholders and/or decision-makers to ascertain likely barriers and unintended consequences.
ACTION: Timeline and Goals Identified
Once there is shared agreement on the proposed policy program or practice, commit to the implementation approach.
ACTION: Tenant Community Outreach
Conduct tenant outreach to inform tenants of proposed changes and/or new policies, programs or practices and their current rights and resources.
Action Area 3
Action Area 3
EVALUATE the impact of the implemented policy, program, or practice and SHARE that information with other cities interested in doing the same.
ACTION: Accountability to Equity
Collaborate with stakeholders to determine the impact that the program, policy or practice has on improving health and racial equity.
ACTION: Evaluator
Utilize available data and resources to understand the effectiveness of the implemented healthy housing program, policy or practice.
ACTION: Needs Assessor 2.0
Assess current gaps and community needs after implementing a policy, program or practice.
ACTION: Teacher
Disseminate successes and lessons learned.
Share this brief overview with municipal leaders and encourage your town to Take the Challenge today!
Download the complete Healthy Housing Local Action Challenge Brief for in-depth information on the challenge framework.
Take the Healthy Housing Local Action Challenge
Announcing the Healthy Housing Community of Practice Participants
The National League of Cities is proud to announce the following municipalities have been selected to participate in the Healthy Housing Community of Practice:
Chicago, IL
Golden, CO
Grand Rapids, MI
New Orleans, LA
Norfolk, VA
Osceola, AR
These six cities, towns, and villages have demonstrated a strong commitment to advancing health outcomes through equitable housing programs, practices, and policies. Each municipality faces its own unique circumstances, and they will share those experiences and provide invaluable peer support, all while benefiting from access to nationally recognized subject matter experts and a step-by-step framework and process. The goal: stronger city capacity to advance equitable and healthy housing programs and practices that improve individual and community health and wellbeing.
---
This initiative is made possible with the generous support of our technical assistance partners the National Center for Healthy Housing, Green & Healthy Homes Initiative, ChangeLab Solutions and our generous sponsors at the U.S. Department of Housing and Urban Development Office of Lead Hazard Control and Healthy Homes.