By Scott Timmer, City Manager, Fairfield, Ohio
The City of Fairfield, OH, (pop. 44,912) applied to the new Federal Rail Administration (FRA) Railroad Crossing Elimination Program and was awarded a $3 million grant to start a rail project that eases the conflict created by having 40-plus trains traveling through the city daily and often blocking the thousands of local residents that use Symmes Road every day. The grant gives Fairfield a chance to speed up the development of a rail and road grade separation project that should ease traffic conflicts and community concerns.
Fairfield will use the grant to separate the roads and rail crossing at Symmes Road and perform a feasibility study on North Gilmore Road for potential closure. These two roads connect industrial and residential areas and serve as the bypass and first touchpoint in the city for drivers using the state highway. Both crossings are skewed upon approach, limiting visibility for drivers causing a driver safety concern.
The Railroad Crossing Elimination program is opening up more crossing grants this October, giving more cities and towns the opportunity to apply and learn from Fairfield's work.
How This Project Benefits Fairfield's Community
The Railroad Crossing Elimination project will:
Safety: The Symmes Road and North Gilmore Road crossings have seen a combined 16 crashes, eight fatalities and nine injuries according to the FRA Grade Crossing Inventory. Grade separation and closure of these crossings, respectively, will eliminate two conflict points while improving emergency response times both within the city and regionally.
Congestion: Reduced congestion, delay and emissions from over 40 train movements per day on roadways with annual average daily traffic of approximately 13,000 (Symmes Road) and 9,000 vehicles (North Gilmore Road). Trains frequently block one or both crossings for several hours at a time.
Equity: The benefits characterized above will be concentrated within a Census tract with a 9.5 percent poverty rate and a median annual household income of under $50,000. The project location qualifies as a Justice40 Community and Federal Opportunity Zone.
Rail Operations: Improved reliability of rail movements along one of the most important freight corridors in the Midwest, connecting several major industrial cities along the I-75 highway corridor. Completion of this project will provide over 4.5 miles of track space without at-grade crossing interference north of the CSX Queensgate Yard, the fifth largest by volume in the CSX network.
Economic Development: With more than 36,000 jobs within three miles of the Symmes Road crossing, the corridor provides critical access to the region's workforce. Several industrial properties surrounding the Symmes Road crossing present new job attraction and retention opportunities, with some served directly by rail access.
How Partnership Works for Federal Grants
To make this project successful, Fairfield focused on regional support and collaboration. They jointly applied with the Butler County Transportation Improvement District (TID) to show collaboration and that the project would have positive impacts on the region.
With the improvements Fairfield plans to implement, CSX, the rail company that owns the line, will have 4.5 miles to park their trains without blocking any roads. This will alleviate blocked crossings in Fairfield, and the nearby City of Hamilton. Fairfield's Public Works has a good relationship with CSX and was able to get their support for the project early on as they were looking for a solution to park their trains without blocking roads. 
Fairfield also worked to gain letters of support for the project from every nearby jurisdiction, county officials, state officials and all three of their Congressional representatives in Washington, D.C. Wherever Fairfield officials traveled, they brought their booklet of project details and support to meetings to gain more support. They used the NLC Rail Roundtable and conferences to meet with CSX officials, their Congressional representatives in Washington, D.C. and get as much facetime as possible with FRA officials. Because federal grants are mostly competitive grant applications for cities, Fairfield found success by being their own salespeople and ensuring the project's benefits were clear.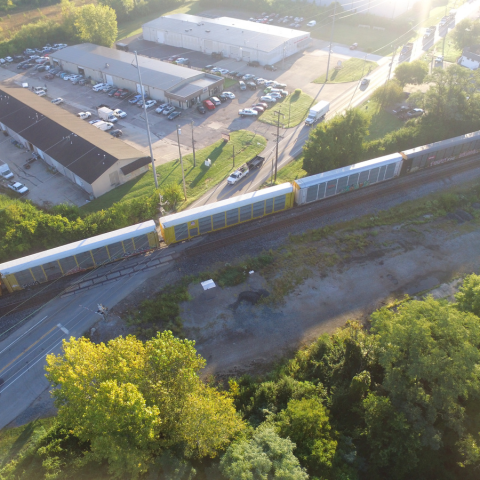 How Fairfield's Project Will Proceed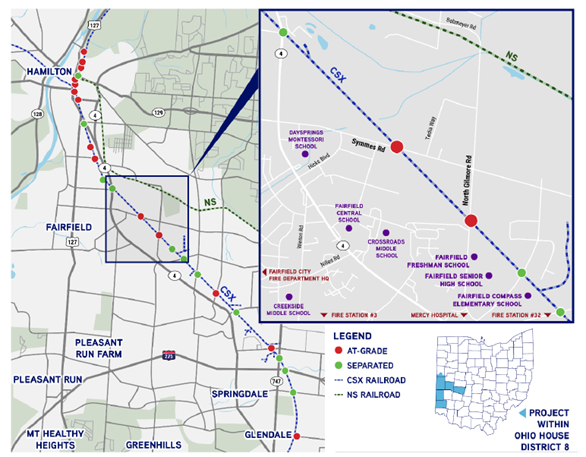 The city of Fairfield rail grade separation project will help alleviate an above 15,000 average daily traffic flow, at the two locations, reach their destination without a train blocking their route for an extended period. Allowing traffic to flow without a blocked rail crossing delay, congestion and therefore emissions will be reduced. Within three miles of Symmes Road crossing are more than 36,000 jobs and several businesses. The completion of the project will allow workers to arrive at work without delay and allow businesses to move goods in an efficient manner.
Besides allowing commuters to arrive at their destinations in a timely manner, safety in the two project areas will be increased. The two road crossings have seen a combined 16 crashes over the past 30 years, eight of which were fatal. Grade separations will eliminate these points of contact. Eliminating these crossing points additionally will allow emergency vehicles to respond without delay or a rerouting because of a blocked crossing. With over 40 train crossings a day, emergency vehicles assume blockages and currently avoid the two crossings which adds to response time.
The city of Fairfield is providing $750,000 for their non-federal match. Fairfield is using revenue from their income tax, which is split between the general fund, capital improvements and street improvements to pay for the non-federal share.