Broadband is a critical part of the nation's technology infrastructure, enabling everything from access to government services and health care to communicating with family and friends and participating in the economy through online retail and remote work. However, many communities across the US still do not have access to the technology or reliable broadband services that they need. Fortunately, local government officials can play an important role in expanding or deploying broadband services to their communities.
As of November 2022, 44 percent of states have policy barriers that can limit local governments from expanding access to reliable broadband in their communities through public ownership of broadband infrastructure. Community broadband, also known as municipal retail broadband, is publicly provided by municipalities, public-private partnerships, nonprofit organizations or cooperatives building the infrastructure and providing service to customers, in contrast to internet service that a for-profit company supplies. In NLC's most recent brief on broadband preemption, researchers found that states with lower levels of preemption in key policy areas were less likely to have municipal broadband preemptions. Comparatively, 59 percent of states with higher levels of preemption had some degree of municipal broadband preemption on average. Yet, despite these barriers, many local leaders are working to secure broadband for their communities through innovative means.
In May 2023, Colorado repealed its preemptive law that limited local governments from pursuing local broadband services without a successful ballot initiative. State representatives expect the changes to improve Colorado's access to digital equity programs and federal funding opportunities such as those through the Bipartisan Infrastructure Law (BIL), or the Infrastructure Investment and Jobs Act (IIJA). Since the Colorado law passed, the Biden Administration has announced a minimum of $107 million to every state for high-speed internet infrastructure deployment through the Broadband Equity Access and Deployment (BEAD) program.
Larger federal legislation—like BIL and the American Rescue Plan Act (ARPA)—that establishes programs similar to BEAD and the State and Local Fiscal Recovery Fund (SLFRF) are essential to addressing local inequities across the US. In Colorado, Denver allocated over $600,000 in SLFRF towards a digital equity project that supports their public library's work in aiding underserved community members in need of affordable home internet service, internet-capable devices or digital skills with the goal of them becoming more effective technology users. Together, ARPA investments by large cities have resulted in $206 million being allocated to close local digital divides. Across these cities, 38 percent of SLFRF recipients funded projects supporting Wi-Fi/hotspots/broadband services for resident long-term use; Wi-Fi/hotspots/broadband services for government use or distribution to residents; fiber development or deployment; digital equity; and technology for government employee remote work.
As local leaders begin to pursue federal broadband infrastructure funding, it will be crucial to know what limits their state may have on their ability to construct, own, or operate broadband networks. NLC's Local Authority Dashboard can help local leaders understand local authority and state preemptions with a focus on municipal broadband. Also, using legal data from the Center for Public Health Law Research at Temple University, users can visualize broadband preemption nationally through an interactive map with additional information on impacts and resources across states.
NLC's dashboard features a detailed table that users can filter by state and types of regulations, making it easy to find specific information about policies. Also included is a collection of resources specific to each state, providing access to a range of information, contacts and tools useful for navigating municipal broadband preemptions.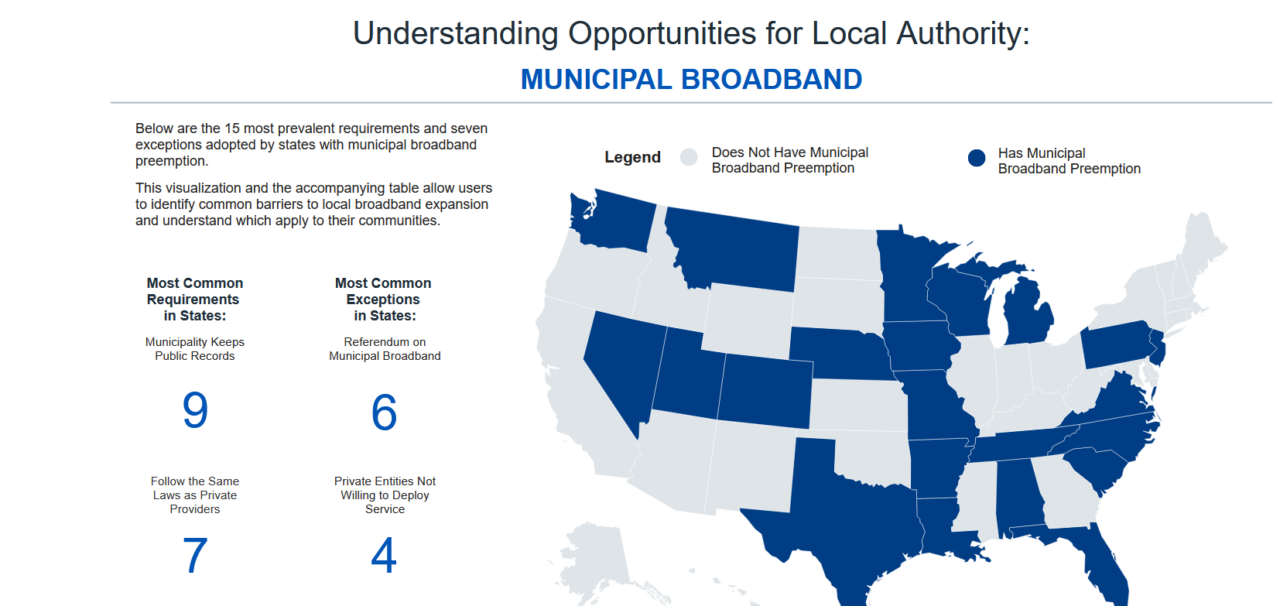 While state limits on local authority to pursue these policy tools can impact the agility of local government responses to their communities, local innovation (like Denver's SLFRF digital equity project) can be an effective way to quickly address immediate resident needs. For more resources on navigating state preemption of local broadband authority, access NLC's webinar on overcoming barriers to broadband expansion with tips on building local and state broadband coalitions.