Anchor procurement is a category of inclusive entrepreneurship that may not be immediately understood from its title. Anchor institutions are corporations, nonprofits or other entities that are "anchored" in their communities. Anchor institutions include university and hospital systems, financial institutions, and utility companies, and can even include large religious or cultural organizations. They are among the largest employers in the U.S., wield substantial local influence, and possess significant assets, such as real estate. Similar to when cities have procurement dollars available for open bid to advance various municipal projects, anchor institutions also have significant purchasing power.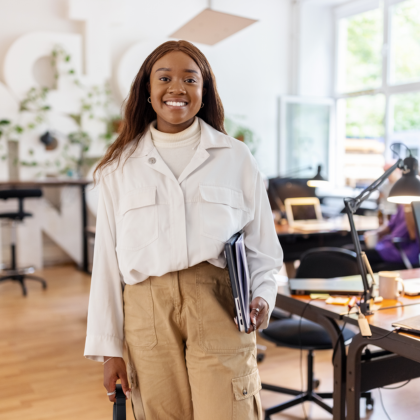 However, small businesses, especially those owned by people of color, are not always well integrated into anchor supplier and procurement systems. In St. Louis, Missouri, WEPOWER, a community-based entrepreneurial support organization (ESO), is focused on increasing access through strategic collaboration with partners across the city. The organization has strong relationships with a variety of anchors, the city, other ESOs, and most importantly, with local Black and Latinx entrepreneurs. To further strategic collaborations among these groups, WEPOWER joined NLC's City Inclusive Entrepreneurship (CIE) program to increase supplier diversity through equitable anchor procurement strategies. As part of the program, they also receive technical support with CIE program expert Interise, a non-profit focused on reducing the wealth gap through supporting entrepreneurs of color.
How WEPOWER is Doing It
Historically, there has been a racial gap in who is awarded contracts from anchor institutions. WEPOWER is using its CIE grant funding to deepen community relationships and support collaboration and planning work among anchor organizations and other partners in the community. They are seeking to bridge the gap between the support services that exist, and the understanding and connections entrepreneurs need to navigate the various systems required to contract with local anchors. When learning about the CIE grant, the Director of Equity & Inclusion for the city government's St. Louis Development Corporation (its economic development arm) recommended that WEPOWER manage and apply for the CIE grant because of its partnerships within the city.
"WEPOWER can work to lower barriers to entry for entrepreneurs by working with our partners from the St Louis Anchor Action Network, Greater St Louis Inc, city officials, and anchor institution procurement professionals by coordinating our efforts to connect businesses to procurement opportunities, holistic services, advising, and access to capital," says Yoni Blumberg, WEPOWER Director of Strategic Initiatives for Community Wealth-Building.
Importantly, WEPOWER has put its efforts behind supporting entrepreneurs of color through the procurement process by: 1) supporting anchors and other partners in more strategic visioning for inclusive entrepreneurship in the city, and 2) increasing community collaboration by convening and supporting regular meetings with entrepreneurs, ESOs, the city, and anchor institutions. Both of these efforts occur in part through WEPOWER's involvement in the St. Louis Anchor Action Network (STLAAN), which focuses on 22 ZIP codes in St. Louis city and St. Louis County where communities are majority Black and have 20 percent or higher poverty rates.
Some of the largest anchors in St. Louis, like BJC HealthCare, and Washington University in St. Louis, come together through regular meetings focused on collaboration and strategy development, and they have goals focused on inclusive procurement for anchors. STLAAN, WEPOWER, and others have come together to create a network business directory to increase available information about small businesses in St. Louis.
WEPOWER has also connected with representatives from anchor procurement initiatives in other regions, such as the DC Community Anchor Partnership (incidentally, another CIE program participant), to learn from their success. They are also utilizing their local startup accelerator to connect small businesses to anchors more intentionally.
Lessons Learned from WEPOWER
Collaboration is the key to solving many community challenges, and making anchor procurement more inclusive is no different. Blumberg and WEPOWER's Director of Investments, Amina Abdul-Malik, shared some specific lessons learned as they work to achieve their goals for advancing anchor/entrepreneur collaboration locally, for both cities and their ESO partners:
Utilize existing partnerships to grow your network. The City of St. Louis was responsible for recommending WEPOWER apply for the CIE grant—city leaders can play a crucial role as connectors between local ESOs, anchors, and entrepreneurs in order to benefit the community.
Understand the current landscape. A great way to avoid silos and duplication of effort is to get to know the current efforts underway. Sometimes understanding the landscape can mean challenging the status quo of what currently exists to make collaboration happen. In St. Louis, two local anchor institutions wanted to launch a new inclusive procurement pilot. Through discussions with WEPOWER, they identified opportunities to create greater synergies with WEPOWER's accelerator and other existing entrepreneur support programs.
Connect with different actors in your city's entrepreneurial ecosystem. Cities and anchor institutions can partner with ESOs to build connections with local entrepreneurs, ESOs can partner with a local anchor institution to learn about their anchor procurement processes, and each group has distinct strengths and assets to complement each other and support inclusive anchor procurement. Blumberg shared that "there is no one right way to do this, it can be city-led, anchor-led, or ESO-led."
Ask the deeper questions. WEPOWER's long-term goals for collaboration with anchors, the city, and entrepreneurs is a mindset shift from asking "who is the least expensive vendor?" to "which vendor is best for the community?"
Anchors, ESOs, and city leadership look different for every city, but when they work toward collective action, more people can build wealth and benefit from the local economy.
---
This blog is part of a series highlighting NLC's City Inclusive Entrepreneurship Network. Cities in the network have committed to implementing new policies, programs and practices that increase economic opportunity for residents through small business ownership and entrepreneurship. In November 2022, Mayor Tishaura O. Jones of St. Louis, MO, committed to increasing supplier diversity through equitable anchor procurement strategies. NLC is a strategic partner for local leaders and municipal staff, serving as a resource and advocate for communities large and small. Join our network and get access to timely resources, proven best practices, and connections to peer networks.