For communities across the country, data has the power to drive change. From shining a light on successes to calling out challenges, data is a starting point to creating a healthier future. However, for city leaders and residents, local data on health and its drivers have, historically, been difficult to come by. The City Health Dashboard is on a mission to change this. Since its inception in 2018, the Dashboard has strived to serve as a reliable and accurate source of health and socio-economic data for cities of all sizes.
Last year, the Dashboard launched the inaugural Put Us on the Map challenge, a new opportunity for smaller cities with populations between 3,000 and 50,000 to apply to get their city on the map. Through this initiative, we added 29 cities from across the country to the Dashboard.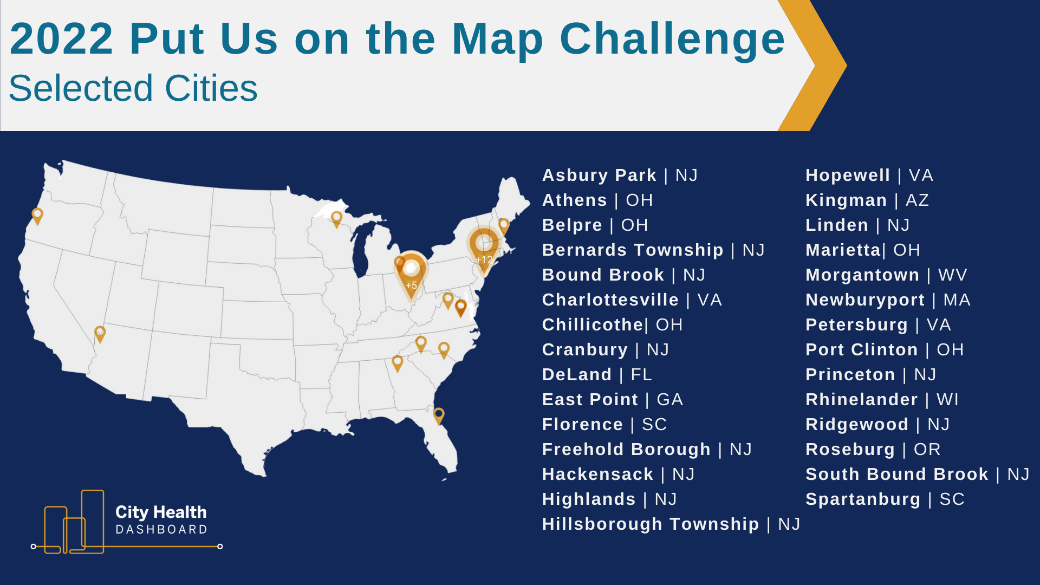 By making this data available, the goal of the project was to help these cities build their capacity for evidence-based decision making to tackle local health issues. Over the last year, the 29 communities have hit the ground running. While every city is unique and will develop its own roadmap toward better health, we wanted to share these local stories with the hope that others can learn from their peers across the country and look to these as examples of what's possible in their city.
Targeted COVID Response in Hillsborough, NJ
Hillsborough Township needed to better understand how COVID impacted their residents. They used the Dashboard's COVID Local Risk Index, preventive services, and uninsured metrics to determine which populations they should target for COVID education, vaccine promotion, and free rapid test kit distribution and conducted extensive outreach to apartment complexes within the identified high need neighborhoods. The health department in Hillsborough is also in the process of applying for the Health Gold certification through Sustainable Jersey, which requires extensive quantitative and qualitative data collection, much of which can be provided through the City Health Dashboard.
Becoming Nationally Accredited in Marietta, OH
As part of their application to become a nationally accredited health department, the Marietta/Belpre Health Department is in the process of implementing a Community Health Assessment and Community Health Improvement Plan (CHA/CHIP). During their last CHA/CHIP, the health department realized that they had lacked key data about the health of their community. This time, they plan to integrate the Dashboard's children in poverty, diabetes, high blood pressure, uninsured, and housing with potential lead risk metrics as well as racial/ethnic data to improve their understanding of community challenges and drive their implementation strategy – information that is only available to them because they were added to the Dashboard.
Healthy Food Access in Freehold, NJ
Local Freehold organization, Neighborhood Connections to Health (NCTH), is implementing a much needed pilot in the area, the Freehold Intergenerational Community Kitchen, to address food insecurity and healthy food affordability, and foster community connections among residents. Dashboard data, along with locally-collected survey responses, helped identify areas of limited healthy food access, essential information in the program's implementation. NCTH plans to continue using the data to demonstrate community need and make the case for continuing this pilot.
About the Author
Samantha Breslin is the Senior Program Coordinator of the City Health Dashboard.