America's cities are starting to see the positive impacts that drones operating at scale will have on society, from the environment to the economy. Most cities are already seeing an increase in drone use for a multitude of applications, including public safety, medical and retail package delivery, infrastructure inspection, and more. As we look forward to this emerging technology's integration into the skies, implementing and advancing drone infrastructure more quickly could help American cities modernize while complementing and reducing the burden on traditional infrastructure.
As demonstrated by NLC's report about Cities and Drones, cities have a role to play in this developing space. The report states, "The FAA's final rule on drones left some opportunity for city governments to legislate on this issue. Rather than ban them outright, city officials should consider how this new technology might serve residents or enhance city services."
Airspace Link has been working in partnership with federal, state, and local governments, drone operators, and industry leaders to provide a blueprint for how cities can engage with and participate in the drone economy, maximizing value to their communities while prioritizing resident safety and security.
Integration in Cities
Now that drones capable of scalable, advanced, and beyond visual line of sight operations are here, the infrastructure, technology, and regulations required to enable the safe integration of these operations have also made critical advancements.
Resources like the UAS Integration Framework can help cities by providing the structure and clarity necessary to understand the levels of capability that public and private stakeholders currently hold, to evaluate the potential risks and opportunities, and to align them with the appropriate community-specific objectives.
Ben Green, a Ph.D. Candidate and researcher at Harvard, sums up the challenge well: "The most important task for a city is not to predict the future of technology and hope for the best—it is to shape its own future through thoughtful use of technology."
A deeper look into the UAS Integration Framework can help cities interpret challenges and opportunities unique to their geographies and respond accordingly.
Case Study: Inherent Risks & Potential Economic Opportunity in Texas
A real-world look into the framework application can be seen below, focusing on the state of Texas, where commercial drone delivery operations are steadily expanding through pilot programs in suburban areas to prove their safety and effectiveness.
Focusing in on the Dallas Fort Worth area, the map shows one example of how many unique considerations go into that geography. Operations are poised to run across a multitude of jurisdictions, police and fire stations, and a variety of FAA airspace classifications. If an incident were to occur during operations, is there a clearly articulated response plan, including roles and responsibilities?
Alternately, if a resident or potential operator has a question on active operations, local considerations, or is looking for guidance on their own drone operations, whether recreational or commercial, is the community equipped to provide the appropriate information and resources to ensure the operator is flying safe and legal?
From an opportunity perspective, several operators are at advanced readiness levels, looking for forward-leaning communities to bring their services to. Stakeholders across Texas can apply the framework to understand their readiness, compare with other stakeholders, and address potential opportunities and risks accordingly.
A Closer Look at the Long-Term Value, By the Numbers
The long-promised vision of drones advancing economic, environmental, and societal objectives can only be fully realized when operations are comprehensively scaled. The infrastructure and regulations needed to enable ubiquitous drone operations will require a commitment from all stakeholders, including cities.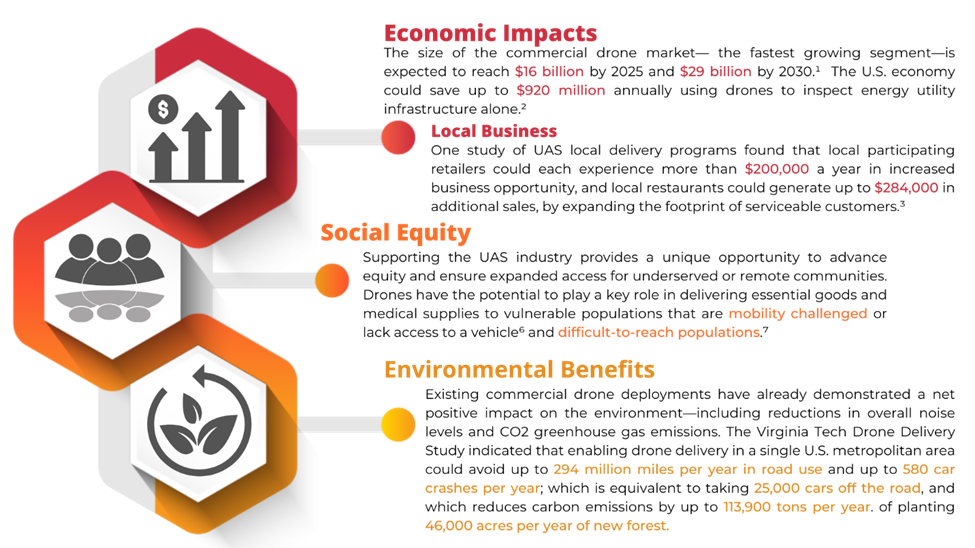 Read the Report
NLC's municipal guide, Cities and Drones, is designed to serve as a primer on drones for local officials, providing insight into the recently released federal rules relating to drone operation, as well as offering suggestions for how local governments can craft their own drone ordinances to encourage innovation while also protecting their cities.
About the Author