Across the country, Edison Electric Institute's (EEI) member companies are partnering with their communities to advance transportation electrification. In Wisconsin, EEI member Madison Gas and Electric (MGE) has provided electric vehicle (EV) charging infrastructure to support the Madison Fire Department's electric fire truck.
The fire department's Volterra zero-emission pumper truck, built in Wisconsin by Pierce Manufacturing, reduces fuel consumption, emissions, and noise. It's powered by a 155-kilowatt-hour battery pack, which sufficiently meets the city's daily duty cycle. The electric pumper truck allows for sustainable operation without compromising performance.
"We're not running to the fuel pumps every day; it's one less thing to think about," said firefighter Jeff Kundert in a video produced by MGE. "You come back, plug it in, and it's ready for the next call. It's the perfect fit for a fire station."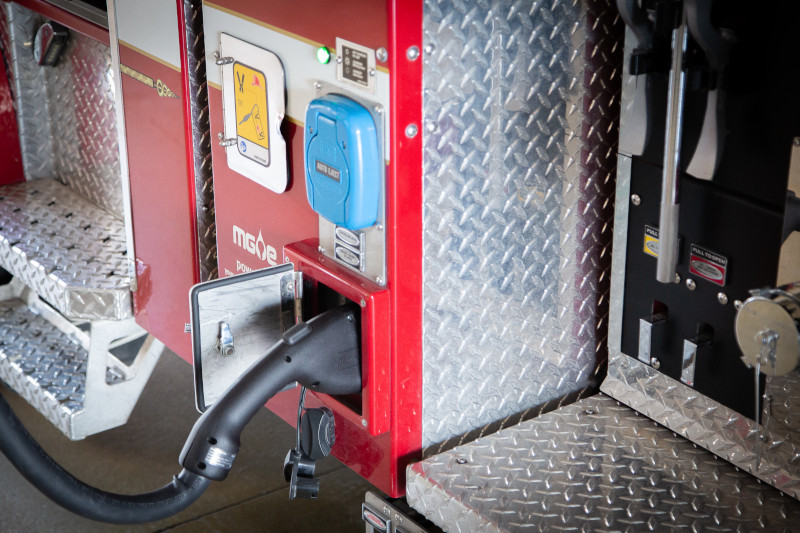 The fire department began using the electric pumper truck in 2021 as a pilot program. Pierce Manufacturing worked with the fire department for three years to design the truck.
The pumper truck is part of the department's efforts to help the City of Madison meet its ambitious climate goal of using 100 percent renewable energy and achieving net-zero carbon emissions for city operations by 2030 and community-wide by 2050. Among other efforts, the city is also utilizing biofuels to help meet this goal.
MGE provided a DC Fast Charger at Fire Station 8 to support the project, which is one of the many ways MGE partners with customers to advance sustainability across the community for the benefit of all customers. To see the truck in action, visit MGE's YouTube page.
Madison is among a handful of communities across the country that have purchased electric fire trucks, including Los Angeles, CA, and Mesa, AZ. Similarly, Mobile, AL; Jersey City, NJ; and Miami-Dade County in FL have purchased electric garbage trucks.
The Bipartisan Infrastructure Law and the Inflation Reduction Act, which passed after this pilot project began, include grant opportunities and tax credits for converting heavy-duty municipal fleets. This provides a chance for Madison and other cities with carbon reduction goals to incorporate more zero-emission vehicles in their fleets, which can also save costs on maintenance and fuel and promote better air quality in the community. Learn more about the Clean Heavy-Duty Vehicle Program on the U.S. Environmental Protection Agency's website.
Learn More
To learn more about EEI's member companies and how they are leading a clean energy transformation, visit EEI's website.
About the Author
Samantha Phillips is EEI's manager of communications and stakeholder engagement.