Lead exposure in home environments contributes to lifelong cognitive challenges, and asthma triggers disrupt learning and work for millions of vulnerable families nationwide.  
On August 16, 2022, the Inflation Reduction Act of 2022 was signed into law. As noted by the National Center for Healthy Housing (NCHH) and the Green & Healthy Homes Initiative (GHHI), the law includes funding to support a wide range of healthy housing issues—from the $3 billion awarded to the US Environmental Protection Agency (EPA) for block grants aimed at improving "efficiency and resilience in affordable housing," to funding for specific federal housing programs, to $4.3 billion for the Hope for HOMES home energy retrofit rebate program aimed at helping low-income households improve air quality and reduce emissions.
Amid increased federal funding from multiple sources and the myriad challenges facing communities, it can be difficult to prioritize local responses that effectively activate those opportunities.
To help cities, towns, and villages across the US address these issues, NLC is launching a new Healthy Housing Local Action Challenge (HHLAC). The challenge, in partnership with the National Center for Healthy Housing, Green & Healthy Homes Initiative, and ChangeLab Solutions, aims to provide a structured pathway and recognition for cities seeking to reduce home-based health hazards such as lead and asthma triggers.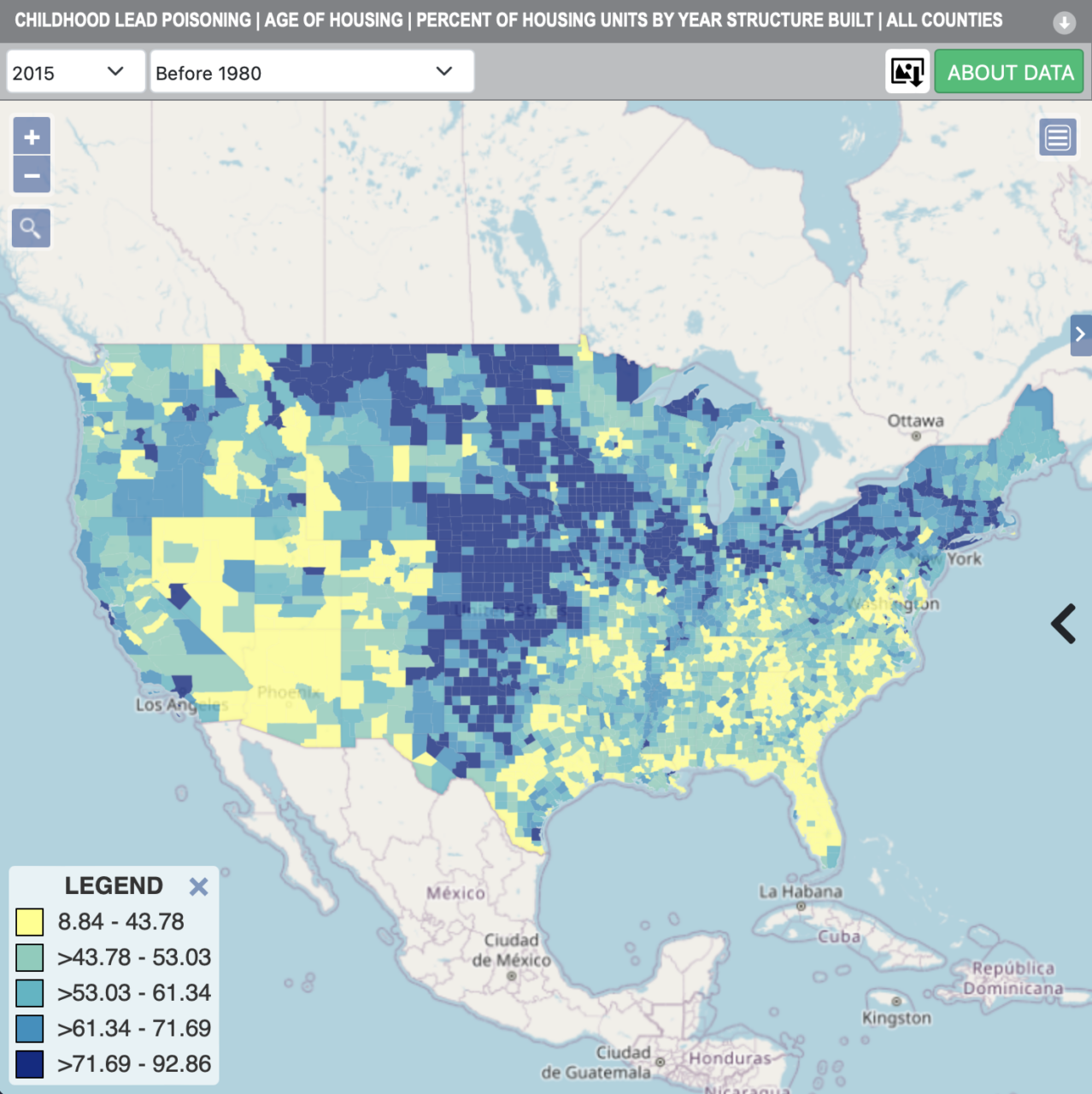 Join the Action Challenge: If you're not sure if your community might benefit from joining the HHLAC, take a look at this interactive map from the CDC displaying the prevalence of homes built prior to 1980 (lead paint was banned for residential use in 1978, so homes built before that year have an increased risk of the presence of harmful levels of lead in the home).  
Even if your community has low levels of housing built prior to 1980, there may be environmental conditions that increase the presence of asthma triggers in homes (click the link to see a map of asthma prevalence among adults).
The Healthy Housing Local Action Challenge outlines a well-defined approach to improving health outcomes through housing, along with special access to leading organizations and subject matter experts in the field of healthy housing. The HHLAC identifies three Action Areas, each with its own accompanying actions that communities can take:
Action Area 1: Identify and assess healthy housing needs
Complete a City Assessment, analyze local data, engage community partners, and build your local coalition
Action Area 2: Implement a policy, program, or practice that improves healthy housing
In Case You Missed It
On August 16th, NLC officially launched the Healthy Housing Local Action Challenge (HHLAC). Watch now to learn how your city can get involved with the HHLAC and the Community of Practice!
Identify your local Champion for healthy housing, commit to a sustainable solution, consider potential roadblocks, conduct outreach to the community, and plan your timeline with well-defined local goals
Action Area 3: Evaluate the impact of the implemented policy, program, or practice and share that information with other cities interested in doing the same
Assess local achievements and needs, determine what impact the action taken has had on improving health and equity, and become a peer leader to help other communities
Communities can join the HHLAC at their current level or start with Action Area 1 and work through all three! The HHLAC will provide quarterly learning labs, with opportunities for peer sharing and support; a City Assessment and other tools targeted at assisting communities advance through the action areas; and local examples of successful programs and practices to achieve healthy housing goals.
The Healthy Housing Local Action Challenge is sponsored in part by a partnership with the US Department of Housing and Urban Development Office of Lead Hazard Control and Healthy Homes. "We are excited to be a partner with the National League of Cities' Institute for Youth, Education, and Families to launch the HHLAC and encourage municipal leaders—big and small—to take the challenge to strengthen their communities by addressing indoor health and safety hazards to improve the quality of life and well-being of children and other vulnerable residents," says Mr. Matthew E. Ammon, Director, HUD's Office of Lead Hazard Control and Healthy Homes.
For cities seeking additional peer learning and technical assistance for the HHLAC, there is an opportunity for participants to apply for technical assistance with increased access to national experts through a Community of Practice. Please email healthyhousing@nlc.org if you have any questions.
Take the Challenge
The deadline to apply for the Healthy Housing Community of Practice is September 23rd.