Earlier this year in Pittsburgh, PA, the Fern Hollow bridge collapsed hours before President Biden arrived in the city to discuss the Bipartisan Infrastructure Law (BIL). While the bridge was being monitored and had received a poor rating from the Pennsylvania Department of Transportation, the collapse was unexpected and shocked everyone that day.
However, many cities have a bridge reaching the end of its expected service time that's in bad condition and needs an update. Throughout America's cities, towns and villages there are approximately 43,500 bridges in poor condition. To restore these bridges, the BIL includes a total of $40 billion in dedicated funding for the restoration of bridges, both bridges on highways and local bridges. For communities that need to replace locally owned bridges that aren't high in the state's priority list, the new Bridge Investment Program is a way to directly apply to the federal government to access funds. The Bridge Investment Program sets aside $12.5 billion over five years for local governments, metropolitan planning organizations, special purpose districts, public authorities with a transportation function, states, federal land management agencies and tribal governments to repair bridges in poor condition.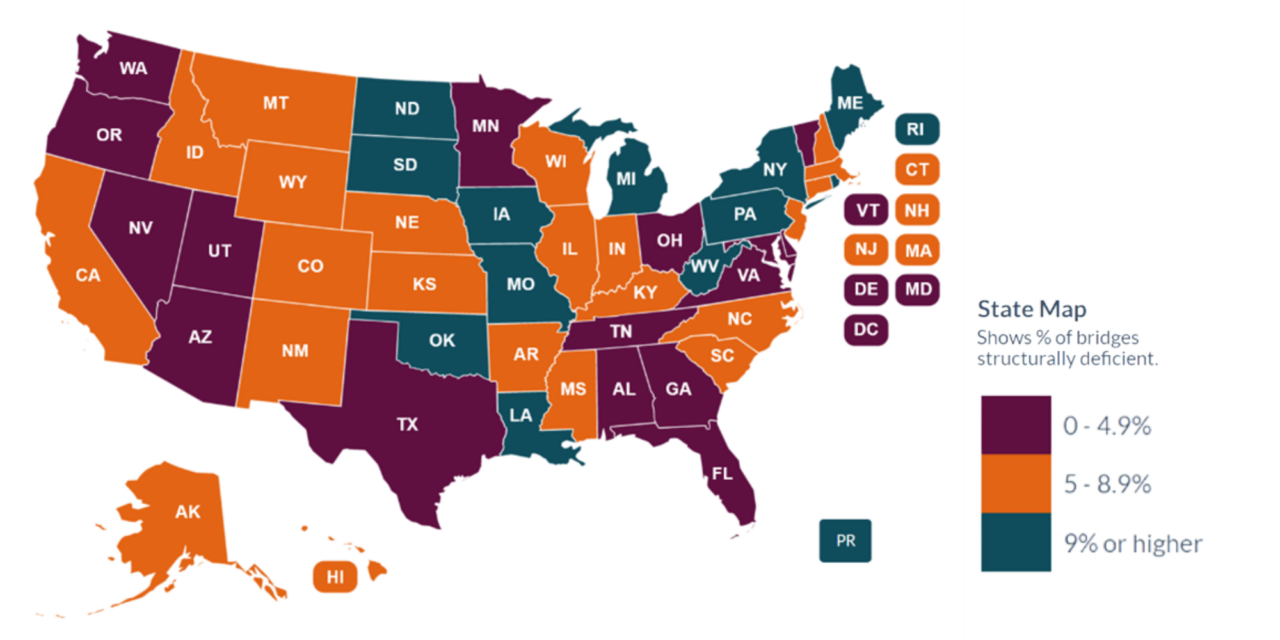 Projects Eligible for Support
The Bridge Investment Program includes three kinds of grants — Planning Grants, Bridge Project Grants, and Large Bridge Project Grants. Planning Grants which will receive $20 million in Fiscal Year (FY) 2022 and Bridge Projects and Large Bridge Projects which will receive $2.36 billion for FY22.
Planning Grants: These are eligible for projects in early-stage development that require assistance in feasibility analysis, revenue forecasting and planning. Successful planning grant award winners may then apply for a Bridge Project or Large Bridge Project under a separate grant notice.
Bridge Project Grants: These are for bridge projects that cost $100 million or less. The minimum award amount is $2.5 million
Grants must be used for replacing, rehabilitating, preserving or protecting a bridge or bridges, if the project bundles them together, in poor condition. Projects to replace or rehabilitate culverts to improve flood control and improve habitat connectivity for aquatic species can also be conducted with funding from the Bridge Investment Program. Recipients of Bridge Project and Large Bridge Project grants must provide a fund match to the grant rewarded. For Bridge Project grants, a 20 percent match is needed, while for Large Bridge Projects a 50 percent match is needed.
Cities Working on Bridge Replacements
Tukwila, Washington, is a city with 20,598 residents only 12 miles south of Seattle and in the middle of major freight networks connected to the Port of Seattle and Port of Tacoma. The city's biggest request has been to replace the 42nd Ave. South Bridge in the Allentown neighborhood, which was built in 1949 and serves both the community and the port for pick-ups and drop-offs. The 42nd Ave. South Bridge is also a critical link in the freight network with trucks headed to and from the BNSF intermodal rail yard account for 3,000 of the 10,000 bridge crossings a day. The bridge was designed to last 50-75 years and has exceeded its design life, and in December of 2021, a load fell off a semi-truck and critically damaged the bridge. Initial repairs to the bridge were completed in late January to allow for partial use, and the city is currently asking the community for input on a new design.
In Centennial, CO, the city is reconstructing a bridge on Arapahoe Road as the originally constructed bridge in this area was completed in 1945 and beyond its safe lifespan. This new project will replace the existing bridge with a wider and taller structure, also making pedestrian access over and around the bridge much easier. The bridge is expected to be completed in Spring 2023 and the city website includes project updates, the project schedule, information on traffic flow and lane and road closures, and ways for residents to sign up for updates and get their questions answered.
In Washington D.C., a new bridge spanning the Anacostia River opened last August, providing new enhancements to the community that goes beyond just updated vital infrastructure for car transportation needs. The New Frederick Douglass Memorial Bridge replaces a 70-year-old bridge that served upwards of 77,000 commuters each day and was an important connection to carry traffic from areas of Southern Maryland into the nation's capital. The project also sought to revitalize the community by including pedestrian overlooks, piers, and arches, incorporated into the design. Improvements include safety enhancements for both cars and pedestrians, enhancing the options for multimodal transportation and increasing the access of the bridge to the community on both sides. The second phase of the project was expected to be completed in Spring of 2022 which includes the deconstruction of the old bridge, completion of the traffic oval west of the river, completion of the traffic oval east of the river, and reconstruction of road/Interstate interchange.
Getting Ready
Begin Preparing Your Applications
The instructions for how to apply are in the Notice of Funding Opportunity (NOFO) for Bridge Investment Program grants and are now available. To begin, local leaders will want to identify the type of grant they want to apply for and confirm that the bridge or bridges they want to repair are in the National Bridge Inventory. Additionally, consider if the bridges support the administration's Justice40 equity initiative by identifying how the project may address any underserved or disadvantaged populations. The Federal Highway Administration (FHWA) also released a webinar on the Bridge Investment Program application process.
Consider the Deadlines
Planning Grant applications are due July 25th. Large Bridge Project Grants applications are due August 9th and Bridge Project Grant applications are due September 8th.
Think about Technical Assistance
Technical assistance is available for Bridge Investment Program grant recipients. To learn more, local leaders should visit the Technical Assistance Page and the Local Technical Assistance Program.
Confirm your City's Unique Federal Identifier
Most cities have a point of contact in charge of their federal grant credentials which will be required to submit any application to USDOT. Starting April 4, 2022, the Data Universal Numbering System (DUNS) number which has traditionally been used to apply for grants on grants.gov was replaced with the Unique Entity Identifier (UEI). If your city, town or village is already registered with SAM.gov an UEI number has already been assigned and is viewable at SAM.gov. If your municipality does not have a UEI number yet, U.S. agencies are encouraging entities to apply for an UEI number immediately to be able to apply for grants.
Key Resources