Tukwila, Washington is a city with 20,598 residents only 12 miles south of Seattle and in the middle of major freight networks connected to the Port of Seattle and Port of Tacoma. Even though it is a small city, its importance to the Puget Sound region is undeniable. Tukwila is surrounded by other growing areas with major infrastructure projects, so it's routinely left off the region's list when it comes to transportation funding. There's just not enough to cover it all despite local fundraising efforts.
Rebuilding a Freight Connection and Community Bridge
Numbers At-A-Glance
| | |
| --- | --- |
| Year Constructed | 1949 |
| Daily Traffic | 10,000 Cars and Trucks |
| Project Cost | $21.5 Million |
| Amount Tukwila can contribute with non-federal funds | $4 million |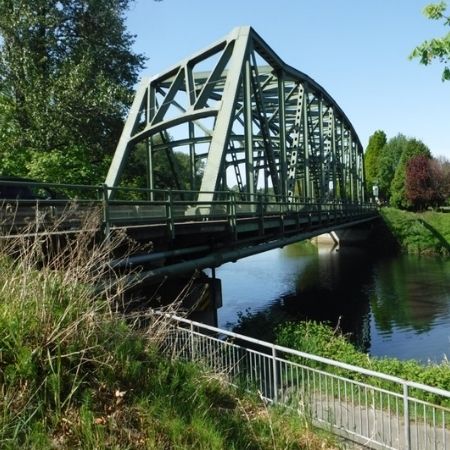 The city's biggest request has been to replace the 42nd Ave. South Bridge, which was built in 1949 and serves both the community and the port for pick-ups and drop-offs. The bridge crosses the Duwamish River and connects its suburban neighborhood to basics like groceries, gas, and jobs. The bridge also connects the Tukwila Community Center, regional trail networks, and serves as the primary link to surrounding communities and resources. The 42nd Ave. South Bridge is also a critical link in the freight network on a local and regional scale. Goods and products transported by freight trucks are shipped and moved cross country to freight hubs. Trucks headed to and from the BNSF intermodal yard account for 3,000 of the 10,000 bridge crossings a day in the midst of a neighborhood.
The bridge was designed to last 50-75 years and has exceeded its design life. According to the Federal Highway Administration, it has a sufficiency rating of 7.56 out of 100 and is considered both structurally deficient and functionally obsolete. At this point, the bridge is not effectively supporting the capacity and load requirements needed to be efficient, and its poor structural integrity makes it a safety hazard to the community. If one or more of the beams were impacted by a large seismic event or vehicle collision, it could cause the bridge to collapse into the river.   
"Completion of the new bridge is of critical local and regional importance and will help our richly diverse and unique community to survive and thrive."

Tukwila Council President Kate Kruller
Tukwila is Ready to be Connected
Bridges are not the only connectivity challenge in Tukwila. The digital divide in this city was made even more apparent by the COVID-19 pandemic, which required both students and remote employees to go online full time, yet without the broadband needed to be successful. Tukwila is one of the most diverse cities in the nation, with over 80 languages and dialects spoken. 41% of the population are foreign born and 17% living in poverty. This is much higher than the Washington state poverty average of 10%.
Broadband Numbers at-a-Glance
| | |
| --- | --- |
| Project Cost | $1 million |
| Free Broadband Yearly Costs for City | $100,000 |
| Tukwila Residents Living in Poverty | 17% |
The Tukwila School District was able to provide 20% of its families with mobile hotspots and 23% of families receive internet access through Comcast's Internet Essentials Program. Tukwila has been on the forefront of providing free internet access to students by developing a free city Wi-Fi program in multifamily neighborhoods with the highest concentration of students that receive free and reduced lunch. At the same time, city leaders recognize these numbers do not add up to 100% of the families in their schools in need of access to high-speed internet, and they are committed to closing the gap.
"As one leg of our Smart City Initiative, this proposed program has the opportunity to provide all families in Tukwila with the needed modern-day building blocks…" 

Tukwila Mayor Allan Ekberg
How a Better Bridge and Broadband Helps Tukwila
With an upgrade, Tukwila would be able to give the 42nd Ave. South Bridge a modern-day design that will comply with ADA requirements and provide a much more accessible experience for those crossing the bridge. Replacing the bridge would improve sidewalks and safe access for pedestrians to reach community resources, the Tukwila Community Center, trails, and local businesses. With federal investment, the 70-year-old bridge can be updated in 24 months and provide Tukwila with a much more reliable transportation option.
Investing in municipal broadband infrastructure will increase equity by reducing Tukwila's digital divide. True high-speed internet will support formal online instruction & informal enrichment activities, remote work opportunities, and enable participation in the digital economy. The City of Tukwila Municipal Broadband Project will provide true broadband internet service to all City of Tukwila residents and will enable further investment in internet connected infrastructure operations that will provide real time feedback on critical city services. 
Cities Are Ready to Rebuild with Congress' Help
Tukwila's infrastructure story is one of the hundreds across the country. From the smallest to largest communities, every community has an infrastructure story to tell, and NLC's latest Ready to Rebuild report showcases a range of transportation, water, broadband, and workforce projects across the country from communities of all sizes that Congress could support with legislation. While projects are different, the message from local officials was the same: infrastructure is a job worth doing, but in most places, it's now beyond what the local government can handle on its own. Does that sound familiar?
Take Action: Highlight Your City and Why You're #ReadytoRebuild
Join NLC as we keep calling on Congress to directly invest in local infrastructure and prepare for a better future. Congress is actively negotiating an infrastructure package so now is the time to share your infrastructure priorities with:
Your Member of Congress' staffer in Washington, DC. Use NLC's pre-drafted letter here.
Your Senators' staffers in Washington, DC. Use NLC's pre-drafted letter here.
If you want a staffer's email from your Member of Congress' office or a Senate staffer's email, please let us know at advocacy@nlc.org.
Cities Are Ready to Rebuild
Take a few minutes to fill out NLC's Ready to Rebuild form to share your priority projects.