Imagine a city where nature and the outdoors are a daily part of every child's life – starting at birth. It's a city where preschool and childcare facilities offer outdoor nature play spaces; where young children can go to the library and experience books about nature; where parents can walk their young children to a park every day and young children play on rocks, trees and amongst flowers.  
Fifteen cities have adopted this vision for their youngest residents by joining a new Early Childhood Nature Connection effort led by Cities Connecting Children to Nature (CCCN), a joint initiative of the National League of Cities and the Children & Nature Network.  Leaders from these 15 cities will bring nature's benefits to young children while also advancing city priorities related to health, school readiness, park expansion, and equity. 
"The City of Boulder shares in the vision that all U.S. communities offer equitable access to nature to enhance children's healthy development, school readiness, community wellbeing and positive environmental impacts," said Mayor Aaron Brockett of Boulder, CO. "Together, with support from CCCN, we envision a successful early childhood nature connection initiative for Boulder that may also serve as a model for others."
The first years of life are some of the most crucial for healthy development. Research shows that connecting young children to nature during years 0 to five has many long-term benefits, such as improving physical and mental health, promoting connectedness with nature,  and preparing children for school. 
CCCN will support these cities in creating programs, partnerships, policies, and infrastructure that help young children, regardless of race, income or ability, learn, play and grow with nature as a key part of their daily lives.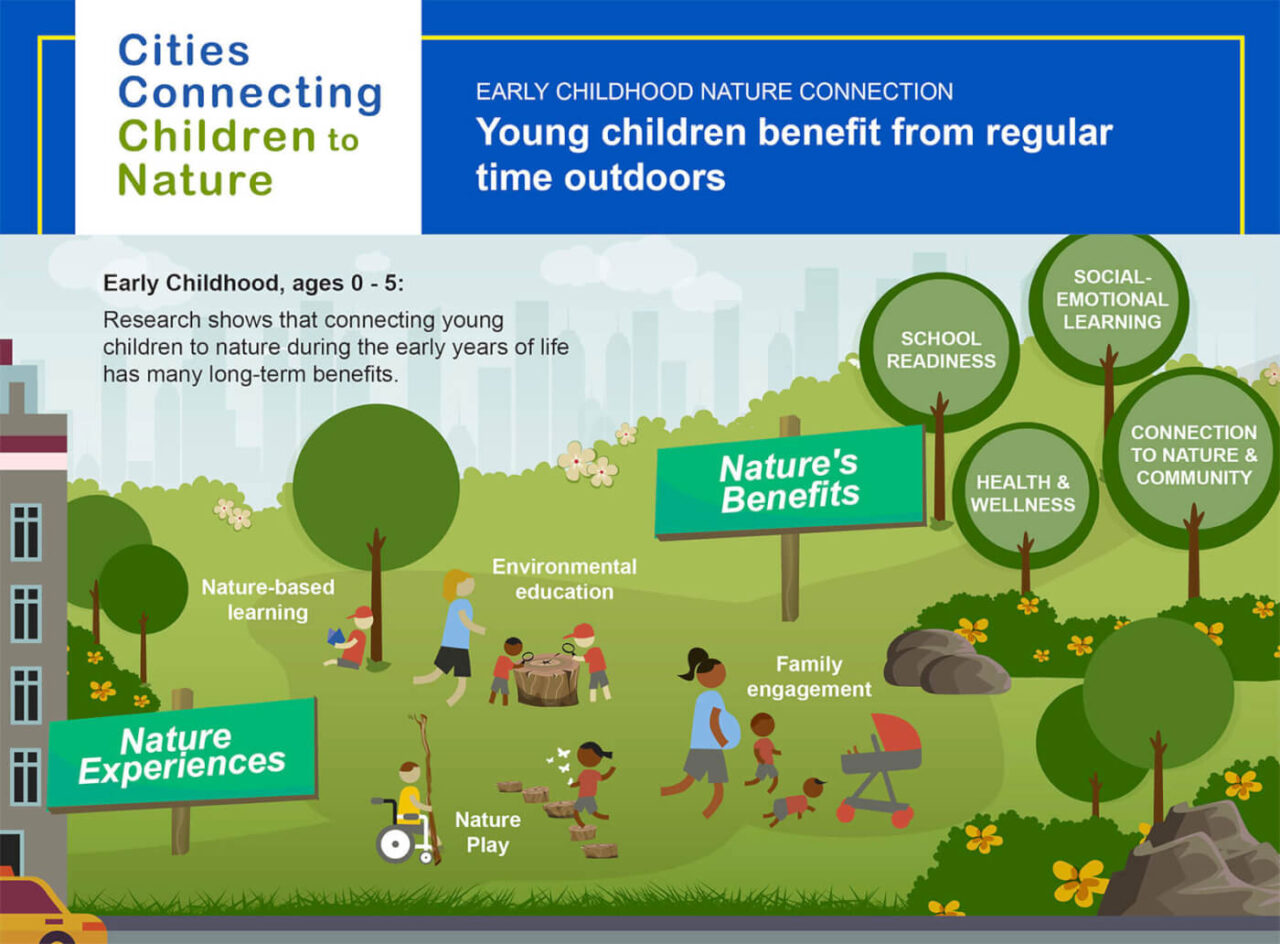 A key resource for cities is a toolkit published in April by CCCN. The toolkit includes a wide range of resources from peer-reviewed research to a state policy brief, to resources on the four "pathways" that cities can take to incorporate nature into young children's daily lives where they live, play and learn, all with a focus on equity.
The fifteen cities include:
Boulder, CO
Imperial Beach, CA
Batesville, AR;
Boise, ID;
Detroit, MI;
Doral, FL;
Fort Worth, TX;
Houston, TX;
New York City, NY;
New Orleans, LA;
Prescott, AZ;
St. Louis, MO;
Tallahassee, Fl;
Tucson; and
White Salmon, WA
All the cities will receive support from CCCN's national experts who will provide technical assistance in building and forming cross-sector teams, assessing equity gaps in early childhood nature connection efforts, best practices in family and community engagement, and understanding funding opportunities. Through an Early Childhood Nature Connection Community of Practice, the cities will engage in bi-monthly calls through December 2022 to learn about core fundamentals for citywide early childhood nature connection efforts.  Boulder and Imperial Beach will additionally work with NLC through October 2023 to create an action plan focused on expanding or implementing at least one early childhood nature connection pathway. 
Both these support networks will focus on planning and partnership building with the goal of creating citywide, equity-based, early childhood nature connection efforts for children's healthy development, school readiness, community benefits and positive environmental impacts.
"Connecting children with nature is crucial in Imperial Beach," said Mayor Serge Dedina. "Water pollution results in our beaches being closed for hundreds of days each year. As we search for solutions to improve water quality, we must find ways to ensure our youth are exposed to other outdoor activities including walking and biking trails, the Tijuana River Estuary, Borderfield State Park, the National Wildlife Refuges on both sides of our city, and our beautiful city parks." The Mayor added that, "With support from CCCN, we look forward to building strategic partnerships that connect young children with the outdoors and provide access to education and recreation while creating a lifelong love of nature."
To achieve the goals outlined in the ECNC Community of practice, cities pulled together collaborative teams—including education, park, and city officials, as well as local nonprofits and community partners—to advocate for early childhood nature connection efforts. Municipal leaders and community partners see early childhood nature connection as a way to recover more equitably from the COVID-19 pandemic, especially in communities that lack access to green spaces.
Author's Note: Funding from The JPB Foundation makes this effort possible.