Micromobility solutions like bikeshares provide communities achievable access to more carbon-neutral transportation options. Bikeshare programs have been successful in large cities around the globe, but small, rural and suburban municipalities are creating programs as well. Just over half of car trips in the United States are less than three miles, a short 20-minute ride for most bike riders. Converting these trips to carbon-neutral modes not only reduces the air pollution that communities breathe in, but helps the United States reach the country's goal to become carbon-neutral by the year 2050. With new federal funds available to communities in the Bipartisan Infrastructure Law (BIL), there is no better time to consider a bikeshare program in your city.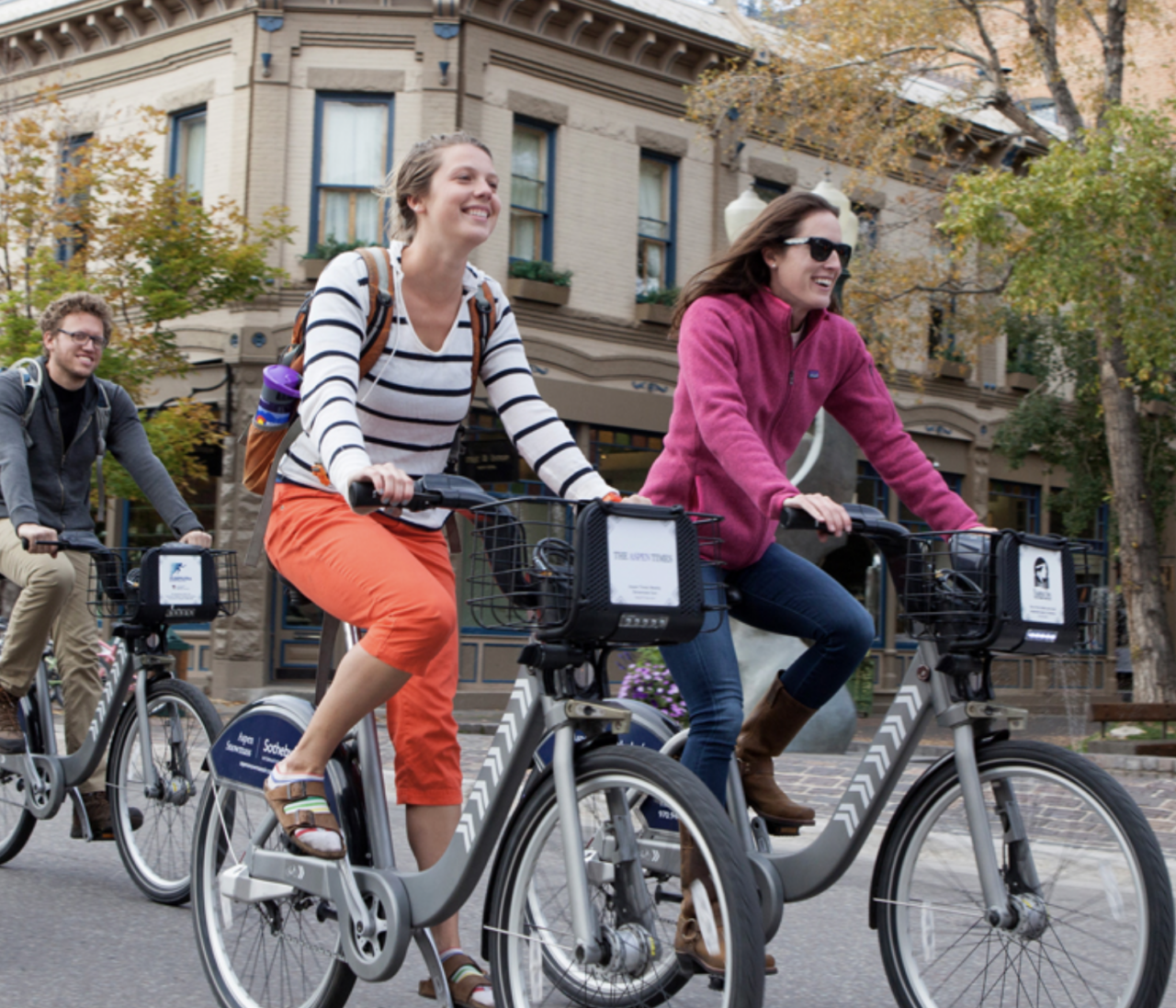 Small Cities Using Bikeshare in Their Communities
Aspen, CO, was the first small town in the United States to try a bikeshare program in 2013. Called We–Cycle, this program allows riders to rent a bike from a docking station for up to 30 minutes for free. The program was funded through the We-Cycle non-profit and "adopt-a-bike" donations. Only $250,000 was needed to start the program with 10 docking stations and 100 bikes. In the first year, the bikeshare had over 9,000 rides. In the years since, the system has grown to include 51 docking stations, 232 manual bikes and 52 e-bikes across the municipalities of Aspen, Basalt and the Middle Valley. The city of Aspen alone saw more than 37,000 bikeshare trips in 2021, indicating that bikeshare programs like theirs are scalable and effective.
Montevallo, AL, create the first city-wide bikeshare program in the state. The ValloCycle program includes traditional bikes, mountain bikes and hand operated bikes for those with disabilities. A bike trailer can be rented for the day, as can panniers for transporting goods around on a rented cycle. Anyone who is 18 years or older and is a resident of the Montevallo community can rent a bike of their choice from city hall after completing a form and paying a $20 per term fee.
Athens, OH, took a different approach to bikeshare. Through its Book-a–Bike Program, community members can check out a bike from a local library for free with their library card. Longer checkout periods provide flexibility and more opportunity for bikes to be used for leisure activities as well. Paid for by a $17,000 grant, the 2013 rollout of the 16-bike bikeshare program increased access to the surrounding neighborhoods and bike infrastructure. The library now hosts over 40 bicycles that are among the library's most circulated items. Other Ohio cities in Book-a-Bike program include Glouster, The Plains, Nelsonville, Albany and Chauncey.
Pocahontas, IA, partnered with the local bikeshare company Koloni, Inc to create a town bikeshare program in 2018. Pocahontas manages and operates the entire bike fleet, while Koloni, Inc. provides the system software to find and rent the bikes. Currently, cost to the town is completely covered by advertisement fees. The key to keeping cost low includes renting refurbished bikes, conducting in house repairs through a group of volunteers and building community buy-in from local businesses to purchase advertisements. To secure funding to buy the bikes at the start of the program the county applied and won a $4,000 local grant. Since the launch of the bikeshare program the town of Pocahontas sees about 75 riders each month.
What Cities Should Consider With Bikeshare Programs
Design Options: There are many different design choices when considering a bikeshare program. While many bikeshare designs feature docking stations that bikes are returned to, floating bikes that can be locked to common streetscape furniture like lamp posts when not in use are also an alternative. The type of bike is important as well. Although e-bikes are more expensive, they are more likely to be ridden because they require less effort especially in areas with hills or hot weather. They are also more accessible to those with mobility issues. Adaptable bikes can also be considered so that the bikeshare is equitable to all residents, and they offer a different type of riding with more stability for those interested to try it but less excited.
Usage and Location: Skepticism of the feasibility of a bikeshare program in a small town may seem hard to combat. It is reasonable to think that lower population densities would make the programs less effective. However, a study conducted on the bikeshare system in Hamilton, Ontario found that population density has no effect on the percentage of users in a neighborhood. The study indicated that the most important factor to feasibility and usage is the location of bikeshare stations in relation to important destinations such as schools, parks and business districts. Intentional placement of bikeshare stations is key to their success.
Equity: A bikeshare station can increase access for a neighborhood at just a fraction of the cost of a car. Although bikeshare has the potential to increase access to services in a community, implementation requires a thoughtful approach. Residents of color and low-income residents are less likely to use and engage with bikeshare programs for a variety of reasons including cost, lack of payment options, lack of bank and credit card accounts and familiarity with bikeshare programs. Siting bikeshare stations in neighborhoods of color or disadvantages with at least the same frequency as majority or well-off neighborhoods, removing cost barriers for low-income residents, and intentionally engaging with community leaders of color and advocacy organizations on where to place the bikeshare and how to encourage adoption are important steps to creating a bikeshare program locally that can benefit all residents.
Partnership: Bikeshare programs do not have to be owned by a municipality but can be privately-owned or owned in partnership with a private operating organization or even a non-profit. Considering partnerships with local organizations such as a Business Improvement District, or encouraging private hotels, businesses, resorts and restaurants in your town to take a stake or full ownership of a bikeshare program, may be helpful, especially if public funding cannot be procured to pay for an entire bikeshare program.
Funding: Deciding how to fund a bikeshare program can often be much harder than actually designing and implementing the program itself. Funding most commonly comes from donations, non-profit organizations, private corporations and grants. Under the Bipartisan Infrastructure Law, grant funding can be applied for through the Rebuilding American Infrastructure with Sustainability and Equity (RAISE) program, the Carbon Reduction Program (CRP), the Congestion Mitigation and Air Quality Program (CMAQ), the Safe Streets For All Program (SS4A) and the Transportation Alternatives Program (TAP). For a complete list of programs that municipalities can access, view NLC's Infrastructure Dashboard.
If cities, towns and villages want to try to reduce car trips, reduce transportation carbon emissions and increase access to jobs, services and recreation opportunities, bikeshare will continue to be a viable solution. Using available grant opportunities and resources, bikeshare is affordable and accessible, even to small rural communities around the United States.
More Resources
Written with the help of Garett Shrode, a 2022 graduate of Hope College who assisted with NLC's 2022 Congressional City Conference.