The bipartisan Infrastructure Investment and Jobs Act (IIJA), also known as the Bipartisan Infrastructure Law (BIL), signed into law in November 2021, directs over $1 trillion to much-needed infrastructure improvements across key sectors of the U.S. economy. One of its key climate-related programs for state and local governments is the Energy Efficiency and Conservation Block Grant (EECBG), which advances energy efficiency, clean transportation, and renewable energy projects in communities. While EECBG provides much-needed federal funding to expand state and local efforts in these areas, coordination is necessary among all levels of government and the private sector to address the scale and urgency of the climate crisis, as well as growing energy affordability concerns.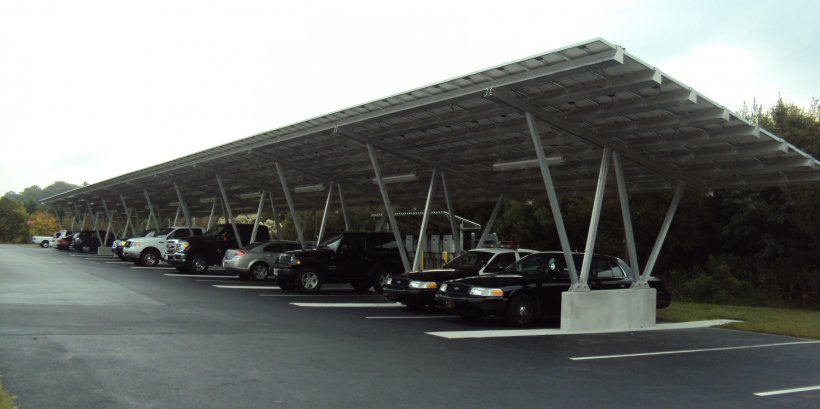 Previous EECBG funding provided state and local governments the opportunity to address sustainability priorities through actions such as improving transportation infrastructure, adopting and implementing building energy codes, strengthening electric grid policy and program making, and supporting community-driven climate and resilience planning. The renewed program funding once again enables state and local agencies to be responsive to their own unique market conditions and community needs, and also establishes a new option to deliver innovative public-private financing options for energy efficiency, renewable energy, and zero-emission transportation investments. Importantly, these funds create a platform for State Energy Offices and local governments to leverage investments together to advance important community priorities.
The EECBG Opportunity
Overall, the purpose of the EECBG program is to assist state and local governments in implementing strategies that (1) reduce emissions in a matter that is environmentally sustainable and maximizes benefits for the community; (2) reduce total energy use; and (3) improve energy efficiency in the transportation, building, and other appropriate sectors. A more complete list of eligible activities under the EECBG program can be found here.
The $550 million in new funding under the EECBG program will be split between state agencies and local governments. The formula for funds distribution includes 68% for larger cities, 28% for State Energy Offices, allocations for tribal entities, and a competitive program. While the funding and program guidance for EECBG are not expected to be released from the U.S. Department of Energy (DOE) until the fall, states and local governments should begin planning and communicating with each other now, and use their representative associations to elevate questions, comments and plans to DOE.
To get started, below are some key considerations for each level of government.
Local Elected Officials and Staff
Think about regional impact and how to coordinate among multiple regional jurisdictions or through your metropolitan planning organization or council of governments to maximize the funding and impact of projects. Smaller communities should consider partnering with neighboring jurisdictions to leverage their funds. A successful regional partnership may consider sharing administrative functions of the grant or implementation process.
Consider state agencies as partners. View this webpage for a list of the State Energy Offices and organizations or contact the National Association of State Energy Officials (NASEO) for introductions.
Identify projects that will have an impact in areas of the community that have the greatest need and how the project can meet the objectives of the Administration's Justice40 initiative. Ensure that the right stakeholders are part of the project planning and prioritization process, including representatives from these disadvantaged or vulnerable communities.
Consider partnering with the state to leverage the local workforce and prioritize local hiring for EECBG projects.
State Energy Offices
Consider how to reduce the burden on resource-limited localities, for instance by streamlining application and grant management processes, waiving cost-share requirements, or using part of the state's allocation for shared administrative or reporting services among the local grantees.
Seek input from local governments on their priorities and needs. Consider hosting a roundtable discussion or connecting with a diverse range of local government stakeholders, including state municipal leagues, early and often in the project planning and prioritization process.
Consider joint projects that can expand the impact of state and local government allocations, including coordinated planning, financing, and implementation of shared energy efficiency, clean energy, and transportation goals. In the coming months, NASEO, in partnership with E4TheFuture, will be sharing model programs that build on existing state-local partnership successes.
Utilize inclusive and equitable stakeholder engagement principles, including the Spectrum of Community Engagement to Ownership, to elevate the perspectives of historically underrepresented communities.
Build communications channels for local governments interested in EECBG to receive updates on federal and state program guidance, funding opportunities, and planning and public input processes.
Help local governments understand the potential regulatory opportunities and barriers to implementing their goals by offering information and educational opportunities on your state's clean energy standards and goals, utility planning and public input processes, and policies and rules in energy efficiency, financing, building codes, net metering, community solar, clean transportation, and other pertinent areas.
Partner with local governments and utilize data such as the U.S. Energy and Employment Report (or state-specific assessments such as those in New York, Vermont, Pennsylvania, and others) to understand local workforce capacities and needs and to prioritize local hiring for EECBG-supported projects.
Engage with private sector clean energy providers to identify workforce needs, innovative financing, and the potential for contributions of expertise and resources to identify projects and options.
Ideas for Partnership Projects
There is a lot to learn from EECBG projects previously funded under the American Recovery and Reinvestment Act of 2009, which jumpstarted many state and local sustainability and climate action plans across the country. Now, over a decade later, states and local governments have built a strong track record not only in planning but also in technology deployment, public-private financing, and project implementation, coordination, and tracking – a track record that offers promising and impactful examples in preparation for the new EECBG funds.
Clean energy, climate and resiliency planning offers a foundational step for communities to convene stakeholders, explore needs and opportunities, and set forth a path for projects and programs. Some states, including Wisconsin and Massachusetts have provided grants directly to local governments to support community-led planning and clean energy project development. In other instances, local governments may band together for multi-jurisdictional planning and coordination efforts through regional councils (such as the Regional ARRA Coordinating Council in Northeastern Illinois) or independently to advance a shared purpose (such as the Resilient Mystic Collaborative in Massachusetts, which brings together municipal members across the Mystic Watershed to promote climate resilience).
Innovative clean energy financing programs offer another opportunity for state and local coordination. Commercial Property Assessed Clean Energy (PACE) programs, which leverage state and local property tax authority, are active in 28 states and the District of Columbia and many states offer technical assistance and guaranteed energy savings performance contract options for locally-owned buildings. Several states also offer low-cost financing for energy-efficient home improvements in tandem with community partners, such as the Nebraska Dollar and Energy Savings Loan Program offered through credit unions and local banks. With the IIJA incorporating financing as a new eligible use of EECBG funds, these examples offer an array of options for states and local governments to attract and leverage private capital into clean energy projects.
State and local governments can also partner on clean energy and energy efficiency in end-use sectors and on the customer side of the electric meter. A number of State Energy Offices, including those in Maine and Massachusetts, have set up programs for local governments to adopt "stretch codes" that ensure that new buildings are efficient, durable, and resilient. Oregon maintains a statewide framework for residential energy labeling in partnership with Portland, Bend, and other Oregon cities, and the state implements time-of-sale Home Energy Score disclosure requirements. Some states, like Kentucky, have focused on developing partnerships with local school districts to promote energy efficiency, indoor air quality, and training for school energy managers. Many states have also supported local community demonstrations of resilience projects that combine renewable, storage, and microgrid technologies, or innovative transportation projects such as the Digital Twin Regional Mobility Project in Chattanooga, Tennessee, which brings together city, state, and DOE laboratory partners to advance intelligent mobility solutions.
As both states and local governments begin to consider the opportunities under EECBG and how they may partner to leverage the funding, they should keep in mind how these communication channels can also be leveraged to explore additional opportunities for partnership, such as through other provisions in the IIJA, state appropriations, utility ratepayer funds, greenhouse gas auction proceeds, FEMA pre-disaster mitigation, and transportation programs such as the Congestion Mitigation and Air Quality (CMAQ) or Volkswagen Settlement funds.
To learn more about DOE programs and funding opportunities under the Bipartisan Infrastructure Law, click here.
Looking to share your city, town or village's infrastructure story?