In 1962, Congress established National Police Week to pay special recognition to law enforcement officers who have lost their lives in the line of duty for the safety and protection of others. This year, Police Week will be observed from May 11 through 17. On May 13, the National Law Enforcement Memorial and Museum in Washington, D.C., will hold ceremonies, including the 34th Annual Candlelight Vigil, to honor the fallen officers.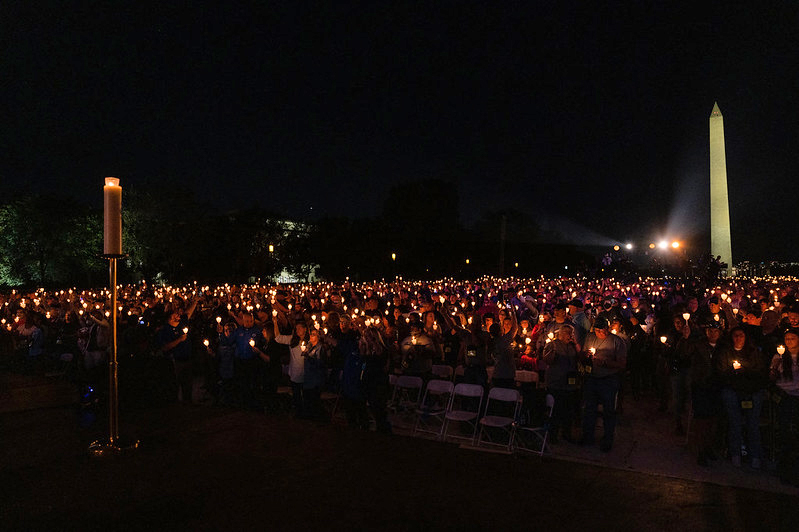 Last year, there was a 28 percent increase in law enforcement officers killed in the line of duty by gun violence. There was also a significant increase in "unprovoked" attacks with 25 officers killed. In 2020, just two officers were killed in this manner. Unfortunately, 2021 also saw the most significant number of fallen officers, 436, largely because of the COVID-19 pandemic.
According to the Federal Bureau of Investigations (FBI), 2021 had one of the highest rates of in the line of duty deaths of law enforcement officers. This was largely because of "felonious killings", which is when an officer is "fatally injured as a direct result of a willful and intentional act by an offender."
As the nation honors the brave officers who lost their lives in the line of duty, local officials recognize that law enforcement is one of the most dangerous jobs in local government as officers put their lives on the line every day to protect and serve their communities.
While some cities are seeing a rise in crime and violence, many cities, towns, and villages face challenges recruiting and retaining a qualified and diverse law enforcement workforce. Recruiting and retaining officers wasn't always a challenge. The job of a police officer or cop used to be a common dream among children, but the position today lacks that same sentiment for a number of reasons.
The reasons why people are less likely to seek or stay in a career in law enforcement include increased risk of injury or death, risk of civil liability or criminal conviction, lack of political and public support, insufficient income for the level of personal risk, risk of potential for post-traumatic stress disorder (PTSD) or other mental and physical issues resulting from in the line of duty. The lack of racial, ethnic, and gender diversity in the law enforcement workforce makes it difficult to recruit women and minorities to what was once an honored profession by many.
The health and well-being of officers is a significant priority for local officials across the country. By working with law enforcement executives, local elected leaders can help find ways to reduce the risk of injury and death to their valuable employees. Making sure law enforcement officers have the training and resources to do their work is critical to keeping officers safe. Local governments and law enforcement officers must also increase trust in how laws are enforced equitably for all residents.
The ability of local governments to recruit and retain qualified and racially diverse law enforcement employees depends heavily on having the training and resources needed to keep our officers safe. Unfortunately, many municipalities across America, especially small to medium-size cities, towns and villages, lack sufficient resources to recruit, train, and retain a qualified and diverse law enforcement workforce to keep their communities safe. These communities need more help from the federal government to establish co-responder programs, hire recruiters to help recruit a diverse municipal public safety workforce, and improve law enforcement employees' mental health and wellness programs.
One of the most challenging issues in recruiting a diverse law enforcement workforce is the lack of trust resulting from the senseless killings of Black and African American residents and people of color. This lack of confidence exposes the racially divisive relationships between local police and the communities they are sworn to protect and serve, especially in communities of color. To overcome this lack of trust, local elected officials must continue to work closely with their law enforcement officers and their residents to ensure officers have the support, resources, and training to serve their communities with honor, integrity, moral character, and courage. In February of 2021, the National League of Cities (NLC) launched the Reimagining Public Safety Task Force made up of local leaders from across the country. The Task Force's recommendations report, A Path Toward Safe and Equitable Cities, released in October, outlines five high-level recommendations for city leaders to help improve the ways in which they ensure the safety of all residents.
During police week, we hope city officials will take the opportunity to recognize the sacrifice their officers have made in the line of duty. Police week is also an opportunity to help foster trust between law enforcement and their communities and build a more diverse and equitable local law enforcement workforce.