The National League of Cities is a proud member of the Community Development Block Grant (CDBG) Coalition, a group of approximately 30 members dedicated to advocating for sufficient CDBG Program funding and educating the public on the positive impacts of the program. This week, the CDBG Coalition published a new report overviewing how CDBG invests in community-based activities that benefit low and moderate-income persons. This report coincides with the celebration of National Community Development Week.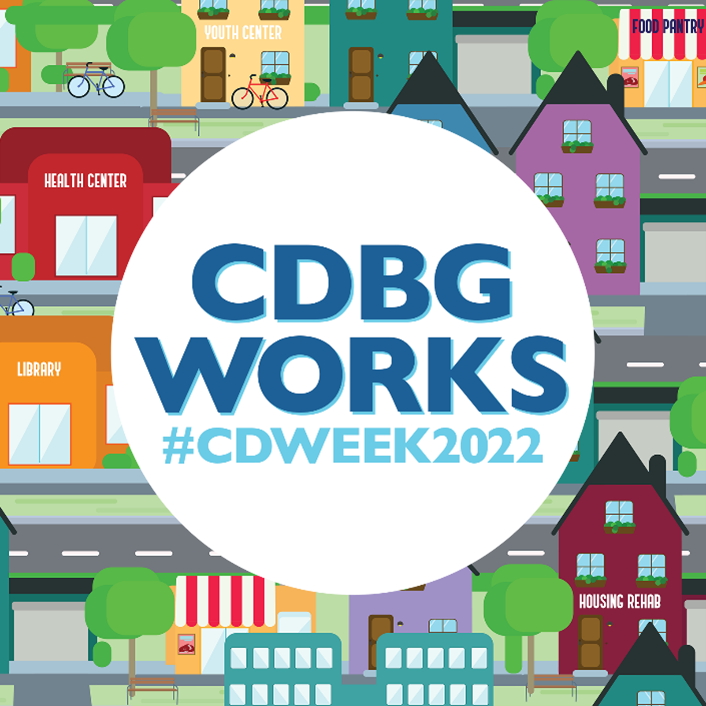 Almost 1,250 state and local government entities receive funding to support housing rehabilitation programs, public infrastructure projects, small business assistance, emergency housing assistance, and a broad range of public service programming. To qualify for the grant program funding, the activities must meet one of three national objectives:
Benefit low- and moderate-income people;
Address urgent health and safety needs in the community;
Or eliminate slums and blight.
The latest CDBG Coalition report highlights programs, projects, and activities supported by program funding and why this program is important to cities, towns and villages across the country. Below are some highlights from the report of how local communities used CDBG dollars to invest in various areas:
Public Facilities and Improvements (Infrastructure)
Lexington, KY used CDBG funded to address long-standing inequities in Lexington's East End neighborhood by investing improvements into the Charles Young Playground Park – making this park the most visited public park in downtown Lexington.
Arlington, TX provided $1.3 million in CDBG funds to help build the Arlington Workforce Center. The Center serves over 5,000 people annually with job training, job search, and career counseling.
Affordable Housing Improvements and Preservation
San Antonio, TX used CDBG funds to assist in the rehabilitation of the Calcasieu Apartments in downtown San Antonio where affordable housing options are limited. The historic structure contains 64 units consisting of a mix of efficiency and 1- bedroom units for low-income persons whose income is at or below 60% of the area median income (AMI).
Public Services
Town of Greenwich, CT partnered with a local non-profit to provide healthy food and meals to 466 families over the ten-week period of summer during 2020.
Economic Development
Florence, AL provided economic support to 69 locally owned small businesses, including 39 women/minority owned business enterprises, during the pandemic. All the businesses remain open and 90% of the businesses have been able to retain all their employees post pandemic.
Toledo, OH assisted small businesses during the pandemic by providing financial relief as part of a Small Business Stabilization Grant Fund. Eligible microenterprises received working capital grants of $5,000, $7,500, or $10,000 to aid them in paying operating expenses – such as payroll, rent, mortgage, and utility payments.
Dive Deeper
Learn more about the CDBG Coalition and the new report.